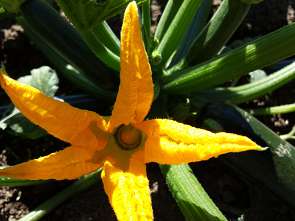 It's a beautiful time of year on the farm, the green of spring still lingering in the paddocks, the trees with their flush of new growth, and fruit on the trees.
But we're expecting hot weather this week-really hot weather, and the landscape will no doubt change dramatically, as only the Australian bush can, going from lush and green, to crisp and brown in a few days.
At least being orchardists, we are surrounded by green all summer. In the old fashioned style, our orchards literally surround our house, so we see green trees in every direction we look, with the dry bush beyond.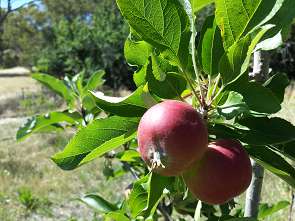 Where we live is completely embedded in where we work, which is a good thing in so many ways… we don't have far to go to get to work, we're very connected to what's going on in the orchard, and having irrigated orchard around the house gives us a bit of protection from heat and bushfires.
It's also an important reflection of the way we choose to farm, that we create the type of environment we want to live in, which is beautiful, and healthy, and sustains us as much as possible.
We thought we'd take you for a tour around the farm, to see what's happening at this change of season. First stop is the vegie garden, where thankfully Merv (Katie's Dad) reigns supreme, so we get heaps of vegies (neither of us being very good gardeners…)
We've just eaten the first of the zucchinis, with the promise of plenty more to come (no-one ever complains about not having enough zucchinis!).
The tomatoes are flowering, and the basil is big enough to start pinching bits for salads. We always interplant them because they seem to be good neighbours in the garden, as they are in the salad bowl. We grow enough tomatoes each year to eat all summer, and to bottle for cooking in winter. We ran out about a month ago, so we didn't do quite enough last year, but almost. That's one of our autumn jobs…
The peas have just about finished. We picked about 12 buckets from them, and have heaps in the freezer, so we're not too fussed that the last of them went a bit woody. They went straight to the chooks, so they weren't wasted. Speaking of the chooks, our spring chickens are about half grown, but still being watched over very carefully by mama chook.
It's lucky they're getting big enough to eat a fair bit, because they're an integral part of our pest management system, helping to dispose of any fruit that's unusable by us.
The apricot season has been going magnificently…we've picked more apricots already this year than we picked for the whole season last year! We reckon it's probably a combination of good conditions, with rain at the right times (mostly), and good management (we hope!). We've been working a lot on improving the soil in the apricot block, and have been really fussy about cleaning up the fallen fruit. So even though the apricot pruning didn't quite get finished last year, we went over most of them again in spring and removed any diseased wood, and the crop is both abundant and very clean.
Meanwhile in the other orchards, the next variety of peach is starting to colour up and get close to being ripe…
and the plums are just starting to look like they're growing. These in the photo are Amber Jewel; one of our favourites because they're really sweet, and they hang really well on the tree, so they're easy to manage.
And lastly, a peek at the nursery, where we (well, Merv) grow all the fruit trees we plant in the orchards. This year we have cherries, growing magnificently (destined to fill the gaps in the cherry orchard we planted this winter)…
as well as plums, growing from cuttings, that will be budded in February, and apples, grown from seed.
Apple seedlings make a big, strong tree, and are very unfashionable to plant these days, but we're going to do it anyway, having learned over the past few years that the more resilient our trees are, the more resilient our farm is!