Growing your own food is becoming incredibly popular, and no wonder – it saves money, is great for the earth, and soothes the soul. Plus, it's fun and healthy!
But so many small-scale growers are struggling with a lack of skills and confidence. Our grandparents knew how to grow their own fruit, but in just a couple of generations the knowledge has been lost.
As a result most people have to buy their food, mainly from industrialised agriculture. Food quality and flavour have gone down, health problems and obesity have gone up, and "big ag" is one of the world's biggest contributors to climate change.
You're probably here because you want to change that … but you're not sure how. Maybe you're part of the huge groundswell of new gardeners wanting to re-learn fruit growing skills, or you've tried growing your own fruit, with mixed results. Or maybe, you just want to have more fun in your garden by growing your own delicious home-grown fruit?
We've solved your problem by creating more than 50 simple but effective modules for home fruit growers.
Visit Online Course Library
We also support the growth of your gardening skills with the Grow Great Fruit Home-study program (including one-on-one coaching) and Organic Short Course—scroll down to find out more about them.
Your journey to the joy and satisfaction of eating incredibly delicious organic fruit starts here. You're about to learn how to grow your own!
Grow Great Fruit Organic Short Course
12 Week "Start Anytime" Course
AU$
30
/

week (for 12 weeks)
This course will suit you if:

You want high-quality, reliable info about how to grow fruit from professional growers, with no frills

You want all the information now (without waiting for the right season)

You don't need a lot of hand-holding You're budget conscious

You don't have fruit trees yet, but are preparing for your future orchard

You're a garden professional who wants to brush up on your organic fruit growing skills

You've done a permaculture course but want more detail about fruit trees

You're already a keen gardener (or orchardist) and want to switch to organic growing
Grow Great Fruit Organic Home Study Program
52 Week Seasonal Course
This course will suit you if

You want "experts on tap", whenever you need them

You want weekly support, with information appropriate to the time of year

Your time is valuable, and want information in bite-size chunks

You want a simple list of "Jobs This Week"

You prefer learning in a variety of styles including audio and video

You want to learn the whole "tree to plate" system, including storing, preserving and cooking fruit (as well as growing)

You want a Management Plan that's tailored to your exact situation

You want access to a full suite of reliable fruit-growing resources

You're a garden professional or horticulture/permaculture educator who wants to offer fruit-tree expertise to your clients

You want to establish a productive orchard as quickly as possible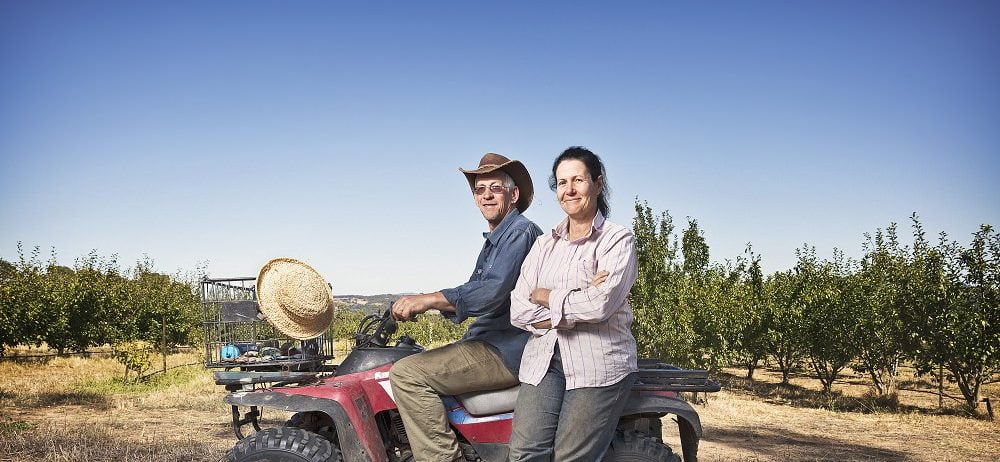 Do you have fruit trees? Are you sick of getting no fruit? Or worse, growing fruit that's diseased or eaten by pests? Are your trees sick, or don't grow properly? Are you confused about pruning? Are you worried that you're not doing it right, or just don't know what to do? We're Hugh and Katie Finlay, and we can help. We grow organic fruit for a living, so we've had to get good at it! We've developed a system to make sure we harvest a crop every single year no matter what conditions Mother Nature throws at us. It's called the Grow Great Fruit system. It includes all the skills you need to grow fruit, like pruning, preventing pests and diseases, and making sure your trees get the right amount of food and water. But our system also has something else – something very special. It's got the keys to growing as much fruit as you want (whether you just have three trees or you're setting up a whole organic farm), as quickly as possible. Our system will show you how to genuinely build food security, get results as quickly as possible, and build a permanent system that is designed for success, not just for now, but for many years to come. We have two courses available – our short 12 week organic course that is the "no frills" version, but it still contains all the information you need to become an expert fruit grower. The Grow Great Fruit home study program is the deluxe version, and will suit you better if want extra support to put the whole 'orchard to plate' system into place. We provide support every week over a full growing season (or longer if you prefer) so you get the right information at the right time to put into action on the spot.  There's a 'jobs this week' section, and best of all, you get "experts on tap"—that's us! You can call us once a month for a personal chat and problem-solving session—it's almost as good as having us there in your garden with you! Have a look at both the programs, and if you need some help to decide which one is going to suit you better, don't hesitate to get in touch. Happy harvests! Hugh and Katie
Members report improved fruit growing skills
Grow Great Fruit graduates
Positive feedback on our programs
Thank you so much for your patience in getting us to this point. Our success is due to the two of you patiently reiterating  "There are no wrong pruning cuts, but there are consequences" and "You need to have a protective cover on your trees if any rain is forecast" over and over!  I LOVE having an overall program of information and answers to questions and explanations, and all I have to do is work and learn! Thank you again for so generously sharing your knowledge.
Clare Claydon
I enjoy reading these emails and adding to my knowledge each week. One of the things you've taught me about thinning is that it helps to ensure you get fruit every year—we've got apricots, peaches, nectarines and almonds all fruiting. It's so exciting. My next job is to net them so we can enjoy the harvest rather than the birds. Thanks, Matt.
Matt Crilly
Joining the Grow Great Fruit Program has meant that I have had the advice I needed as an inexperienced grower to get our home orchard planted and productive at last. Plus the phone consults kept me on track with the jobs I need to do to keep the trees healthy. I would like to congratulate you Hugh and Katie on the fantastic way you present so much information and inspiration!
Vanessa Wilde