The concept of "no waste" is one of the permaculture principles that makes the most sense to us, because it's how we've always tended to live on the farm.
Wasting as little as possible seems obvious to us (and probably to you, too), so it's absolutely staggering that according to the "Foodwise" website, the average household rubbish bin still contains 60% organic material—40% food and 20% garden waste!
The idea of garden 'waste' seems really odd to us, when there's so many easy and useful ways to recycle any organic matter your garden produces, even when you get an unexpected windfall (pun intended) in a storm. 
Storms seem to be becoming more frequent, and more violent.  In recent years we've regularly had quite huge storms (last year there were two in as many weeks) that were so violent they were like mini-tornadoes.
Excessive wind can certainly be a nuisance in the orchard – the second storm in particular brought lots of almost-ripe plums down in the orchard, and also caused a bit of hail damage in some of the fruit—again, mainly the plums.
Poor plums, and poor customers, who graciously tolerated a bit of hail-damaged fruit at markets. We reckon we've done a great job educating our customers over the years what "real" fruit looks like!
We also lost plenty of tree branches, both in the orchard and the paddocks, including this rather large branch that came down from the gum tree outside the farm shop, but luckily missed anything crucial (like the shed, or Ant's caravan), causing only relatively minor damage to one of our beautiful tank garden beds.
Half an hour with the chainsaw and Hugh had turned it into a rather attractive garden chair that has seen the addition of a cushion and many passing bottoms ever since. Every storm has a silver lining!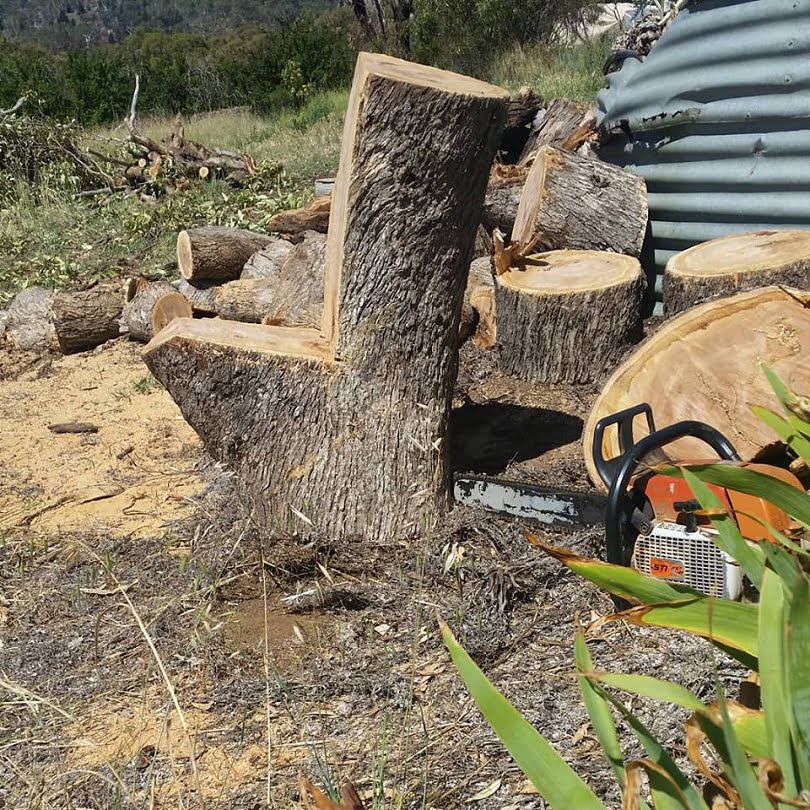 Often people either don't realise the damage they cause to the environment by putting organic matter in the garbage (where it rots and emits greenhouse gases), or don't know what else to do, so we've captured a lot of the ways that the permaculture principles can easily be put into place in a typical garden in our online short course Permaculture in Action.
Fallen branches become firewood and furniture, fallen fruit and garden waste become compost or worm food, and so the cycle goes around.