Estimated reading time: 6 minutes
What does it mean to grow food on stolen land? It might not be something you've thought much about. No matter where you live and are growing food in Australia, the land was stolen from the original inhabitants.
Our farm was originally occupied by the Djaara people from the Dja Dja Warrung clans. They never agreed to give it up.
However, they've been very gracious in sharing their knowledge and wisdom of the land we now live on.
The long-running and bloody Australian Wars are not (yet) taught about in schools so we have to educate ourselves instead. Amazing film maker Rachel Perkins has given us a way in with this brilliant series.
This topic doesn't come up very often in gardening blogs, but we reckon it's important not to ignore it – it's just a fact.
This blog is a guest spot from Cohen Saunders who regularly volunteers here at the farm. Cohen was on the Student Representative Council at his local high school and won the local Youth Leadership Award. He gave a speech at the Sorry Day ceremony here in Harcourt and did a great job, so we asked him if we could share it.
Over to Cohen
Hello blog readers! My name is Cohen, I'm 17, and I've been volunteering at the Gung Hoe Growers market garden for the past 18 months or so.
I first got involved with the Harcourt Organic Farming Co-op when I did a week of work experience with Katie and Hugh, and I loved it so much that I had to come back and try my hand at cultivating veges with Sas and Mel.
Since then I've learned a heap about growing food and have loved the opportunity to get out of school for a couple of hours a week and get my hands dirty, something that would otherwise be lost amongst the busyness of VCE, work, and other commitments.
My desire to learn to grow food and work with the land was one that came to me through reading the One Straw Revolution by Masanobu Fukuoka, and later Dark Emu by Bruce Pascoe.
Both of these authors taught me to think a bit more about how we interact with the land, and the impacts of our actions and the work of Bruce Pascoe was exactly what came to mind when Kath Coff asked me to make a speech at the Mount Alexander Shire Sorry Day commemoration on behalf of Castlemaine Secondary College. I saw Katie afterward and she asked me to write a little blog post with it.
Learning more about our stolen land
Good morning everybody. My name is Cohen Saunders, and I am a member of the Student Representative Council at Castlemaine Secondary College.
I acknowledge and thank Aunty Julie, Aunty Kerry and Uncle Rick, and any other Aboriginal and Torres Strait Islander people present for looking after the land that we stand on and being so generous to share their culture with us other Australians. I also want to specifically acknowledge Kath Coff for her warmth in teaching me about Aboriginal culture and views.
Like many Australians, one of the most meaningful ways that I have experienced the wisdom of Australia's first nations people is through reading Bruce Pascoe's book, Dark Emu. Dark Emu is the account of life in Australia before 1788, a rewriting of history that brought to light the fact that Aboriginal and Torres Strait Islander people have been practicing agriculture and land management on Australian land for thousands of years before Europeans arrived. Reading Dark Emu gave me, for one of the first times in my life, a real sense of pride for being Australian.
Our modern way of life is wrecking the planet, and here was someone telling me that, less than 300 years ago, on this very land that I live on, people had the balance right. Aboriginal and Torres Strait Islander people were able to live in such harmony with nature so as to allow them to survive in Australia for 60,000 years or more.
I felt pride in Australia, that people on this land have such a history of working with the environment in a mutually beneficial relationship, but at the same time I felt guilt, and I still do.
Coming to terms with the reality of stolen land
I'm not an Aboriginal or Torres Strait Islander person, my ancestors and I belong to the culture that invaded this country and massacred thousands of first nations people. Massacre sites exist all around us, and all around Australia. This culture created the stolen generation, breaking family links that will never be mended.
How can I claim pride in Australia, when my culture has worked so hard to destroy the people that created this landscape? This is a question I have been struggling with for years, and yet still, every time I talk to an Aboriginal or Torres Strait Islander person about their culture, they are so generous in sharing their way of life with me.
After meeting with Kath Coff about this speech on Tuesday I came away with such a warm feeling. Her generosity in teaching me was so humbling, and I knew that people like her, who seem to convey their love for the land and love for people in their actions, are people that can inspire this country towards reconciliation with first nations people, and reconciliation with the environment.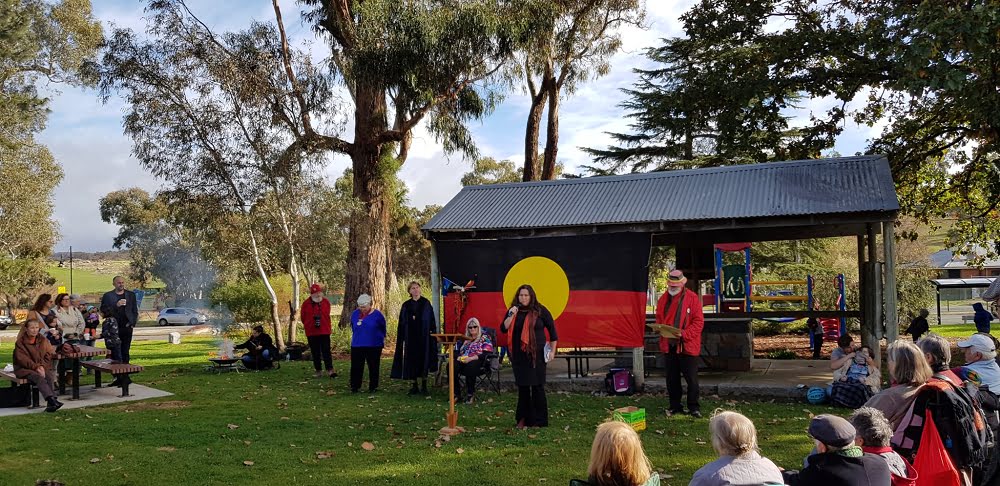 Because, as Bruce Pascoe has shown, these are one and the same, and we need both. Aboriginal and Torres Strait Islander people have practiced such beautiful relationships with the environment for so many years and still are.
In Queensland the Wangan and Jagalingou people are at the forefront of the Stop Adani movement, and, closer to home, the men's and women's business programs run by Nalderun with CSC students take Aboriginal and other Australian people on country to learn about connection to country.
Today I want to acknowledge the trauma, the violence, the massacre that my ancestors and my culture have put Australian Aboriginal and Torres Strait Islander people through, and I also want to say thank you. Thank you to the first nations people for showing me that living sustainably means becoming part of nature, working for the benefit of yourself and the environment. Thank you to the first nations people for showing such generosity in sharing your ways with other Australians like myself. And thank you to the first nations people for showing me what it means to be Australian.
***
We asked Cohen to share his speech because we felt humbled and inspired by his sentiment, and are so happy to see thoughtful young leaders like Cohen emerging and speaking for their generation.
At one point in the ceremony Mt Alexander Shire Council Mayor Bron Machin offered Cohen her mayoral robes to keep him warm – a portent of things to come maybe?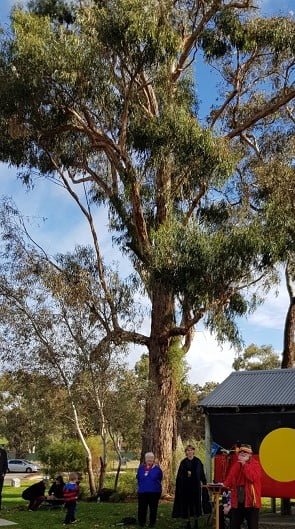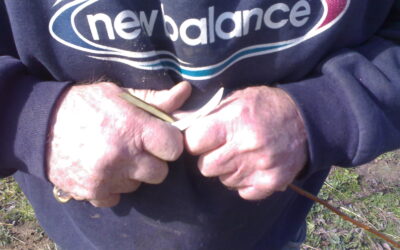 A good grafting knife (and knowing how to keep it sharp) sets you up for grafting success as much as the techniques you need to master.
read more