Natural disasters are getting worse, and more common. Floods, fires, and hail have all affected many of our Grow Great Fruit members. (If you're reading this and have been affected by a natural disaster, please get in touch. We offer free recovery membership to fruit growers who have been through flood or fire.)
If you haven't been through a natural disaster yourself, it's hard to imagine what it's really like. The images that flash on TV and social media during a disaster usually focus on the unfolding calamity. It's shocking, but then the media circus moves on.
But what happens afterward?
We saw the impact that natural disasters have on fruit growers first-hand on a trip to Batlow in NSW. It's one of the many towns that have been devastated by summer bushfires.
We wanted to see Batlow because it's one of the most famous apple-growing areas in Australia, and we'd long wanted to visit.
A burnt landscape
Driving into town from Tumut where we'd stayed the night before, we came over a rise to be greeted with a sobering view. Burnt hills stretched before us as far as the eye could see.
In fact, the colours were quite stunning. Many of the blackened trunks were covered with a flush of pale olive green new leaves. They contrasted with the blackened, burned leaves, and beautiful reddish-brown bark. Underneath the trees was a carpet of bright emerald grass.
Natural disaster tourism?
The worst thing you can do immediately after a natural disaster is go to have a sticky-beak. Not welcome, unless you're prepared to get dirty and join a relief crew like Blaze Aid or the Mud Army.
But as recovery gets underway, the public is often urged to visit disaster-affected areas. Visitors can help to bring economic stimulus back to towns and businesses.
That's part of the reason we took this trip. But we also felt like it was important to actually go and see the landscape for ourselves. Being there is a completely different experience from watching something on the telly.
Of course, it's still nothing like actually experiencing a fire first-hand. But being there definitely made it easier for us to imagine what it must have been like.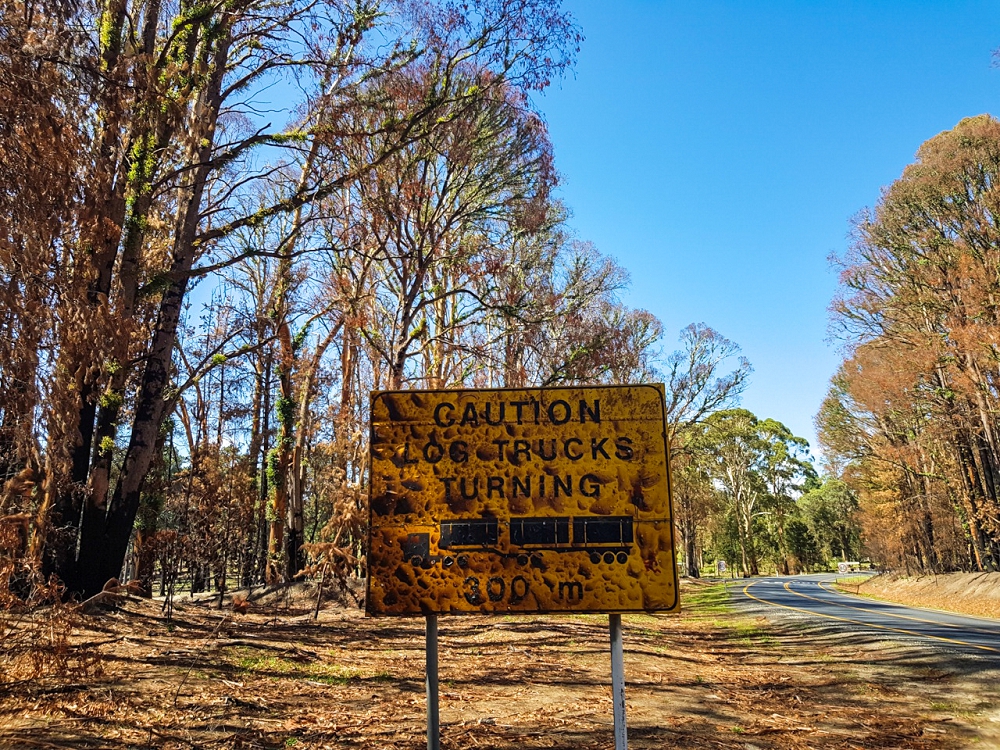 One orchardist's story
Our main aim for the trip was to connect with how the fruit growing industry has been affected. We also wanted to spend some money in town, so we stopped at the first open roadside apple stall we found.
Wilgro Orchard has a charming little roadside stall. They sell a surprising range of fresh produce including apples, apricots, raspberries, peaches, nectarines, and even hazelnuts.
Wilgro orchardist Phil Wilson was making the coffee, so we introduced ourselves as fellow fruit growers. We asked him how he and others in the area had fared in the fires. He started by listing some of the things they'd lost or that were seriously damaged:
$70,000 of cherries picked in the coolroom
All their sheds
All their cider-making gear
Last year's cider in the vats
Apple cider vinegar that had already been made and was ready to sell
6 km of irrigation line
All their pumps, filters, and motors for their irrigation system. This meant they couldn't water their fruit trees for several weeks after the fire
Hectares of orchard netting damaged
They were evacuated before the fire hit. Phil was glad they'd had enough notice to park all their big mobile equipment on the road near the house. This saved their tractors, sprayers, and the like.
Collateral damage
One of the worst experiences for Phil was that they weren't allowed back in for a week. Then it took another week to restore power. This meant that the $70,000 worth of cherries that were picked and sitting in the coolroom went off and had to be dumped.
Fruit growers are a resilient bunch, but losing fruit that actually survived the fire itself is really salt in the wound. Having been through devastating crop losses ourselves, we could definitely feel his pain.
Fixing the fence between Phil's orchard and the neighbour's property became the first priority. Immediately after the fire, next door's cattle and sheep were in one of the orchards that hadn't been burnt. Unfortunately (and understandably) the neighbor wasn't so keen to help because it was the only feed available for them at the time.
The stock ended up spending a couple of weeks in the orchard, which did a lot of damage to the trees. The block had not long been grafted, and many of the new grafts were damaged. At least trees recover faster from being eaten than from being burnt.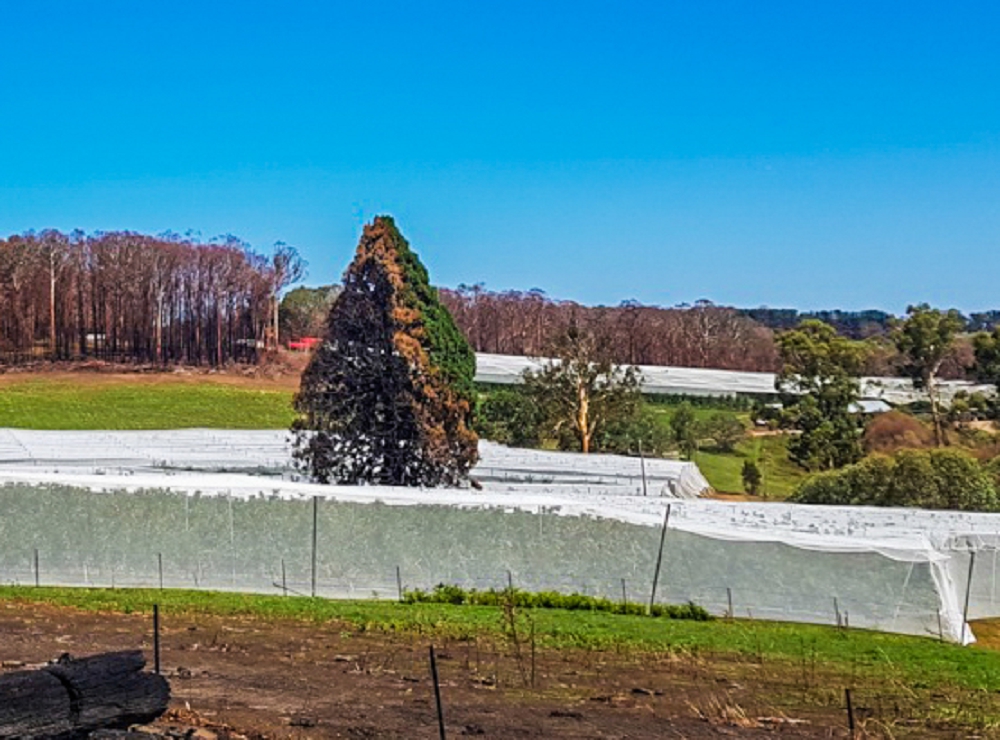 Widespread damage from the fire
Driving through the whole valley was the same story. Most orchards were burned along the edges, with the middle of the blocks intact. This might seem like a lucky escape, but in fact, it is often devastating to infrastructure like irrigation systems and netting. Burning the end of each row of pipe makes the entire system inoperable, and losing walls and poles compromises the whole net.
Orchard trees and netting are notoriously difficult (i.e, expensive) to insure. Phil and his family lost about half a million dollars worth of infrastructure, of which only about half was insured or insurable.
That's a big financial hit to take.
They're grateful they received the government grant of $75,000. It was key to getting the irrigation back up and running. But despite being featured in the videos shown at the bushfire fundraising concert (held in Sydney after the fire), this hadn't translated into more money flowing through.
What comes after a fire?
"What else would we do?" Phil said. "I'm 70, there's nothing else I want to do, the kids don't want to come home and I completely understand that. We made sure we put them through uni so they wouldn't have to farm if they didn't want to."
The further the conversation went, the more he shared, even sharing their income for the last few years. It was a private conversation so we won't share that with you, but suffice it to say it's not enough to fund the restoration work they need to do. They're looking at a long, long road ahead to recover.
Like many farmers (including us), most of their assets are tied up in the farm. It's their super. It doesn't leave a lot of choices but to keep going or sell up. This makes recovering from the fire—and at least getting back to where they were before the fires—imperative if they ever want to retire.
Like our home-town Harcourt, the number of family farms in Batlow has been rapidly decreasing in the last few years. It's down from more than 50 farms trading through the local co-op a few years ago to just 7 now. According to Phil, at least three will definitely close down now because of the fire.
What can you do to help fruit growers recover from natural disasters?
Volunteer some time with BlazeAid helping to rebuild fences. This is an awesome volunteer organisation that helps rebuild fences and other infrastructure after bushfires.
Buy your food direct from farmers, either at accredited farmers markets (here's a list of them) or find a local Community Supported Agriculture (CSA) scheme to join.
Donate money direct to organisations that will use it in affected communities if possible. Contributing to large fundraising funds means the money can stay tied up for a while before it gets through to people and communities who need it
When you know they're open for business, visit a disaster area. Stay the night, buy some local produce, spend some money. Ask how people are going—but don't expect them to talk much, as a lot of people aren't ready to talk yet.
We feel very privileged to have met Phil and had this conversation. We at least got a glimpse into how fires can affect farm families who are working their guts out to keep their farms alive and keep feeding the nation!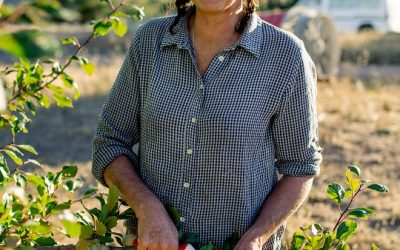 Pruning your fruit tree in summer or winter can have different results, so we help you decide the best time for the job.
read more