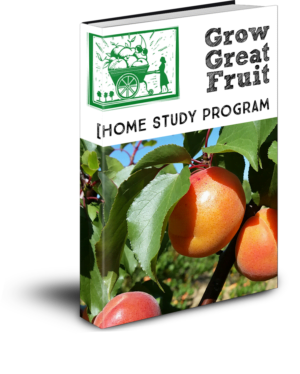 Grow Great Fruit Program – Webinar Offer
Finally, a time-limited special offer on the fruit tree course you've been waiting for!
Join the Grow Great Fruit program TODAY, and receive 1 month's free trial, with just a $5.00 sign-up fee.
You'll get immediate access to our Members' Home Page where you can test out features like our exclusive Fruit Tree Database, Organic Resource Pack and e-textbooks, and during your trial month you'll receive regular eclasses, and even be invited to join our live Q&A session.
The Grow Great Fruit program will teach you how to plan to harvest fruit from your trees every single year, no matter what!
You can choose the level of support you need, with monthly or annual membership options to fit your budget.
From: $299.00 incl. GST for 1 year with 1 month free trial
You've got fruit trees, but you're sick of not getting fruit, right? Or of growing fruit that's spotty, or eaten by pests.
Are your trees sick, or don't grow properly? Are you worried that you're pruning wrong, or just sick of always feeling like you don't know what to do, or where to get information you can trust?
We hear you!
There's a huge amount to know about growing fruit.
Designing your garden, planting trees in the best spot, choosing the right varieties, trying (and often failing) to prevent pest damage, protecting fruit from weather and disease, pruning, picking at the right time, preserving … …the list is endless!
And then there's the mystery disasters. Your fruit splits, or falls off. Trees don't flower. Or they do flower, but don't have fruit. Leaves get spots, bugs appear, fruit mysteriously disappears… Trees die, for no apparent reason. Hail storms, bird attacks, droughts, heatwaves, fires, floods … we've seen it all.
If you've been through even a fraction of these problems, we feel your pain. Even for experienced gardeners it can be very frustrating, and sometimes it just all seems too hard.
But don't give up!
We know what it's like to try to grow fruit with no water, or to have trees die in a flood. We've tasted the bitter tears of disappointment at watching our beautiful fruit be ravaged by birds, kangaroos, or some mysterious pest. We've puzzled over sick trees, diseased fruit and dodgy-looking leaves, wondering what on earth's going on. We've looked on in horror as plagues of locusts have eaten every leaf, or swarms of insects have sucked our peaches dry.
As professional, certified organic fruit growers we've found solutions to all these problems. Over the years, we've even learned how to prevent many of them happening in the first place.
We can show you how to get your fruit trees productive as quickly as possible, and how to protect them against drought, flood, pests, diseases and weather—how to expect the unexpected, in other words.
We've developed a foolproof system for protecting your crop against the inevitable and often predictable risks, and we're here to help you get better at fruit growing. Along the way you'll also get better at garden design, soil health, making compost, preserving, loving your weeds, building biodiversity and probably even expanding your food-growing expertise to other crops!
Want to know exactly what's in the course before you sign up?