Estimated reading time: 4 minutes
One of the biggest mistakes we see people make at harvest time is picking their fruit tree at the wrong time, usually before the fruit is ready.
It's a bit of a tragedy. Fruit tastes SO much better when allowed to fully ripen on the tree — don't you agree?
Do you have any strong fruit memories from your childhood? They usually involve the incredible flavour you experienced when eating properly ripened fruit straight from a tree. It's something that's quite rare today.
The fruit tree ripening dilemma
It can be tricky to get the timing of your picking quite right. It's just as important not to let the fruit get too ripe on the tree
It's apricot season at the moment, and they're a good case in point. If they're too ripe when you pick them, it's really easy to damage them.
Let us show you what we mean.
Ideally when you pick your apricots they'll come away with the stem intact, like this…
You might pick them with no stem, but a neat little scar where the fruit has pulled off the stem, like this…
However, one of the risks of letting fruit get too ripe is that you're more likely to get a picking injury at the stem end, as you can see in the following photo. The fruit has been torn slightly where it's been pulled away from the stem when it's been picked.
Unfortunately, this might make the fruit continue to ripen too quickly after it's off the fruit tree. Damaged fruit is likely to soften quickly at the scar site, and it can go mushy.
The injury can also make the fruit vulnerable to brown rot, particularly if you're growing organically (and we hope you are!). Injured fruit is much more likely to develop brown rot. This is even more likely if you've had a rainy season before the fruit was picked. Lots of rain means there are likely to be more brown rot spores on the fruit tree and the fruit.
If your fruit is a bit overripe when you pick, use it as quickly as possible. Otherwise, get it into the fridge to keep it in good condition. But mainly, try to avoid picking injuries when you harvest.
The "Goldilocks" secret to picking fruit at the right time
So, what's the secret? How do you choose the exact right time to pick your fruit when it's ripe enough … but not too ripe?
It's actually quite simple. The key is to follow these easy steps:
Keep a Fruit Tree Diary where you write down the dates that you picked each variety each year
Keep a master list of "earliest ever dates" that you've picked each variety
Each week, check the master list to see which of your fruit trees have ripened in this week in previous years
Now you'll know which trees to look at that week, and then every few days until the fruit is ready to harvest.
Apart from dates, there are many indicators of when your fruit is ripe. Colour, texture, flavour and feel all play a role. The Picking fruit the right way short course covers them all in detail to help you choose the perfect time to pick fruit. It also includes correct picking techniques and "best practice" storage methods. Nail all three, and you'll make the most of your precious fruit.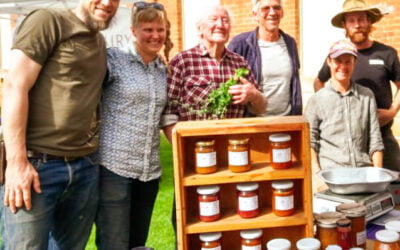 Do you have a secret dream to be an organic farmer? We asked people about their dreams and barriers – with some surprising results!
read more