As anyone who grows their own food knows, it's incredibly satisfying creating dishes from ingredients from your own garden. So we got double pleasure making this cake using home-grown cumquats and almonds.
The first step was picking the cumquats.
The almonds were picked at the end of summer, and have been sitting in their shells waiting for attention since then, so the next job was taking off the outside husks, then using the nutcracker to crush the shell and get the almonds out. A quick whiz in the blender turns almonds into almond meal, and we're ready to make the cake.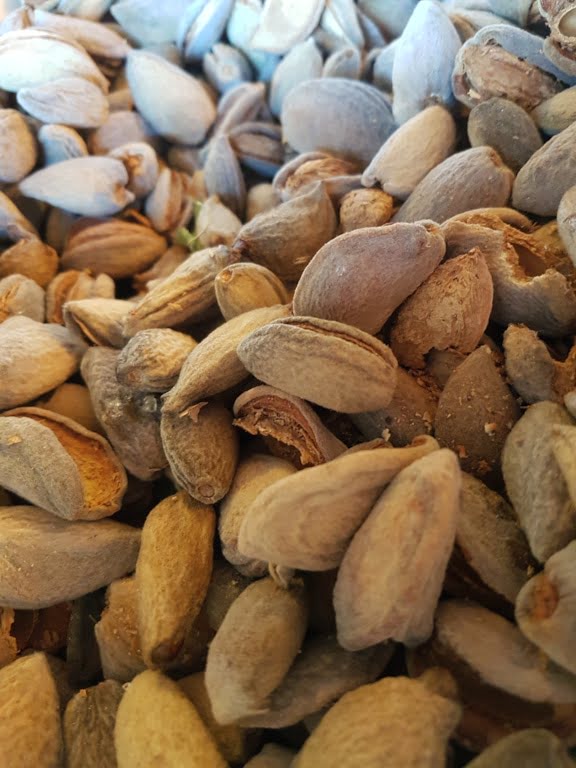 Gluten Free Almond and Cumquat Cake
(This is our adaptation of a recipe by Helen Goh that appeared in 'The Age'.)

Fruit prep
500 g cumquats
160 g raw sugar

Cake
250 g cream cheese
250 g raw sugar
4 large free range eggs
2 tsp brandy
140 g almond meal
120 g rice flour
1 tspn baking powder
Slice and de-seed the cumquats (roughly into quarters if they're small, eighths if the fruit is larger). Toss in a bowl with the sugar and leave.

Cream the cream cheese and sugar together in the blender, then add the eggs and brandy.
Mix the almond meal, flour and baking powder together and add the dry mixture to the egg mixture.

Use a 23 cm round cake tin, and be warned, the cumquat mixture is syrupy so if you're using a split-rim two-piece cake tin, definitely line it with baking paper or foil.

Spread the cumquat and sugar mixture in the base of the tin, then cover gently with the cake batter.
Bake at 180C for 45 minutes or until a skewer comes out clean. Cool for 15 minutes and then invert the cake onto a plate.
As always, serve with lashings of excellent cream, and preferably eat next to a roaring open fire.  For some of our other favourite ways of turning your home-grown fruit into mouth-watering desserts check out our comprehensive Fabulous Fruit Preserving short course.