Estimated reading time: 4 minutes
Have you seen these slugs on your fruit tree leaves? Every year we hear from gardeners who worry that these creepy looking pests are attacking their fruit trees.
These are pear and cherry slugs, and as you can see, they eat the leaves on pear and cherry trees.
On our farm, we've occasionally seen slug damage on young plum trees. We're only aware of one instance where a very similar (but different) type of slug has also been known to attack peach trees.
The slugs look terrible, and so does the damage they cause, as you can see below. Despite that, they are definitely not one of the worst pests you need to worry about. Certainly not as bad as fruit fly, for example, which is a key pest you need to learn how to manage.
Monitoring your trees early can definitely help
The first thing you'll often notice is the damage to your fruit tree, rather than the slugs themselves.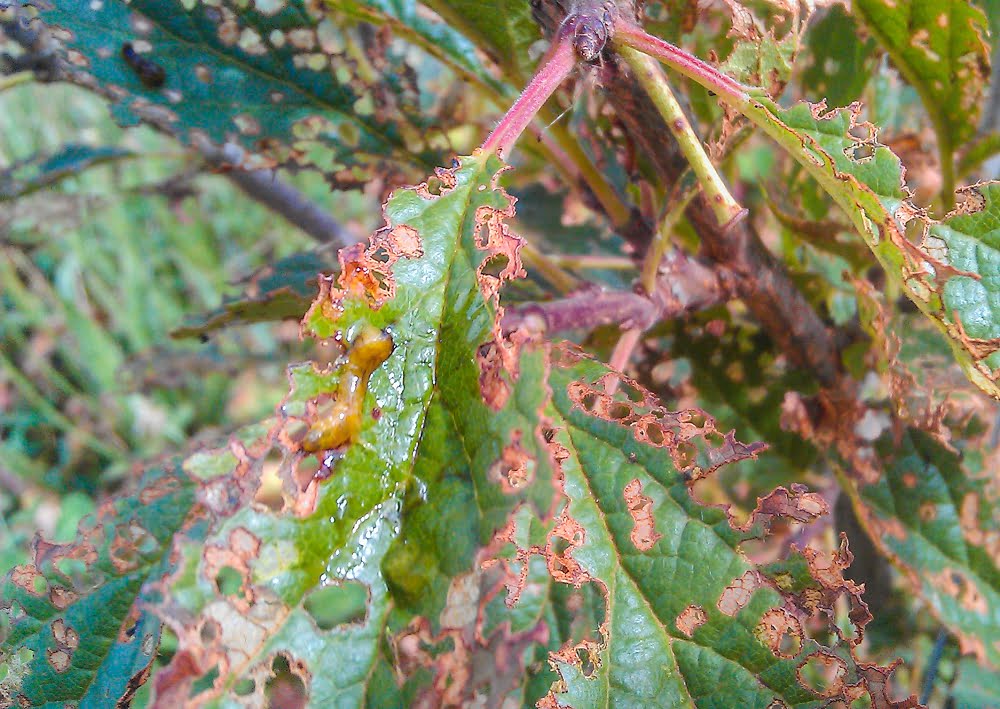 The first question to ask yourself when you see these creepy looking slugs (as with all pests and diseases on our fruit trees) is, how much damage are they really doing?
Simple but effective slug control
One of the advantages of keeping a close eye on your trees is that you will often notice problems as soon as they occur, and can then take simple action, like squashing the slugs between a folded leaf.
In a normal season, this particular pest will go through at least two life cycles, so the more of them you squash as soon as you see them, the more you interfere with their natural life cycle and can prevent numbers building up.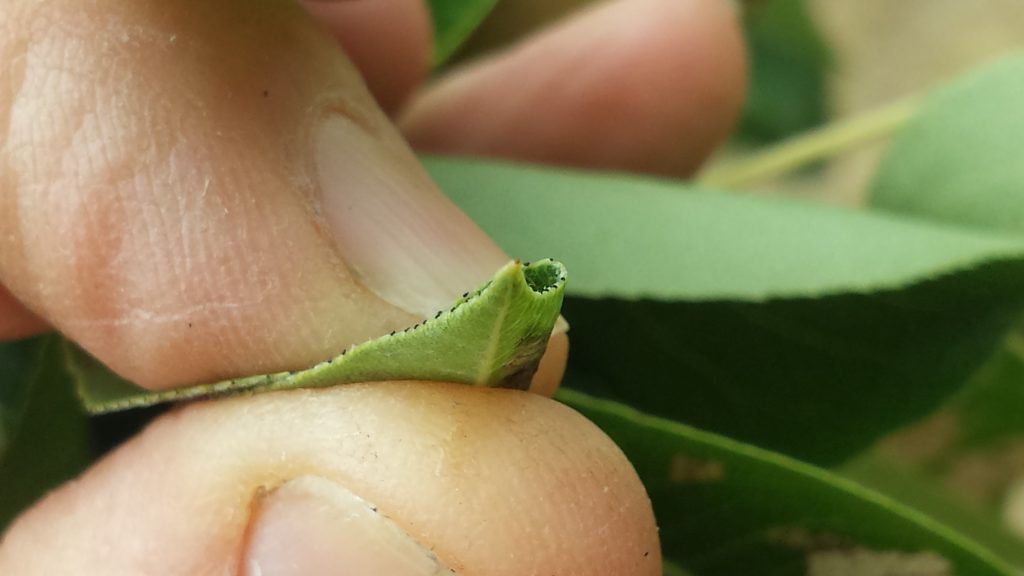 Fruit trees can actually tolerate quite a bit of damage without losing function or growth.
At Grow Great Fruit HQ our rule of thumb is that if a tree has lost more than 30% of its leaves to slug damage, that will be our trigger to treat them. In all our years of growing, we've closely monitored every year, and never had to take action against them.
Usually what we find is that if we are patient, a predator insect will come along and do our work for us. A dry, parasitised slug on the leaf is the classic calling card, as you can see in the photo below.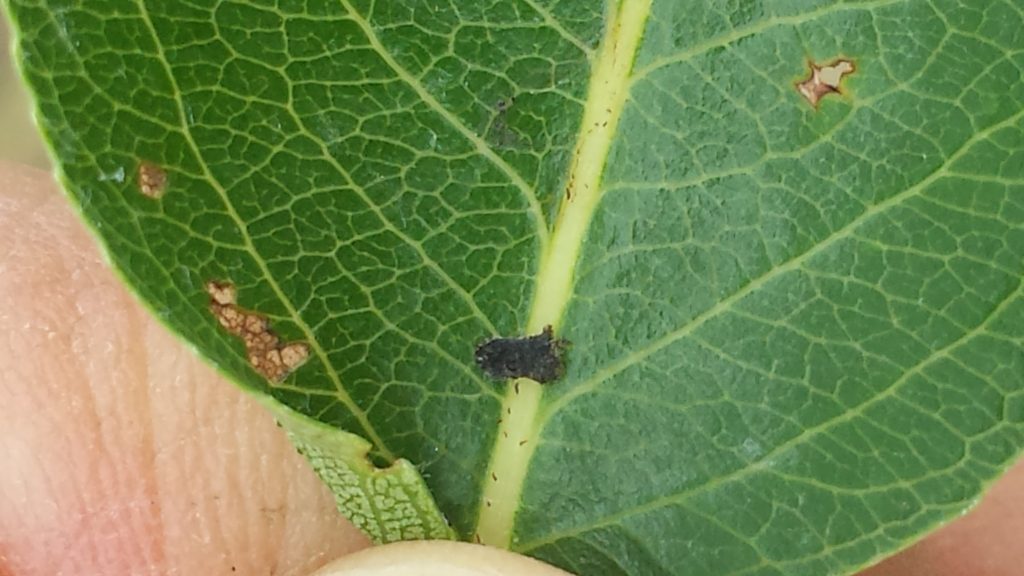 Other control techniques
If the slugs get away from you and there's too many to squash by hand, you may have to try another technique.
Being moist-bodied, they're very vulnerable to anything dry and dusty. Wood ash or sulphur are just two of the products you can try. We discuss these and other treatment options in our free Organic Pest and Disease control workshop.
Whatever you use, it's important to stand upwind and make sure you don't inhale it. One of our Grow Great Fruit junior members is perfectly demonstrating the technique in the photo below.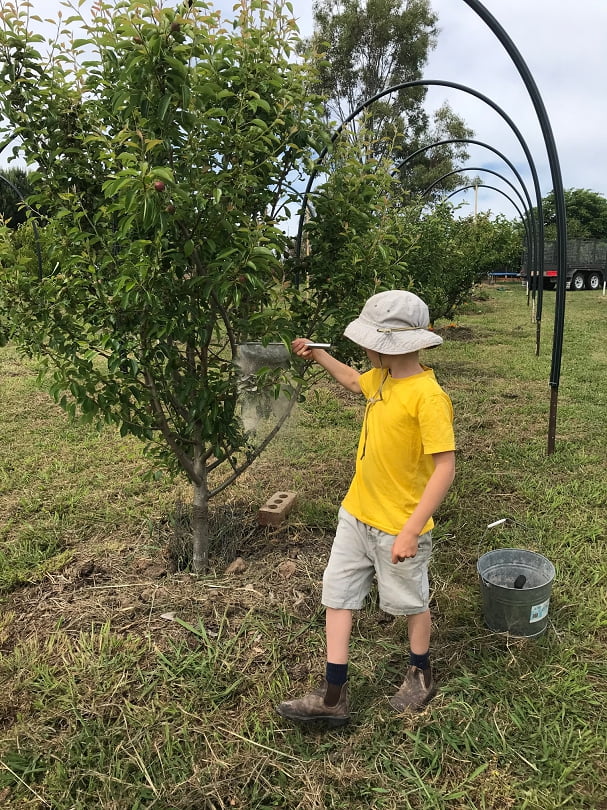 So pear and cherry slug is a great example of learning how to watch your fruit trees. Particularly keep an eye on the leaves, and learn what's really going on, rather than assuming that if there's a bug, there's a problem!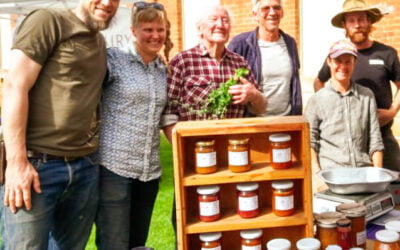 Do you have a secret dream to be an organic farmer? We asked people about their dreams and barriers – with some surprising results!
read more