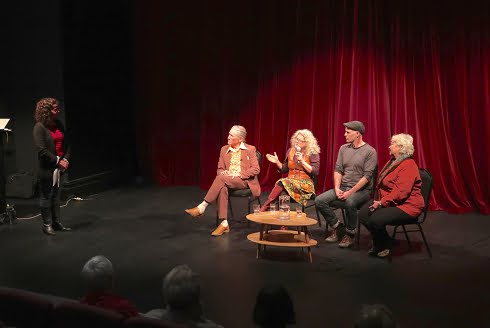 I had the privilege last night of MC'ing an event and panel discussion at an event in Castlemaine where David Holmgren introduced his new book "Retrosuburbia: the downshifters guide to a resilient future″. (If you want to know more about it you can check out the website or the Facebook page).
David is best known as one of the co-originators of the permaculture concept in the 1970s, along with Bill Mollison. Since then he's written a number of books, developed three properties and taught permaculture around the world.
RetroSuburbia is a manual for how to use permaculture thinking to create home-based solutions for a sustainable future by applying the idea of retrofitting our homes, gardens, and behaviours. David and his partner Su's property "Melliodora" is an inspirational example of how living a sustainable lifestyle can really work as a realistic and attractive alternative to what David calls "dependent consumerism" (if you've never been there, I can recommend going on one of their tours).
A big part of David's vision for a resilient and sustainable future is seeing household food growing become part of everyday life, and so we were rapt to find that our range of ebooks have been included in the book as one of the ways people can improve their fruit-growing skills (the books are included for free as part of our Grow Great Fruit program).
Wanting to spend more time teaching is one of the main reasons we're not running the orchard any more. Ever since we started the Grow Great Fruit business in 2013, it's been squeezed into the cracks in our farming life—and to be honest, there haven't been many!
While we purposely chose to set up GGF as an online business so that we could reach as many people as possible, over the years we've found the part that we find most satisfying is the contact with people—but we haven't had time to do much of it.
So, now that Ant has taken over the orchard (and rebranded it Tellurian Fruit Gardens), we're very much looking forward to getting stuck into our mission of teaching as many people as possible how to be self-sufficient with their fruit growing.
We've got lots of ideas about how to reach more people, make the program more accessible, and increase its effectiveness. We're not sure yet exactly what will change (yes, Hugh, we do have to do another strategic planning session…), but some of the ideas we've been playing with include:
Going global—we've developed a northern hemisphere version of the program and briefly tested the US market, but had to pull back due to lack of time to commit to the project;
Expanding and improving services for members with more masterclasses, case studies, videos and a vastly expanded Fruit Tree Database;
Running workshops in different places such as members' properties or community gardens;
Turning our workshops into an interactive online format to make them accessible to people who can't physically get to a workshop.
One of the things we're really interested in is working with people and groups that will get the most benefit out of increased food security. While we love working with our current members in Australia, we're aware that most of them—like us—already enjoy pretty good food security and economic prosperity, particularly when looked at in a global context.
We feel like it's time to use our position of privilege to help create food security for people to whom it can make a genuine difference, so we'll also be looking at things like:
Scholarships for low-income people;
Working with small-scale or start-up farmers in Australia or overseas to help them increase profitability and sustainability within their fruit growing businesses;
Working with community groups.
So we're looking at an as-yet-unknown but exciting future, and can't wait to get started on the next stage of our journey as organic fruit growers. There's just that strategic planning session to organise first!