A couple of years ago I gave up being "busy". It was when I was doing the project for the RIRDC Rural Women's Award and had a lot on my plate – you can read about it here.
Here's what I had to say at the time about being busy…
"My theory is that "busy" is a code word that l (and lots of other people) use when what we really mean is overworked, stressed, under-supported, tired, financially burdened, worried, over-committed, important, in demand, or worthy of your sympathy! For me, busy had become my not-so-subtle way of saying to people (a) look how popular and 'in demand' I am; (b) isn't the life of a farmer hard; (c) don't expect me to take on anything else; and (d) look at me, I'm superwoman! None of which is actually true."
Well, old habits die hard! Lately I've heard myself not only talking about being busy, but slipping back into the old mindset as well.
It comes with the territory of a fruit season; most farmers with seasonal crops have to cope with the sometimes extreme workloads imposed by harvest (as opposed to dairy farmers, for example, who have a more steady work pace all year).
Harvest is definitely crunch time. It's arguably the most important part of our farming calendar, because if we don't get this part of the process right – where we convert produce to money – the rest of it is kind of pointless, unless you're content for your farm to just be an expensive hobby (and we're not!).
At this time of year our workload is imposed on us, not just by the demands of picking and storing produce at peak condition, but also packing and selling it, and maintaining all the systems and processes to make everything run smoothly. We've been recording our work hours lately, and are averaging 60 hours per week! It's easy to feel that it's out of our control – but of course, that's not true.
Yes, during the peak of the fruit season there is no extra time to have regular business meetings or down time without sacrificing fruit to do so, but as the season starts to slow down into a more manageable pace, it's easier to find the time to start reflecting on the season and noticing what's worked, what hasn't worked, and where we could introduce more efficiencies. It's also when we usually remember that we chose not only this lifestyle, but also every aspect of our business.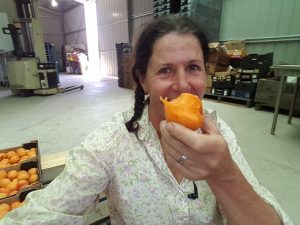 As we prepare to hand over the orchard to our intern Ant on 1 July, we're very conscious of the need to teach him as much as we can about the fruit business, as quickly as possible. But we're also hoping that his new energy will bring a different perspective to the orchard and lead to new initiatives, new ways of doing business and new efficiencies we've never thought of.
We could easily have made different choices: grow fewer varieties to shorten our harvest season, simplify our marketing, use chemicals to reduce our workload, expand the size of the orchard, or even grow different crops. We could even choose day jobs where we work 9 to 5, go home in the evening and leave work behind!
But none of those choices would have matched our values or made us feel good about our careers, and where would be the fun in that?