Estimated reading time: 7 minutes
Fruit damage from birds, bats, and possums is high on the list of complaints from home fruit growers. Netting is by far the most effective option to prevent damage.
For many gardeners, the thought of netting just feels impossible. Or, they have the generous thought that they're happy to share some of the fruit with the wildlife.
Unfortunately, the wildlife have different ideas. They'll usually make the most of a handy food resource like a fruit tree. They may even invite their friends and family, and eat every single piece of fruit.
So netting your fruit trees is often the reality, if you want to reliably pick fruit from your tree every year. It's also a key strategy for preventing fruit flies from ruining your crop.
This week we look at some netting options, and how they can protect your crop from most pests.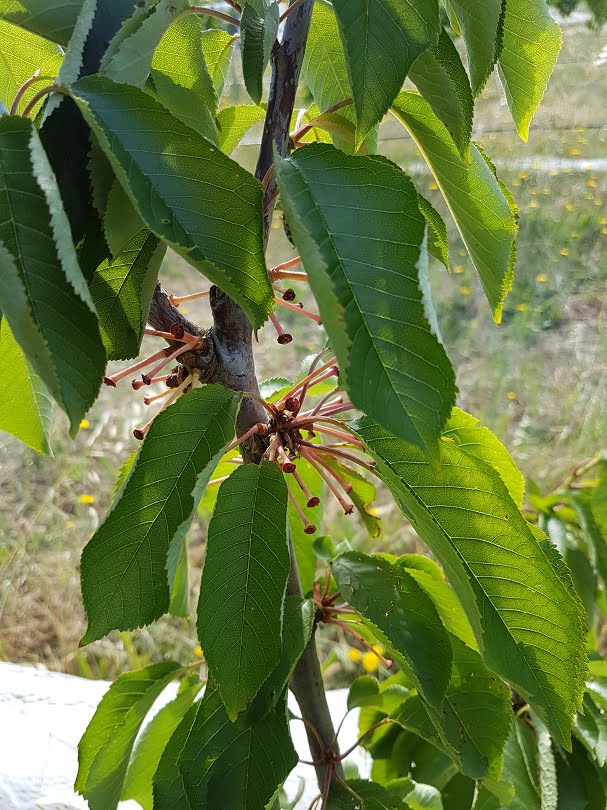 Enclosure nets
Birds just LOVE cherries. We grow cherries here on the farm and have always netted the trees. It's been a good chance for us to learn a lot about different types of netting.
For our first cherry orchard (which had about 1000 trees), we built a complete netting enclosure around the whole orchard.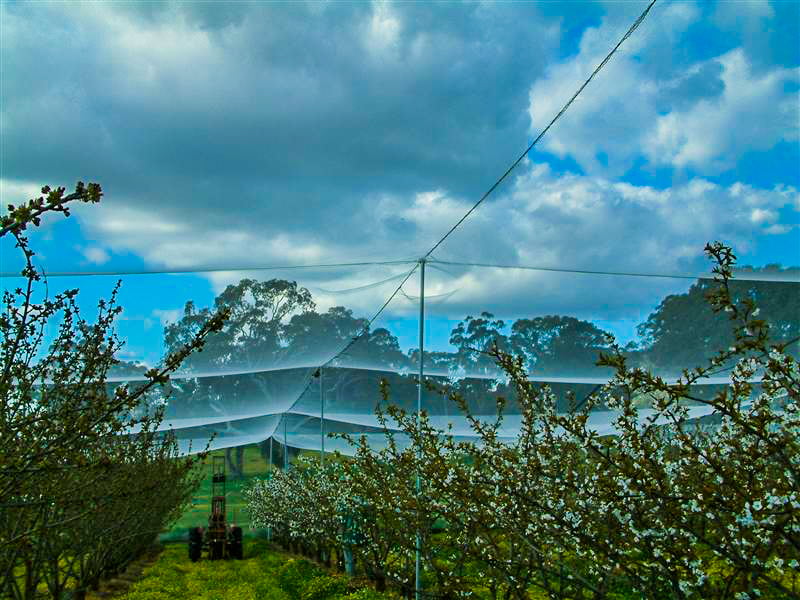 Building the enclosure and working with it over several years and through a number of storms was a fascinating experience. We learned a LOT about nets during that time.
But this is beyond the scale that most home gardeners are interested in. The next type of netting system we tried, on the new cherry orchard, is much more relevant.
Drape nets – a simple solution for backyard fruit trees
The new orchard (planted after the 2011 floods) has been protected with a much simpler system called "drape netting". It's cheaper than a full enclosure and quite simple to apply but has some downsides.
One is that the type of birds that love to eat cherries are particularly clever at getting under drape nets. Two of the common ones are parrots and silvereyes.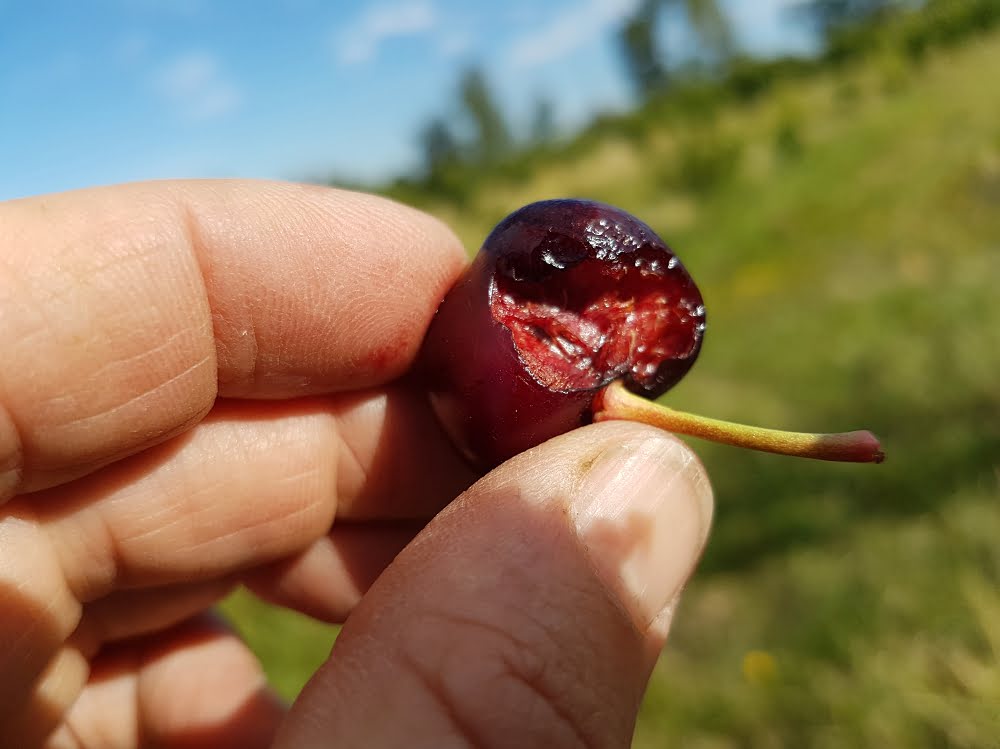 Drape netting also puts quite a bit of weight on the tree itself. This can result in branches being bent over during the growing period.
This can alter the shape of the tree, and work against your intentions for the shape. However, the effect is only seen at the top of the tree. Most of the bend can usually be removed when pruning.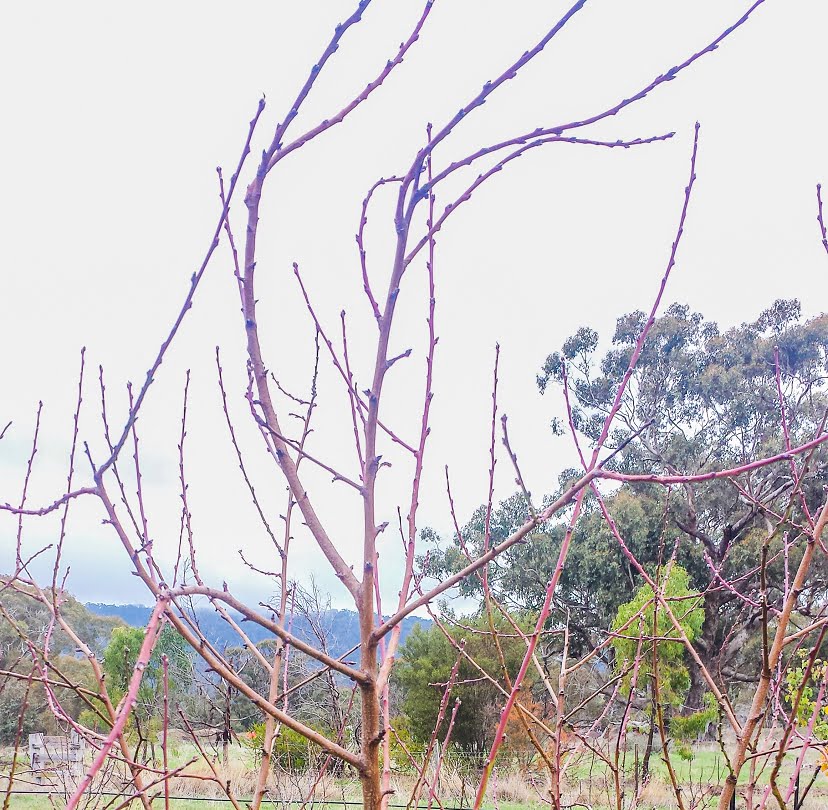 Unless you are really diligent about tying off the net around the trunk, drape netting often won't stop smaller birds. Smaller birds like parrots are more inclined to nip under the edges of the net and help themselves.
The positive side of drape netting
Having told you all the bad things about drape netting, we don't want to put you off, as it's a really useful and simple technique for lots of gardeners. So, let's look at the plus side!
Firstly, it's very effective against big birds like crows and cockies. That's because they usually feed from above, and won't get under the net even if there are gaps at the bottom.
Drap nets can also deter fruit bats. Like big birds, they descend on the tree from above and don't like to get in under nets.
Despite the drawbacks, drape netting does keep the damage to a minimum and is definitely worthwhile.
Variations on hoop nets
If you're serious about protecting your fruit trees with nets and have the capacity to build a small enclosure, a hoop net might be just what you're looking for.
This simple hoop net (below) has been built from star pickets and pipes. It's one of the easiest and most effective solutions we've seen (and used).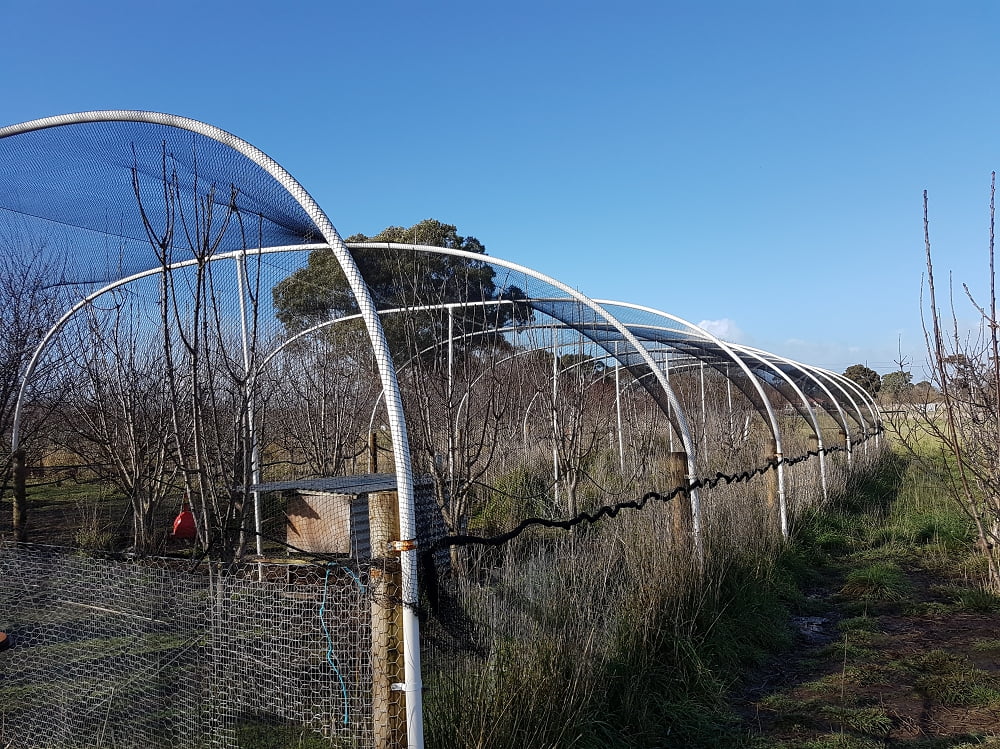 It's easy to put up (and take down again if you choose), and easy to peg down around the perimeter to stop persistent smaller birds from getting in under the net, which can happen with drape netting.
This particular design also has wire netting around the base, which can be useful for stopping larger animals from getting into the enclosure.
The "cross-bar" system in the photo at the top of the blog is another variation on the hoop system. The key similarity is building a simple structure to hold the net off the trees.
The variations are limited only by your imagination.
How to choose the right netting system for your garden
As you can see, there are many different netting systems available, and lots of variations on the theme. Choosing the right one for your garden will depend on lots of variables.
Here's a list of "testing questions" to ask yourself:
How many trees are you trying to protect?
The more trees you have, the more worthwhile a large enclosure becomes.
Which specific pests are you defending against?
If you're not sure, it's worth doing some detective work to find out exactly what's eating your fruit. If there's nothing eating your fruit, you may not even net to net your trees at all!
Do you have any materials available?
Access to second-hand net or having a few star pickets lying around can give you a place to start.
What's your capacity to invest in a netting system?
They'll almost always pay you back in the long-term, but need a capital investment to start with if you're getting something built for you, or even if you're buying the materials and doing it yourself. Which leads us on to…
What's your capacity to build a netting system?
Is it something you can do yourself, or will you need to pay someone to do it? Can you hold a working bee and get some friends involved? If you're planning to build it yourself, do the research first and look at as many different types of netting systems in other people's yards as possible.
How big are your trees?
Even if you're planning to build a netting enclosure eventually, when the trees are mature, you can often get away with drape netting or simple hoops for the first few years. And of course, there's no need to net if there's no fruit on the trees.
What other animals and plants do you have around your trees?
If you have chickens or other animals, you may want to build an enclosure to keep them inside, under your trees. Or if you've built beautiful beds full of a diverse mix of understory plants, you may want to keep the chickens out!
The answers to these questions will help to point you in the right direction. Once you figure out the right way to net your trees, half the work is done.
And don't stress too much about getting it "right". If you're not sure what to do, start simple and invest minimally with drape net. Your netting system can evolve over time, but you have to start somewhere.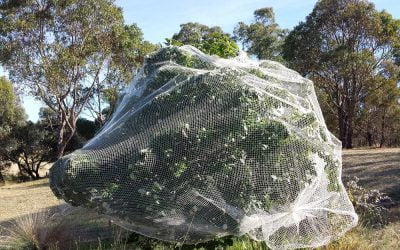 Ineffective netting over your fruit trees may be costing you more than you think, so review your netting at the end of the season.
read more