After a long fruit-growing history, Harcourt has come up against a new foe. Queensland Fruit Fly is on our doorstep and threatens to abruptly end our fruit production heritage by decimating home gardens and commercial crops alike.
On Thursday 5 April Megan Hill, the project officer for the Fruit Fly Action Plan, and Ali Brookes of Maldon Cherry Farm organised a series of information sessions in the local area to educate the community. A small crowd of farmers and gardeners gathered at the Harcourt Anglican hall for the final 1 hour session of the day.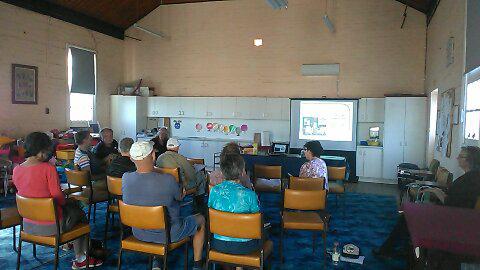 We discussed the history of the Queensland Fruit Fly and its march south over the eastern states, the life cycle of the insect, the diverse range of fruit it will affect, what to do with infected produce and of course, a range of potential defense mechanisms.
Netting, baiting, trapping and hygiene were all discussed at length but the prominent message from the day was that it will take a unified effort from the entire community to safeguard our veggie gardens and our orchards. Every backyard fruit tree and garden must be managed properly or removed. That means installing traps to monitor the population, netting plants or bagging fruit, using baiting sprays if necessary (there are organic and nonorganic options available), and even having some chooks or ducks to reduce fly numbers. If any fruit is found to be infected it must be collected immediately and solarised (placed in a garbage bag and left in the sun for a few days) or frozen. Infected fruit can NOT be composted as this is the perfect environment for the larvae to pupate and hatch.
As a new fruit grower in the area, I was keen to attend the session so that I could improve my knowledge of the fly and better understand all the options available to defend my new orchard. It is daunting to be starting a farming enterprise in the face of this insidious pest but I have faith that we can collectively protect ourselves. Also, my current farming mentors, Hugh and Katie of Mount Alexander Fruit Gardens, hold a wealth of experience and knowledge that I can glean and add to my pest control tool belt.
I am passionate about farming, love growing food for my local community, and feel proud to be the next generation of custodian for Harcourt's fruit production history. These are the things that motivate me to 'fight the fly'. Spread the word, educate your friends, properly manage or remove your fruiting trees/plants and help us farmers stay fruit fly free.