We want to talk about Leaf curl.
It's a common fungal disease of peach and nectarine trees (if you have leaves curling in other types of trees it's caused by something else).
It may seem strange to be talking about it so late in summer, as it's a disease that shows up in spring, but bear with us!
If you noticed the disease in your trees last spring, the trees should have completely recovered by now, and grown lots of healthy new leaves (that should look something like the photo below).
However if you're not sure whether your trees had the disease, it may still be possible to find out, as you may still have remnant diseased leaves in your trees.
They'll look something like this:
In fact, this can be one of the dignostic tools you can use to help identify whether you had this disease in your trees, in the ongoing detective work we need to be doing to become awesome fruit growers!
These dead and shrivelled leaves are a powerhouse of fungal spores sitting in the tree, just waiting to infect the buds that are forming this year with spores, and start the disease cycle all over again.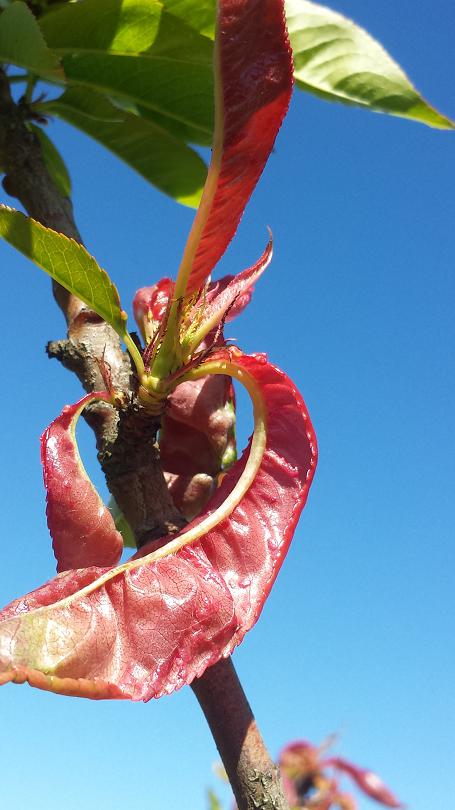 It's been often and hotly debated whether it's worth removing infected leaves from the tree as they emerge in spring, and the answer seems to be no, it doesn't help reduce the spread of infection once it's started.
However, the jury is still out on whether removing the remnant leaves in summer will help prevent re-infection the following spring. As always, we err on the side of caution when it comes to practical, hands-on jobs you can do to help your trees stay healthy.
So…get rid of them! Many of these leaves will probably have fallen off of their own accord and rotted away under the tree, but if there are any still in your trees, remove and dispose of them.
Hot compost is the perfect disposal method, as the high temps reached will kill off the fungal spores, but the organic matter in the leaves won't go to waste.
Remember, prevention is much better than cure, and hygiene is one of the best defenses we have against all pests and diseases.
The most important defence is spraying, and we help you do this safely and effectively in the short course Better Fruit with Wise Organic Spraying.
The keys to success are only use allowable organic sprays so you don't damage your trees or the environment, and make sure you get the timing right.