Hi, we're Hugh and Katie Finlay and we're passionate about making abundant, free organic fruit a reality for all.
We have a long history of fruit-growing behind us. The orchards on our farm were first planted in the 1880s by W.L. Williams and sons. By 1909 they had an orchard or 'garden' of 60 acres, making them Harcourt's largest fruit growers. They successfully grew apricots, plums, peaches, nectarines, apples, pears, and cherries. In many ways, our farm still looks as it would have back then, though on a smaller scale. (Our farm was previously called Mt Alexander Fruit Gardens to honour these multi-species plantings.)
At the foot of Leanganook (Mount Alexander) in central Victoria, our orchards have small plantings of dozens of varieties.  Through careful planning and looking after the trees well, we enjoy an extended season of fresh fruit off the tree for many months.  Appropriate storage and a range of preserving techniques help us stretch our harvest of home-grown fruit to last all year round.
Our place is a working demonstration of how to keep your family fully supplied with home-grown organic fruit.
When we started teaching the Grow Great Fruit system back in 2013, we were full-time farmers. Farming is full-on, so the teaching was always squeezed into the gaps between harvesting, selling fruit at markets, pruning, and the hundred other jobs involved in running a busy farm.
The last few years have been busy, but we've always found teaching fruit growing to be energising, not draining. And, our members and students have been getting great results!
In fact, helping fruit enthusiasts has been so rewarding and meaningful that we decided we want to do a lot more of it.  But to do that, we knew we'd have to do less farming. So, we put a plan in place to give our passion project the time it deserves. We've trained up a young farmer (the fabulous Ant Wilson), leased our orchard to him, and set up the Harcourt Organic Farming Co-operative on our farm.
 Why is teaching organic fruit growing so important to us?
Generations of kids and adults are growing up without ever picking ripe fruit from a tree—if you're lucky enough to have childhood fruit memories, you know how special that is!
There's a growing disconnect from nature and where our food comes from. It's probably no coincidence that as a society, physical and mental health problems are on the rise.
Plus, there are so many things to worry about at the moment—pandemics, climate change, bushfires, economic woes and drought are just the top of a long list. Bees are under threat, species are disappearing, and our topsoil is being swept away in dust storms.
If ever there was a time for simple, practical skill-based solutions, it's now.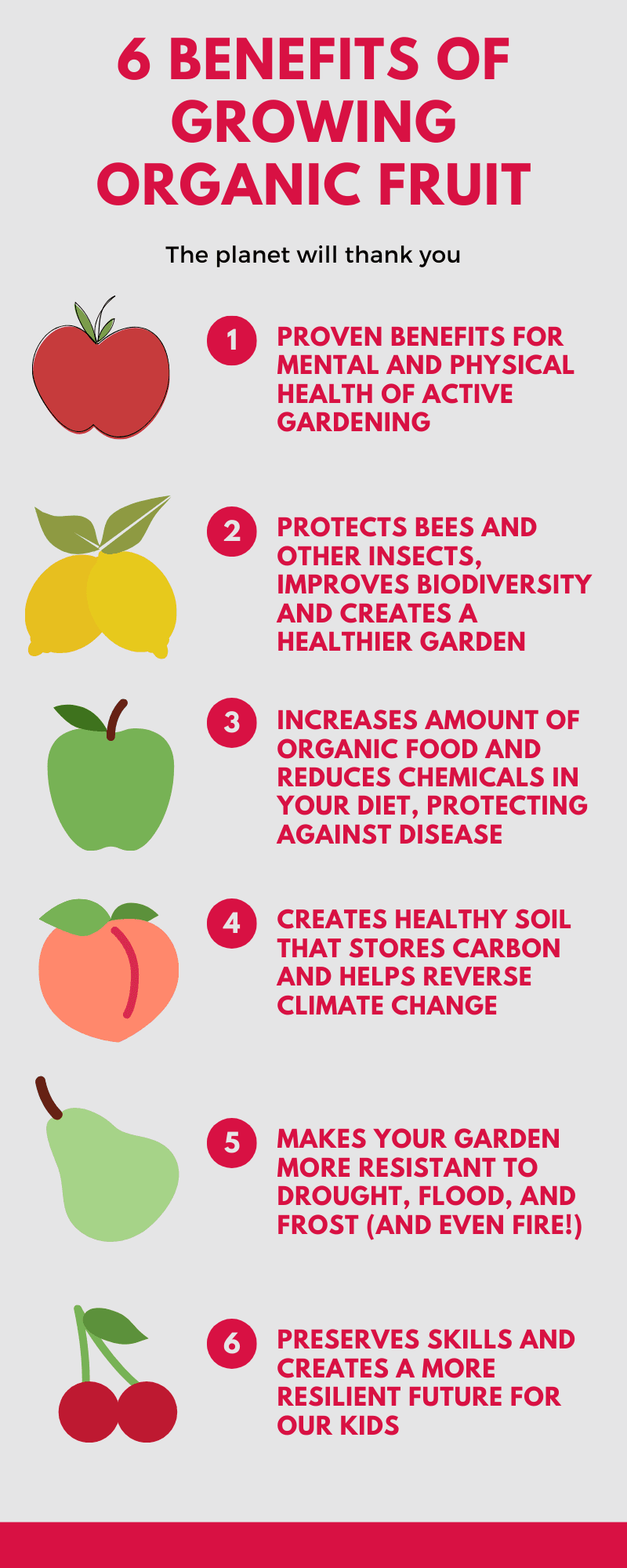 You already know this….
If you're on this website you've probably already felt the urge to get in the garden or move to the country, connect with nature, and simplify your life, right? Somehow, you just know deep in your gut that you want to grow your own food, and you probably share our belief that kids deserve to grow up eating and learning about home-grown food.
The COVID-19 pandemic has reinforced how important it is to have control over our food supply, and how rewarding it is to have a productive garden.
In the past the knowledge was handed down from elders. Kids learned by watching their parents. We lived in communities that grew and shared food.
Now, everyone's trying figure it out for themselves.
There's TV shows, magazines, and books dedicated to teaching food-growing skills, but learning alone can be a long, slow process, and getting it wrong can lead to insecurity and doubt—in fact, repeated failures can actually have a negative effect on your well-being, as well as being a waste of time and money.
That's where we come in.
How did the Grow Great Fruit system start?
Learning how to grow organic fruit on our orchard over the last 20 years has given us a wide body of knowledge about how to protect fruit trees against drought, flood, pests, disease and weather—how to expect the unexpected, in other words. We learned the hard way, by making mistakes, living through disasters, and coming up against new challenges every single year.
With the help of wise teachers and mentors and lots of trial and error we learned how to grow a successful—though sometimes small—crop every single year. Having five kids to feed, clothe and put through school was a great motivator!
When we came out the other end, we realised we'd built up a pretty solid system of practice that was helping us get good results year in, year out.
Give a woman a peach and you feed her for a day, teach a woman to grow peaches and you feed her for a lifetime.
Feeding our customers with organic fruit was wonderful, but we wanted to make a wider impact in the world, to spread the benefits of access to organic fruit beyond just the people we could feed. We wanted to share what we'd learned.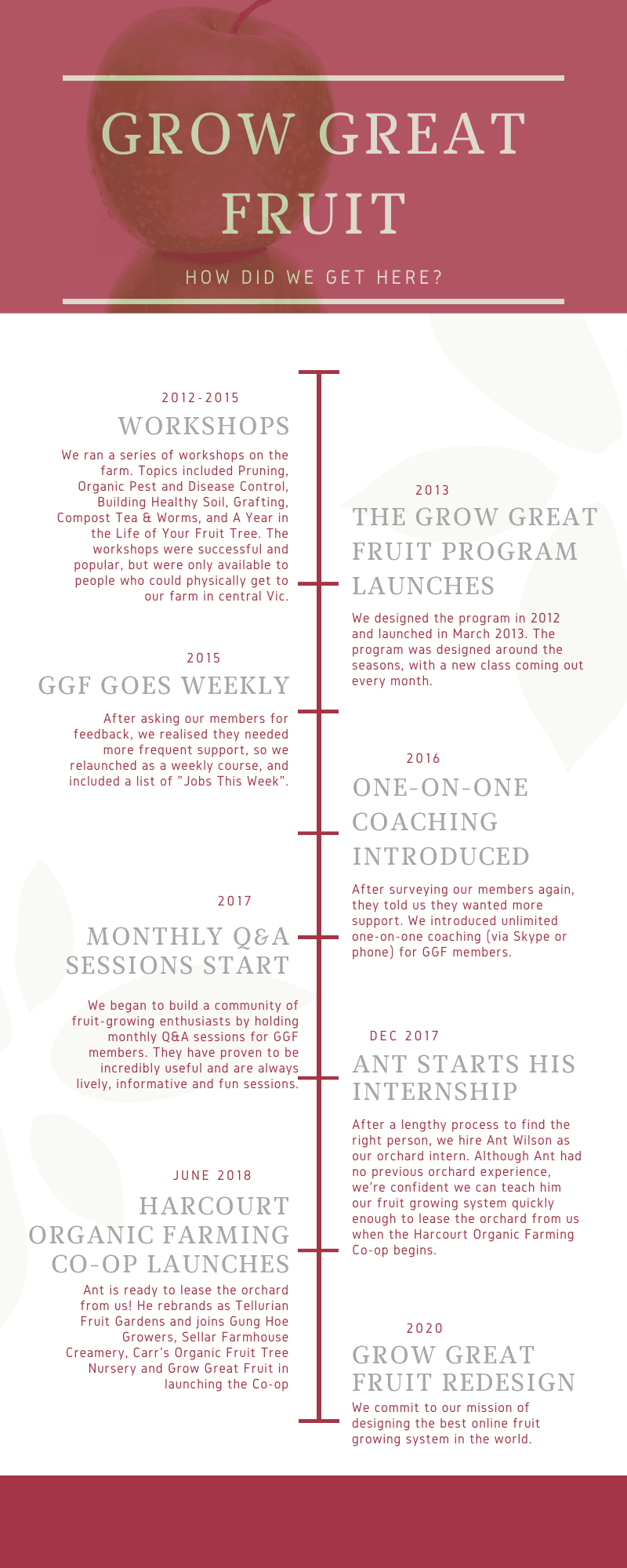 Passing on and preserving these skills has never been more urgent.
It's up to our generation, right now, to re-learn how to grow our own food, and pass those skills on to our kids.
We're committed to this next phase of our lives. Quite simply, we want to offer the best online fruit growing program in the world.  Find out more about it here.
A bit more background about us…
Hugh's farming experience started on a cattle station in Western Australia (which he ended up managing), followed by a stint as a supervisor on a broadacre wheat farm in Saudi Arabia. Travelling around the world for fun turned into 16 years as a writer and editor for Lonely Planet, an exotic lifestyle he eventually gave up to return to farming and settle down in Harcourt.
Hugh's training was significant in steering Grow Great Fruit towards organics and biological management:
"Monitor and manage soils" and "Pest, disease and weed management", Diploma of Agriculture in Organic Farming, Organic Agriculture Association/Northern Melbourne Institute of TAFE.
Sustainable and Biological Farming Course, Dr Arden Anderson PhD DO FS
"True Fertility Compost Tea Course" and "Microscope Course", Dr. Elaine Ingham, Soil Food Web Institute
"Compost & Compost Tea Workshop", Paul Taylor
"Irrigation Management Course", Department of Natural Resources and Sunraysia TAFE
"Cherry Short Course", Department of Primary Industries, Shepparton
"Soil and Agronomy Workshop", Dr Arden Andersen PhD DO FS
"Environmental Best Management Practice on Farms", Department of Primary Industries
Hugh's a self-confessed soil and microbe nerd, and has spent a fair bit of time looking down a microscope. His areas of specialty are many and varied, but include:
Nutrition—looking after the worms (his babies), compost, soil testing, leaf testing, fertigation and foliar sprays
Irrigation—knowing how pumps and irrigation systems tick, monitoring soil moisture, deciding when and how much to water trees
Pest and disease control—predicting the weather and putting on preventive organic sprays at exactly the right time
Machinery fix-it guy
IT and website fix-it guy
Katie's a third-generation orchardist and grew up here in Harcourt on the family farm, then headed to Melbourne to get a Bachelor of Science at Monash Uni majoring in botany and genetics—which came in very handy when she came home to the farm 15 years later.
Katie's training has been in different areas to Hugh—but no less significant in shaping the direction of the farm and the Grow Great Fruit business.
"Permaculture Design Certificate", Beck Lowe, Cydonia Permaculture
"Permaculture Certificate 3", Beck Lowe, Cydonia Permaculture and Eltham College
"Soil and Agronomy Workshop", Dr Arden Anderson PhD DO FS
"Footprints to Sustainability", Jane Knight
"Biodynamic Field Day", Biodynamic Agriculture Australia
"Environmental Best Management Practice on Farms", Department of Primary Industries
"Holistic Management" , Kirk Gadzia
"Soil Microbes for Healthy Soil & Improved Vineyard Quality, Department of Primary Industries
"Carbon Farming 101", Carbon Farmers of Australia
Katie's specialty areas include:
Pruning—5,000 trees and 4 different tree training systems over 20 years adds up to a lot of experience
Fruit picking—timing the harvest to ensure every variety is picked in perfect condition
Grading, storing and preserving to ensure every piece of fruit is used to its highest purpose
Thinning to manage crop load and quality
Orchard hygiene and pest and disease control
Orchard planning—variety selection, pollination and harvest planning
Grafting and growing rootstocks from seed and cutting
Media & Speaking
2022
2021
2020
2019
 2018
2017
2016
2015
Earlier
Awards, Grants and Research
Research participant, "Ageing on Farm"', Dr. Clare Wilding, John Richards Centre for Rural Ageing Research, La Trobe Rural Health School, La Trobe University, published article pending, August 2022.
Case study

, "Growing Agriculture Opportunities in Tweed", Farming Together,

link here

, May 2021

Research participant, "Beyond 'get big or get out': Female farmers' responses to the cost-price squeeze of Australian agriculture.", Dr. Lucie Newsome, Master of Governance and Public Policy, University of New England, link here, August 2020.
Case study, "Harcourt Organic Farming Co-op", Farming Together, link here, 2020
Case study, "Grow Great Fruit", Clare Fountain, sorted. link here, 2019.
Research participant, "What is the relationship between soil health and environmental stewardship in conventional and alternative agricultural management systems in Victoria, Australia", Assoc. Prof. Wendy Stubbs, Dr Vanessa Wong, Mr Thomas Kennett, Monash University, September 2019.
Grant recipient,

2018, "Harcourt Organic Farm Alliance", Farming Together Grant, Australian Government

Grant recipient, 2018, "Creating the Land of Milk and Honey in Rural Australia", Food Source Victoria Growth Grant, DEDJTR, State Government of Victoria
Research participant, The Difference Incubator for Hepburn Wind, March 2018.
Grant recipient, 2017, "Harcourt Organic Farm Alliance", Food Source Victoria Planning Grant, DEDJTR, State Government of Victoria
Winner, 2015 RIRDC Victorian Rural Women's Award, link here
Winner, 2015 Mount Alexander Business of the Year
Winner, 2015 Mount Alexander Sustainability and Environment Award
Runner-up

, Outstanding Best Practice, Outstanding Innovation or Invention & Encouragement Awards, Carbon Cocky Awards, 2011

Medalist

, 'From the Earth,

delicious produce awards

, 2011

Medalist

, 'From the Earth,

delicious produce awards

, 2010
Testimonials
Pragmatic, concise information – not so mind boggling! — Anna Winneke
I think pruning is really difficult! Been to several workshops over the years and I vacillate between leaving the tree to do its own thing, and cutting off everything that is not absolutely where I think (!) I want it! Your information was excellent because (1) you were encouraging (2) you kept referring back to the basic principles – which makes us THINK, observe before we prune! For me, very timely advice re ground cover (and you convinced me!). Have been saying for some time that mulching and keeping the margins around the mulch clear of weeds is unsustainable in terms of effort (mine!). Will have lots of fun sowing lentils and vetch (which I have bags of seed of) in place of mulch. And will see how many herbs I can find (and afford)! Going out to put my first Bordeaux today. — Clare Claydon
Great to get practical, real approach from someone growing fruit. —  Gabrielle Pellissier
I definitely feel informed and equipped enough to give compost tea a go. Much appreciated, accessible, easy to digest learning – thanks guys. —

Holly Beaumont

Very informative and great ideas. Going to build my compost heap asap. — Jonathon Levin
Wish I'd had all this information before planting my orchard. Great breadth of planning. — Sam Downing