Despite my years of experience in the orchard growing fruit, I don't have a gardener's elbow, let alone  a green thumb. I missed out on Mum's passion for roses, and while I share Dad's fascination with all things edible, am envious of the ease with which he seems to produce enough vegies to feed the family, and frequently have a surplus.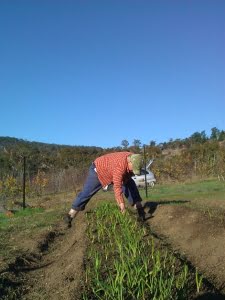 I see the amount of hard work that goes into producing the Gung Hoe Growers' year-round parade of delicious vegies, but at the same I know it's about more than just hard work – some people seem to have a knack for knowing when and how to do things, and I'm not one of them!
However, common sense says it can't be that difficult, and since studying permaculture we've learnt lots of tricks and techniques to make growing vegies easy. Plus, Hugh's started taking an interest in growing vegies, so I'm off the hook!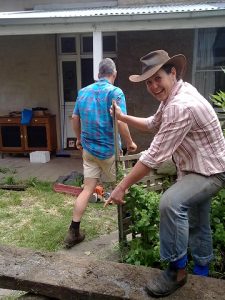 A few years ago we converted part of the garden that had been little more than a dusty dog playground just outside the kitchen window into…
… a very productive (and much more attractive) wicking bed. In permaculture terms this is Zone 1 – close to the kitchen and path, and the right place to grow the things you need most often, like herbs, salad greens and vegies.
After a while we made some modifications, and we now have four beds in this area. The wonderful Victoria (the intern who was with us last year) planted them up with lots of perennials like Vietnamese mint, asparagus, stevia, comfrey, rocket, mint, marjoram, thyme, and some other herbs. This is such a lovely warm sheltered spot that we even have thriving lemongrass and a very happy lime tree in its own wicking bed built out of an old water tank.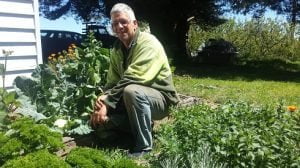 Since adopting these beds as his own, Hugh has filled every available space with vegies, keeping us supplied over winter with cauliflower, brocolli, brocollini, brussels sprouts, cabbage, chillies, celery and rhubarb.
He's started the summer planting with tomatoes (under the glass covers to get them started), sweet corn, pak choi, silver beet, kale, celery, coriander, and more chillies. There's still a few spots left, so there'll no doubt be more going in soon.
This is a great spot for wicking beds, being right next to a 150 year-old, 100 m high cypress tree growing nearby, that has roots everywhere! The wicking beds are lined, which stops nearby roots sucking all the water out of them.
The principle of a wicking bed is that the water is delivered into the bottom of the bed (via the upright pipe) and then the plants 'wick' the water up from the bottom, so no water is lost to dehydration – a great trick for our dry summer landscape!
To make sure the wicking principle works, the beds must be level – as this spirit level shows (well, actually it shows that it's not quite level yet, but you get the idea).
Every year we add some nutrition from home-made compost, our helpful worms, and chooks, and occasionally a boost from the neighbour's horse or cow.
The weeds and left over plants get piled up near the chook shed at the end of each season, waiting for me to clean out the chook shed and start the next compost pile. Then they'll be returned to the garden – gardening is just so cyclical!
For the time being, I'm leaving growing the annual vegetables to other people (thanks Hugh and Dad), and concentrating on the garden we started last year near the farm shop, where I'm planning to add passionfruit, pecan nuts, brambleberries, and choke berries.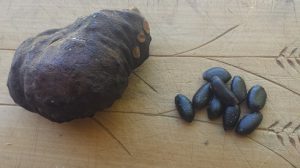 I've also got seed from a couple of different varieties of cherimoya (custard apples) to try – they're not traditionally grown in this climate, but one of the great things we've learned from permaculture training is how much you can 'stretch' a plant's natural inclination by creating micro-climates.
Here's to a bountiful summer of home-grown vegies!
Cheers, Katie