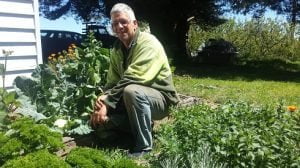 Ah, the lifestyle dream. Everyone, it seems, wants to move to the country and grow their own food these days.
But why? What's at the bottom of this passion that drives people to want to make the "tree change"?
For years I've been interested in the reasons for this, but have struggled to articulate them. It's something I've also felt for most of my life, so I totally get it, but how do you describe that deep, yearning desire to grow your own food, let alone the incredible satisfaction and pride you feel when it works, and you harvest, cook and eat it?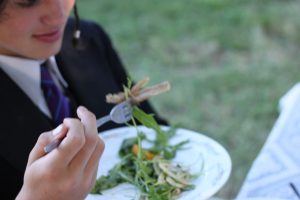 We often comment when we sit down to a meal about how much of the meal we grew ourselves, or came from neighbours, friends or family.
We're in the incredibly fortunate position of having lived on a farm for 20 years now (and growing up here as well), so we've had plenty of time to get the systems in place and the skills to grow a large part of what we eat.
We mainly eat meat from our farm or other farms in the district and have practised home butchery for years; we grow about 50% of our veggies (including the ones we preserve in summer to eat in winter), or get them from the Gung Hoes, and of course we have all the fruit we could possibly want for eating, preserving and cooking.
Occasionally a meal will also include our own nuts (we grow almonds), honey from a neighbour or eggs from a family member (we don't currently have chickens but are planning to remedy that soon!).
This little ritual is not only a way of expressing gratitude and appreciation for the earth, but also interesting for making you think about the foods you don't grow yourself, and whether (a) you could, or (b) they're replaceable with something else you could grow.
To try to get to the bottom of this collective passion for food growing, we recently asked a bunch of people what they thought of the idea of being self-sufficient, growing organic food, and producing a surplus to sell. Here's what they said:
It's the best dream I've ever had
In my dreams
Amazing…yes!
To be self-sufficient, to take care of nature and to supply for my community with the surplus, that is what permaculture is about – it all appeals to me!
I love the idea of this! Good for the whole world! Good for people, the Earth and our fellow Tellurians, fantastic!
Love this!!!
My total dream: to be able to be as self-sufficient as possible with food, plus to be environmentally friendly
Totally love the idea of being self-sufficient, not having to rely on supermarkets. To know where my food comes from and how it was grown as well as being able to get children involved so they understand the importance of fresh healthy food.
Food is all important, to nourish and repair
Being sustainable, knowing where and how my food is grown, feeling proud of my produce
To be able to go out the back door to the garden and pick food that is free from chemicals that tastes amazing that would be just perfect.
Sure is my dream! A few reasons: sustainability and environment, a changing climate and food security, and because I love growing things!
The urge to grow your own seems innate—and of course, that absolutely makes sense. The drive to feed yourself and your family is primal—it's key to staying alive and making sure your genes are passed on to the next generation.
But these comments show that it's so much more as well. We're not just driven by primal desires (as important as they are), people are also drawn to growing their own food for ideals of health, teaching children, eating food with no chemicals, looking after the environment and, well, just living simply.
Bring it on, we say.