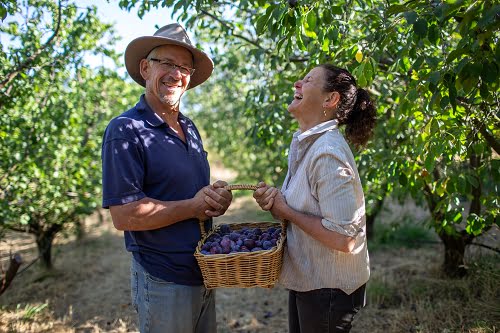 The 5 Key Steps to Happy, Healthy Fruit Trees
Free webinar with Hugh & Katie Finlay
---
Daily Webinar Sessions
---
Live Webinar Sessions
Want your questions answered on the spot? Join a live webinar session.               
(Phone numbers will not be shared.)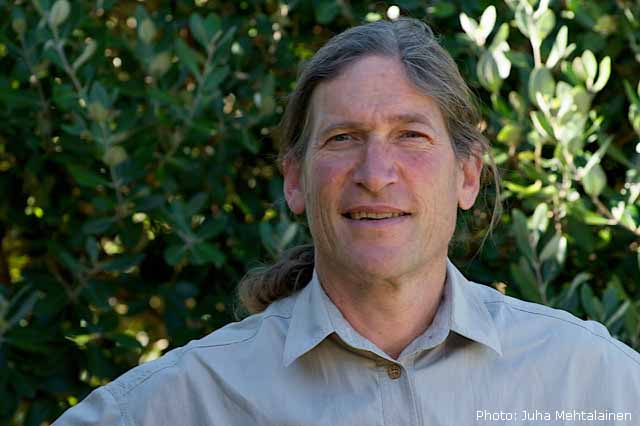 Grow Great Fruit courses are recommended by David Holmgren, co-originator of Permaculture
"Grow Great Fruit has for years been one of the best online resources for helping those growing fruit in the suburbs and across our rural hinterlands to crank up their household economy with greater abundance.
In the process, many have become producers for their local communities.
The relaunched website and programs are now even better; a great resource for those wanting to skill up or start from scratch as fruit producers."
Hi, thanks for your webinar tonite. Thoroughly enjoyable, interesting & useful. Signed up for course as a result. My husband who joined me tuning in to the webinar tonite will actually be doing the course, as he is the fruit tree/plant worker. We are both retired on our tree change, lifestyle small property. Pleased your ad popped up on my FB page. Kind regards.
Finally— a webinar that's genuinely worth your time.
In just over 90 minutes, we'll show you how to keep your trees happy and healthy, and how to look after them with confidence.
You'll leave the webinar knowing:
what healthy soil means, and how to build it;
how to give your trees the right amount of water;
a simple pruning system for all fruit trees;
the key to organic pest and disease control;
how to plan a garden that will supply your fruit needs.
Plus, you can ask your questions during the webinar and get answers to your specific problems.
This may just be the best time you will ever invest in growing your own food!
Hi Hugh and Katie, Thank you for a great webinar. I learned a lot today from you both. Especially pruning. I wish I knew about that when I went to plant my lemon tree! All the very best for the future and thanks again.
Thank you for your very well-presented and organised webinar. I am very much a hobbyist but have been reminded of what to do to improve the soil and hence keep my fruit trees (3) healthy, but also some valuable points about pruning that I was very unsure about. Thank you once again!
About the Speakers
We're Hugh and Katie Finlay and we've been growing organic fruit since the late 1990s on the family orchard. We're passionate about helping people achieve delicious and healthy home-grown fruit. 
Our farm-tested and proven Grow Great Fruit program is born from years of experience of fruit-growing. As certified organic farmers, we teach organic fruit-growing methods—we think it's better for you, your family, your garden, and the planet.
We've talked to thousands of home growers (like you) to find out exactly what you need most. Turns out, most people are looking for quality information, skills, and someone you can trust to help you solve your problems.
So that's exactly what you'll find in this webinar.
Hugh's experience lies in fruit tree nutrition, irrigation, netting, and pretty much anything that involves a tractor or equipment.
He's the 'microbe nerd' on the farm, and trained with Dr. Elaine Ingham at the Soil Food Web Institute, as well as other inspirational teachers. He takes a deep interest in compost, compost tea, and soil microbes.
After doing his initial farm training in Western Australia and the Middle East, Hugh spent many years roaming the world as a Lonely Planet author and has written more than 30 travel books, before settling on the idyllic farm in Harcourt he shares with Katie.
These days he enjoys teaching people how to set up their food gardens to be productive without needing lots of ongoing work, by creating systems and infrastructure that save time, labour, and—ultimately—money.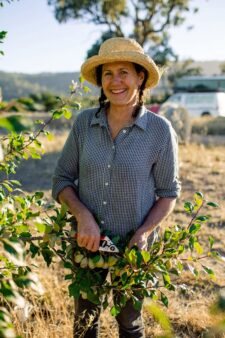 Katie grew up on the orchard, learning by helping her dad Merv whenever she could. With no initial plans to be a farmer, Katie headed to uni in Melbourne, but after getting a Bachelor of Science (majoring in Botany) and studying permaculture, she realized her heart lay in the country. Back home, Katie served an informal apprenticeship with her dad before stepping up to run the orchard.
Katie's experience is in all things to do with growing fruit—grafting, pruning, and thinning the trees, then looking after the fruit right through to harvest. Katie is deeply interested in the fine skills of tree-ripening for perfect flavour, and preserving fruit to get the most from every harvest. 
These days Katie finds joy in helping people plan their fruit tree gardens and learn the skills they need to become completely self-sufficient for fruit, year-round.  
The 5 Key Steps to Happy, Healthy Fruit Trees
Free webinar with Hugh & Katie Finlay
Find out more about what we've been up to…
Testimonials
Content was pitched at a really good level for a beginner.  — Alice Holloway
Pragmatic, concise information – not so mind boggling! — Anna Winneke
Great info for me to use on my own backyard fruit trees. I'll give it a go! — Chris
I think pruning is really difficult! Been to several workshops over the years and I vacillate between leaving the tree to do its own thing, and cutting off everything that is not absolutely where I think (!) I want it! Your information was excellent because (1) you were encouraging (2) you kept referring back to the basic principles – which makes us THINK, observe before we prune! For me, very timely advice re ground cover (and you convinced me!). Have been saying for some time that mulching and keeping the margins around the mulch clear of weeds is unsustainable in terms of effort (mine!). Will have lots of fun sowing lentils and vetch (which I have bags of seed of) in place of mulch. And will see how many herbs I can find (and afford)! Going out to put my first Bordeaux today. — Clare Claydon
Commonsense approach to controlling pests and diseases, prevention focused. I look forward to boosting my trees' immune system and monitoring and then knowing some things I can do to help! — Emma Jimson
Great to get practical, real approach from someone growing fruit. —  Gabrielle Pellissier
I definitely feel informed and equipped enough to give compost tea a go. Much appreciated, accessible, easy to digest learning – thanks guys. —

Holly Beaumont

Very informative and great ideas. Going to build my compost heap asap. — Jonathon Levin
Terrific information! Thanks. We will definitely put into practice the advice on controlling pests in the orchard and garden. — Judy & Phillip Hopley
Great organic solutions and education on common diseases. — Kristy Wagner
I was hoping to have a clearer idea of what to do, when. And this is exactly what was delivered. In addition, I have learnt heaps of new detail, it's very exciting! I'm looking forward to being able to put my new knowledge into practice. — Linnet Good
Wish I'd had all this information before planting my orchard. Great breadth of planning. — Sam Downing
Awards, Grants and Research
Research participant, "What is the relationship between soil health and environmental stewardship in conventional and alternative agricultural management systems in Victoria, Australia", Assoc. Prof. Wendy Stubbs, Dr Vanessa Wong, Mr Thomas Kennett, Monash University, September 2019.
Research participant, "What is the relationship between soil health and environmental stewardship in conventional and alternative agricultural management systems in Victoria, Australia", Assoc. Prof. Wendy Stubbs, Dr Vanessa Wong, Mr Thomas Kennett, Monash University, September 2019.
Grant recipient,

2018, "Harcourt Organic Farm Alliance", Farming Together Grant, Australian Government

Grant recipient, 2018, "Creating the Land of Milk and Honey in Rural Australia", Food Source Victoria Growth Grant, DEDJTR, State Government of Victoria
Research participant, The Difference Incubator for Hepburn Wind, March 2018.
Grant recipient, 2017, "Harcourt Organic Farm Alliance", Food Source Victoria Planning Grant, DEDJTR, State Government of Victoria
Winner, 2015 RIRDC Victorian Rural Women's Award, link here
Winner, 2015 Mount Alexander Business of the Year
Winner, 2015 Mount Alexander Sustainability and Environment Award
Runner-up

, Outstanding Best Practice, Outstanding Innovation or Invention & Encouragement Awards, Carbon Cocky Awards, 2011

Medalist

, 'From the Earth,

delicious produce awards

, 2011

Medalist

, 'From the Earth,

delicious produce awards

, 2010
Media & Speaking
2020
Article, "Broccoli by subscription", Sanctuary modern green homes magazine, link here, January 2020
Article, "Farming for old and new" (The Co-op Generation), Organic Gardener magazine, link here, February 2020
Article, "Culinary Gold", Going Places, Malaysia Airlines in-flight magazine, link coming soon, February 2020
2019
Article, "New co-op models show promise", The Weekly Times Farm Magazine, link here, October 2019.
Keynote speaker

, "The Individual's Role in Agriculture & Sustainability", Josie McEwan Dinner, Buda Historic Home & Garden, Castlemaine, September 2019.

Article, "Working co-operatively", Organic Insights Magazine, National Association for Sustainable Agriculture Australia (NASAA), link here

, Winter 2019.

Speaker & workshop,

"Pruning Fruit Trees", Castlemaine & District Garden Club, May 2019.

Panel Speaker, "Co-operatives as an Alternative Economic Structure", Localising Leanganook, May 2019
Article. "Climate change", Bendigo Advertiser, link here

, 8 February, 2019.

Panel member

, Launch of the "EAT-Lancet report on Food, Planet and Health, Festival 21, Melbourne, February 2019
 2018
Article, "Victoria's first organic co-op", Southern Farmer Newspaper and North East and Goulburn Newspaper, link here, September 2018
M.C.,  "An Evening With David Holmgren" Retrosuburbia launch, August 2018
TV appearance, "A day in the life of a farmer: If you see it, you can be it", ABC Kids TV series celebrating International Womens Day, link here, July 2018
Speaker, "Harcourt Organic Farming Co-op", Farming Together Co-operatives conference, June 2018
TV appearance, "Central Victoria will beome home to Australia's first organic farming alliance", 9 News Central Victoria, link here, July 2018
Article,

"Harcourt co-operative set to develop organic farming hub",

Bendigo Advertiser

,

link here

, 2018

Article,

"Local organic co-op: an Aussie first",

Midland Express,

 

link here

, 2018

Speaker, "Apple Day", Kyabram Garden Club, 2018
Article,

"Fruits of Labour"

Lost Magazine

,

link here

, 2018

Article,

"Farmers choose to see 'up' side of disaster",

Weekly Times

,

link here

, 2018

 
Article,

"New food trends

", Australian Geographic magazine,

2018

Podcast,

"Get the Dirt",

the food exchange

,

link here

, 2018
2017
Keynote speaker, VCE Business Forum, La Trobe University, Bendigo, 2017
Article, "Meet the maker – stone fruit", Eatwell Magazine, link here, 2017
Speaker, Spring Gardens Expo, Rushworth Spring Gardens, 2017
Article, "The ancient art of grafting" Pip Australian Permaculture Magazine, link here, 2017
Blog post, "Innovative small farming model developed in Harcourt", Waller Realty blog, link here, 2017
Article, "A Big Country: Turning an orchard into an organic co-op", ABC Rural News Online, link here, October 2017
Article, "Co-operatives in agriculture making a comeback", NSW Country Hour, ABC Radio, interview about co-operatives in agriculture, link here, 2017
Article, "Victorian Government backs organic alliance", The Weekly Times, link here, 2017
Speaker, "Planning a farm co-op", Food & Fibre Future Directions conference, Bendigo TAFE, 2017
Article, "New farming enterprise offered a headstart on Harcourt family's established land", Bendigo Advertiser, link here, September 2017
Speaker, Outgoing Business of the Year, Mount Alexander Business Awards ceremony, 2017
Article, "Sharing organic food-growing knowledge across the Pacific", ABC Online, interview about hosting international organics delegate, link here, March 2017
Article, "Bold women of central Victoria share their wish list for change on International Women's Day", ABC News Online, link here, March 2017
Speaker, Outside the Square event, Bendigo, 2017
2016
Speaker, "The link between per-urban farmers and consumers via Farmers Markets", Urban Agriculture conference, Bendigo, November 2016
Article, "Fruit farmers on a mission to boost our backyard bounties", Megan Backhaus column, The Age and Sydney Morning Herald, link here, August 2016
Panelist, Selection Committee for Rural Women's Award Victorian winner, 2016
Field day host farm, Soil Health Guide launch and soil workshop, North Central Catchment Management Authority (NCCMA) Sustainable and Biodiverse Farms Field Day, November 2016
2015
Radio interview, "Country Hour", ABC Radio, interview with Nikolai Beilharz after winning the Victorian Rural Women's Award, hear the interview here, 2015
Article, Australian Fruitgrower Magazine, link here, 2015
Keynote speaker, NASAA Industry Conference, Canberra, link here, 2015
Speaker, "Farmers using technology", Local Lives, Global Matters conference, Castlemaine, 2015
Article, "Celebrating excellence", Midland Express, link here, 2015
Speaker, Chicks in the Sticks conference, Kyneton, 2015
Judge, Rural Ambassador Award, Victorian Show Association, Melton, 2015
Keynote speaker, Connecting Rural Business Women conference, Beechworth, 2015
Article, "Two hot topics on the one bill", Midland Express, link here, 2015
Interview, Is growing organically just a fad or is it the future of farming? Debate between Dr Ian Musgrove and Katie Finlay, ABC Rural Radio, link here, June 2015
Article, "Primary passion", The Southern Farmer Newspaper, link here, May 2015
Panelist, "The Great Debate: is organics a fad or the future of farming?", Ausveg National Horticultural Convention, 2015
Article, "Mt Alexander Fruit Gardens at Harcourt Back from the Brink", Weekly Times, link here, 2015
Earlier
Video, "Waste Deep", made by Sustainable Table – watch the video here, 2014
Article, Midland Express, about our involvement in the local sustainable food system, link here, 2014.
Article, Bendigo Advertiser, "Warm in the Orchard", link here, 2014.
Article, Midland Express, "Sustaining a Community", link here, 2014.
Farm visit by leader of the Australian Greens, Christine Milne, and article about the visit in the Midland Express, link here,
Article, "Love for the Land Runs Deep", in the Finding Neverland series of articles, Bendigo Magazine, Issue 33, Summer 2013/14.
Case study, "Many Publics. Participation Inventiveness and Change" report by Kate Auty, the Commissioner for Environmental Sustainability in Victoria (read the report at: www.ces.vic.gov.au) 2012
Web article, "Enjoying the Fruits of Our Labours", Cultivating community website, 2012
Keynote session speaker,Growers and Eaters Conference, Bendigo, 2012
Panel speaker, Get the Dirt on Food Security, Northcote, 2011
Article, Australian Horticulture magazine, 2011
Article, Good Fruit and Vegetables magazine, 2011
Video case study, FarmVIEW video series about farming in a changing environment: Watch video here. (ep 2.1 'Climate and Planning'), 2010
Featured speakers, Organic Agriculture Association Future Farming conference, Bairnsdale, 2010