Estimated reading time: 4 minutes
Is there any such thing as too many white peaches?
You wouldn't think so, would you? But sometimes you can find yourself with a sudden glut of fruit that just can't wait to be dealt with.
At those times, it's easy to curse an excess of white peaches sitting on the bench waiting for processing.
And yes, we're speaking from experience here. Some of the early season white peach varieties ripen around Christmas time. That's usually when everyone takes a couple of days off, so it's easy to get behind with the picking.
We have definitely had years when we've got behind and some white peaches have become overripe and sadly ended up on the ground.
One of the basic principles of keeping your organic fruit trees healthy is picking up all of the fruit that falls on the ground. That means the fruit that hits the deck all has to be collected!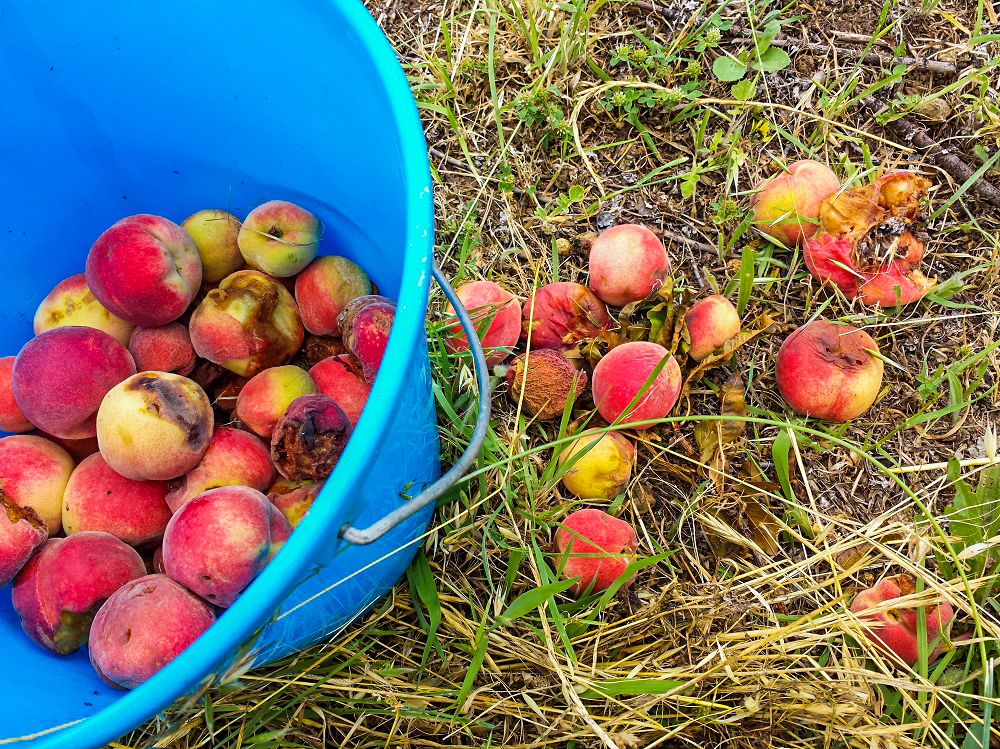 Using fruit to its highest purpose
We've always had a commitment to using every piece of fruit that we grow for its highest purpose. Any fruit picked up off the ground is used firstly for people food, if it's of good enough quality. If it's undamaged it can be eaten fresh or put in the fridge for later.
But to be perfectly honest, windfall fruit more often than not doesn't look great.
It might be bruised from the fall. Or it's fallen onto a twig or some grass which has put a hole in it. If it's been there for a couple of days it might have developed some brown rot (or that might be the reason it fell in the first place).
That doesn't mean the fruit's not usable, just that it's going to need cooking rather than eating fresh. The more degraded it is, the more quickly it will have to be processed and cooked before it gets any worse.
Regardless of what it looks like, it's all collected and then sorted into the different grades.
If it's not good enough for human consumption, it still finds a use. We'll either give it to the animals (cows, chooks, etc.) or put it into the compost or worm farm.
Using windfall white peaches … in a hurry
Windfall fruit is actually a very common experience. If you grow fruit, chances are at some stage you're going to have to deal with a glut. This might be because you've managed your ripening tree beautifully and just have too much fruit. Or it might be because you let the white peaches get overripe and fall to the ground.
So, we want to share with you one of our favourite peach chutney recipes. It was passed on to us by one of our lovely customers, via the Australian Women's Weekly "The Book of Preserves" (thanks Robbie).
We modified the recipe slightly when we made it, so we bring you the Grow Great Fruit version here. It was modified based on what we had in the pantry and the fridge when we made it (which is how so many good recipes evolve!).
It's a terrific way of using white peaches, which are in abundance at this time of year.
Grow Great Fruit Peach and Lemon Chutney
Ingredients
1/4 tsp ground black pepper
1/2 tsp chilli powder (or 4 small dried red chillies)
1/8 tsp ground cloves
1/4 tsp ground cinnamon
1 kg organic white peaches (you could use yellow peaches)
3 medium organic brown onions, chopped finely
2 cups organic brown sugar
2 cups organic apple cider vinegar
3/4 cup sultanas or currants
1/4 cup dried peel
3 tsp grated fresh ginger
2 cloves garlic, crushed
2 tsp grated lemon rind
1/4 cup lemon juice
Method
If using clingstone white peaches, first simmer the peaches. Use just enough water to prevent them from sticking, and simmer for 10-15 minutes or until the flesh will easily come off the stones.
Cool, and remove flesh from stones by hand. Discard peach stones. There's no need to peel the peaches, just wash them and remove any bad bits before you boil them.
Combine all ingredients in a large saucepan.
Stir over heat without boiling until the sugar is dissolved.
Bring to the boil and simmer uncovered, stirring occasionally, for about 1.5 hours or until the mixture is thick.
Pour into hot sterilised jars, and seal immediately with sterilised lids.
Pre-Christmas is actually the perfect time to whip up a batch, as it goes perfectly with Christmas ham. It also makes a stunning home-made Christmas gift.
There really is no such thing as too many peaches. The trick is being ready at the drop of a hat to make the most of every single one!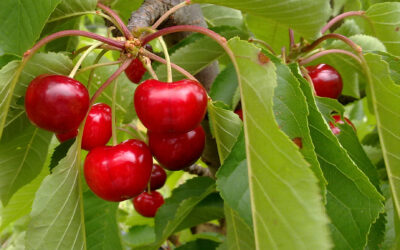 Feeling overwhelmed with looking after your fruit trees in spring? We break down the main jobs you should be doing.
read more