This time last week the weather bureau was making dire predictions about a once-in-a-generation rain event, saying there was going to be a massive storm and deluge that was going to be widespread across the state, but in particular heading right for us.
We've already been through a 1-in-100 year rain event in the 2010/11 floods when the wettest summer on record led to the demise of our cherry block. The trees died in front of our eyes, with a crop of fruit on them—it was a bad time for us.
So we were worried, and did everything we could to prepare. We picked any fruit that was close to being ripe, put everything away outside, cleaned gutters, closed windows, made sure the nets were well tied down, and then waited.
And then it kind of went around us!  Markets went ahead and were a bit wet, but mostly still fine. Customers still came, and we sold most of our fruit. And though we had about 35 mm in a few days, we've had minimal cracking damage on fruit, and very minor amounts of black spot and brown rot—two of the big fungal diseases that can result in major losses in organic orchards.
However, we know not everyone was so lucky, and our thoughts go out to all our farming buddies who copped it this time, particularly those in northeast Victoria and Gippsland. Whether a farmer has experienced losses due to this event will depend on lots of variables including what they grow, how much rain they got, and how it affected their crops, animals or land, but if you know a farmer, be aware they may have had a hard time recently, and ask how they're doing.  We know from experience that it can take years to recover from such an event, both financially and emotionally. One of the most useful and practical things you can do to support your local farmers is to shop at an accredited farmers market, if you're lucky enough to have one close to you.
Our luck continued later in the week when this happened…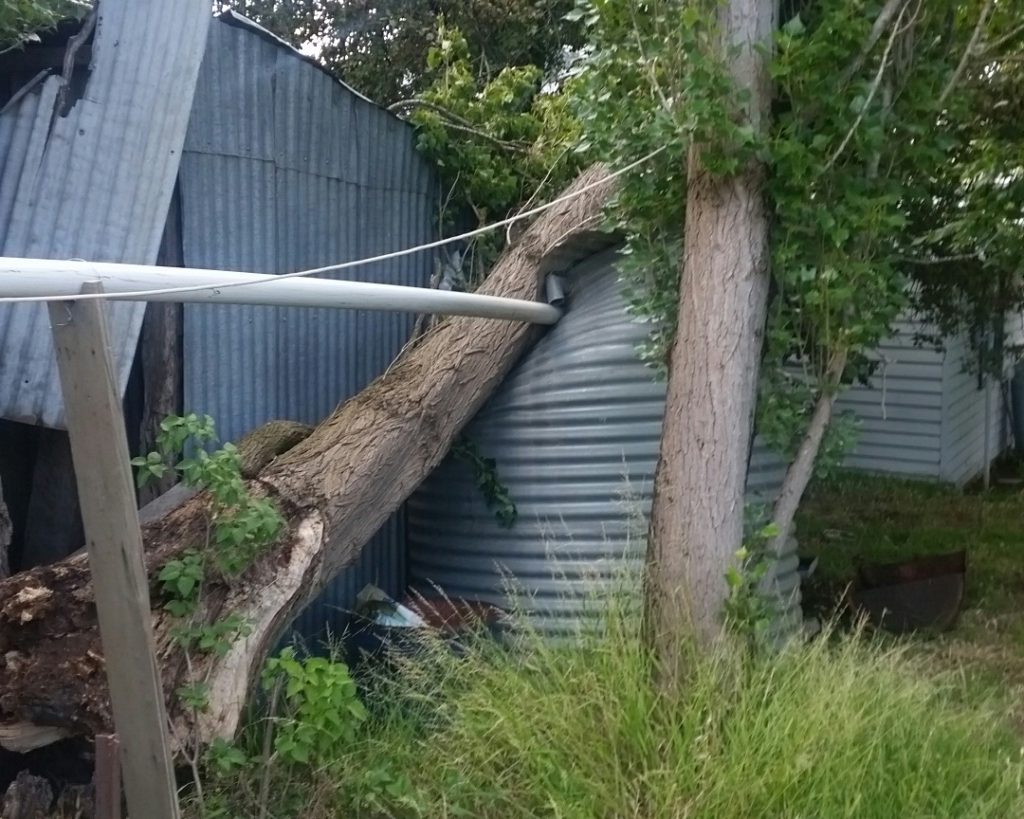 This big old poplar tree probably succumbed to a combination of wet soil and high winds. Luckily our rain water tank broke its fall, so it didn't land on the house, or a car, or any people. The rain water is now slowly leaking away and we'll have to replace the tank, but that's kind of a minor problem compared to losing a corner of the house. We were shuddering just thinking about what it would have entailed to get that fixed! Uuurgh…
And our third bit of good fortune? This guy arrived yesterday to start his internship with us.
We'd like to extend a very warm welcome to Ant as he starts his farming journey with us – first a 6-month internship, followed by his leasing the orchard business from us. Ant decided a while ago that he was going to be a farmer, and we're really pleased that he's taken up our offer to learn the organic fruit business and join the Harcourt Organic Farming Alliance (HOFA).
Farming can be incredibly rewarding, but also very challenging at times; you need not only passion for your craft but also courage, determination and a fair bit of grit. It's very satisfying to see the next generation of farmers like Ant (and the other young farmers who are joining HOFA) stepping up to start their own farming businesses. HOFA is our way of putting a succession plan in place so that we can not only guide and mentor young farmers into successful businesses but also gradually step back from the physical demands of farming.