As an orchard kid I grew up familiar with the concept of grafting – I knew that all the fruit trees in the orchard had been grafted, but until I decided to take up the orchard business almost 20 years ago I had no idea how, or why. Nor did I realise that grafting has been around for literally thousands of years – in fact it's one of the oldest horticultural practices known.
Since coming home to the farm I've had the chance to learn these truly ancient skills from my Dad. He's been growing his own trees for the orchard, as well as "top-working" (changing varieties of mature trees in the orchard) for the last 60 years, so it's been a fantastic chance to learn from a master grafter.
Hugh and I have been steadily planting, replanting and improving the orchard since we came home, and have put in literally thousands of fruit trees in that time – all of which have been grown in our on-farm nursery. It's saved us thousands of dollars, allowed us to continuously improve the orchards, and given us the chance to learn and practise all the skills needed to grow our own rootstocks and graft the varieties we've needed, which we've incorporated into our Grow Great Fruit teaching program and workshops.
Now the orchards are pretty much all planted, and we're handing over management of them to Ant next season, so there's less need for the on-farm nursery. However, we didn't want to lose it, so Sas and I are starting the Harcourt Heritage Fruit Tree Nursery!
Hang on, aren't I meant to be retiring from farming? And surely Sas already has enough to do…so why are we starting a whole new business?
Well, over the years we've built up a pretty good collection of fruit varieties on the farm – 140 at last count! Of them, we're pretty familiar with at least 80 (the rest are not fruiting yet so we don't know them), which means we can provide pretty reliable info about them: how they do in this climate, reliable harvest dates, etc.
We're also growing our own rootstocks from seed and cutting; this not only makes it a very low-risk and low-capital business to get off the ground, but also means the trees we're growing from scratch are more likely to suit this climate because they've been grown here.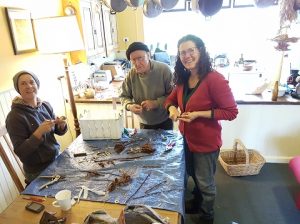 But the main reason both Sas and I decided to start a nursery is because we love growing trees, and we just couldn't resist the opportunity to learn the nursery business from Dad, while he's still active and interested enough to teach us!
We're both passionate about learning the many and varied skills you need to produce healthy, vigorous organic trees, so a big part of the appeal for us is that Merv will be here to teach us everything, and oversee the whole operation.
He's also trying new stuff all the time, which he's passing on to us. The latest experiment has been trying to grow our own citrus rootstocks, and learning how to graft citrus trees.
Being evergreen, they're completely different from deciduous trees, so it's been lots of fun being a bit experimental. And so far, it seems to be working!
Another big appeal is that we know we'll be helping to preserve some of the older heritage varieties that are hard to buy and in danger of disappearing in favour of the more modern and well-known varieties.
The very first trees are available for sale now – here's the link to see what we've got (anything with MAFG or MAFGS after the name is out of our nursery) but we've only taken baby steps so far so there's not many. For this year at least we've continued to source trees from a commercial wholesale nursery as usual, but by next year we hope to massively increase our offering, and have achieved organic certification.
From little things…