We've written about frost and fruit trees before and noted the importance of providing shelter for some fruit trees in spring, which is the danger time when a heavy frost can damage flowers, tiny fruit, or even drop-bears.
So today we want to talk about a few different options for providing that shelter.
The first one is to build a frame over the tree. This is a great option, because you can use the same frame for bird netting, fruit fly netting, or frost cloth, depending on your need and the season.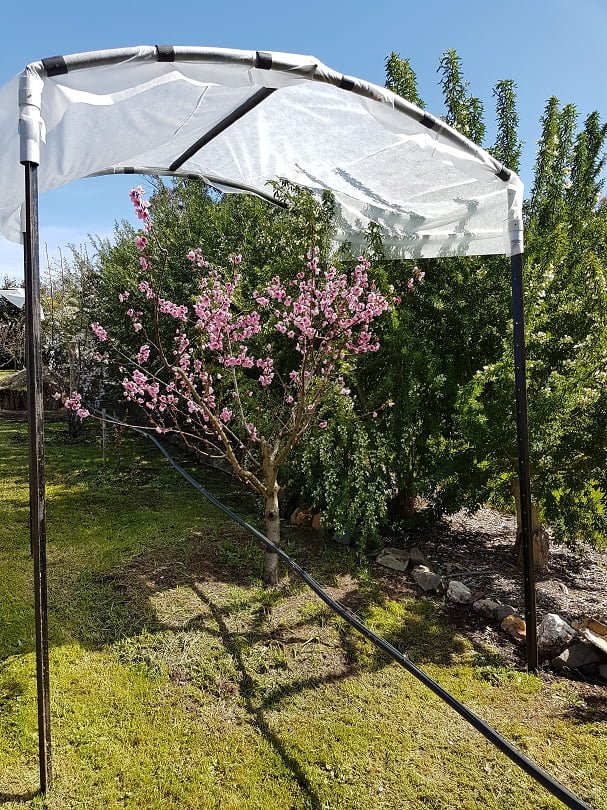 Frost cloth is a special, fine cloth that keeps the frost from settling on the ground, protecting the trees, vegies or other crops under it. It's not very tough and is easy to work with – and even sew with, as you can see in the photo below where an industrious Win (one of our Grow Great Fruit Home-study Program members) is sewing the cloth to fit the frame.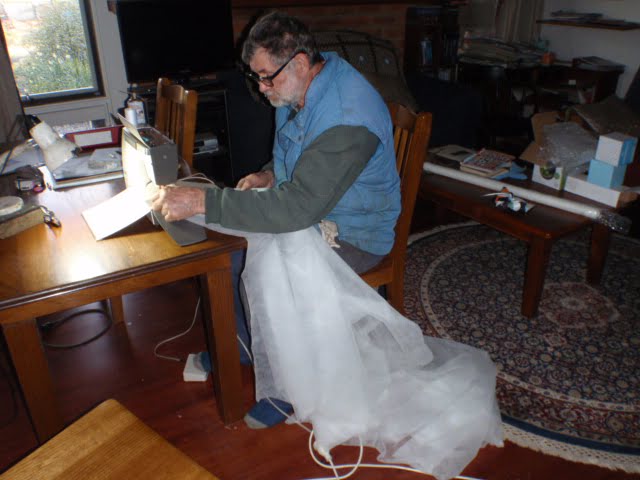 You can avoid the expense of frost cloth by using old sheets. A word of warning if your cover completely covers the tree to the ground – it's best to put it on when a frost is forecast, and take it off again (or lift it up) mid-morning or when the frost has disappeared.
Another way to provide the protection your trees need is to use assets you already have in the garden, i.e. make the most of existing microclimates. Here's a photo illustrating how a shed and a couple of tall trees provide a wide frost shadow.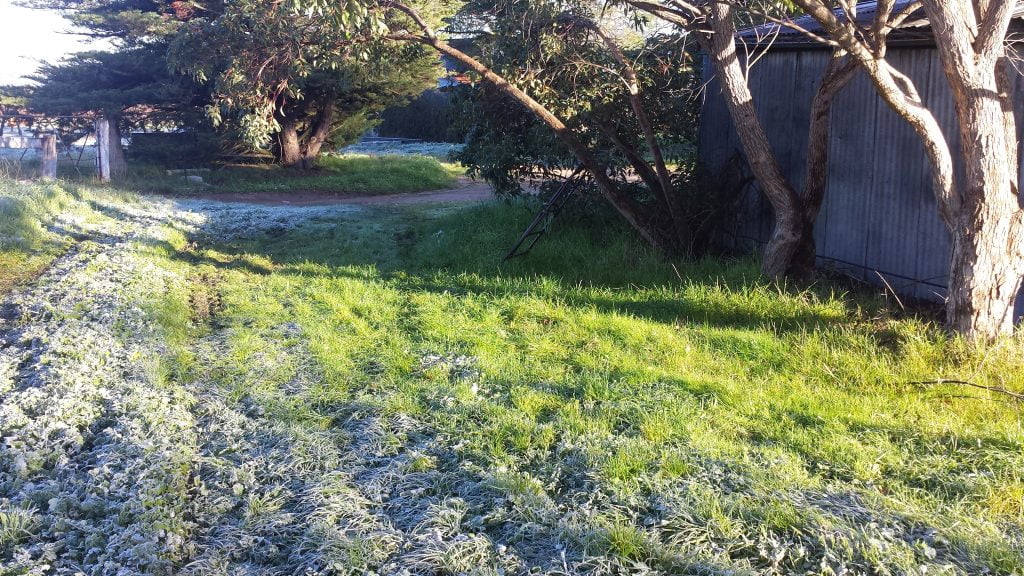 You often won't notice these micro-climates unless you go looking for them, so next time you have a big frost, get out in the garden early, and check out your garden carefully.
Look carefully around for the influence of buildings, sheds, fences, water tanks and other physical assets, and also notice how vegetation like trees, grass and vegie patches determine where the frost lands, and how it flows in your garden.
Other things you can do to protect your trees from frost include putting sprinklers on your trees, using frost fans, keep your soil moist, keep the ground cover plants under your trees short and don't mulch (because it keeps the ground too cool).
Interestingly, all the things we recommend for soil health (like increasing the amount of organic matter in your soil) can also make your plants more resistant to frost.
This is for two reasons:
Plants with a high Brix level have a lower freezing point;
Soil with higher organic matter levels hold more moisture, which makes them less vulnerable to freezing.
Frost is just one of the factors you need to think about when planning your home orchard (our Home Orchard Design short course has 19 different units in it, and frost only accounts for two of them!).
It can definitely make it harder to grow some fruits in a cold climate, but with understanding and planning, it doesn't have to be a deal breaker.