Welcome to the complete organic fruit growing resource centre
You'll find more than 60 short courses and e-books to support your rapid journey to becoming a confident fruit grower. You can also access our free resources by clicking on "Free Stuff" in the Course categories box.
Altogether, the courses make up the complete Grow Great Fruit system. If you want to become a pro fruit grower as quickly as possible, the Grow Great Fruit Home-Study Program may suit you better.
The short courses cover all fruit growing topics—the focus is on results, and helping you turn enthusiasm and effort into reliable and delicious crops of fruit, every year.
The courses have between 6 and 20 units. No matter how you prefer to learn—reading, doing, listening—you'll find articles, audios, worksheets, videos and interactive hands-on activities to suit you. When you select and buy a course, you'll get instant access to all the units in that course.
Any queries, please get in touch here.
Happy growing. Hugh and Katie :)
A guide to pruning deciduous fruit trees 
The ebook starts with the parts of a fruit tree, basic aims of pruning, and the 10 Key Pruning Principles. We talk you through deciding what shape you want your tree to be, and give clear, concise instructions about how to care for your tree as it grows. There's also details on what to do with monster trees (the ones that got away!) and includes a wide variety of training systems.
Enjoy confident pruning in simple steps for success and self-reliance
There's no such thing as "right" or "wrong" when it comes to pruning, just cuts and consequences. This short course makes pruning feel simple by teaching you the pruning principles, which trees to prune in winter (and how to do it), and how to plan your pruning for the year.
Prune young trees for success
Pruning young trees into the right shape when you plant them is super important, as it sets the tree up correctly for the rest of its life.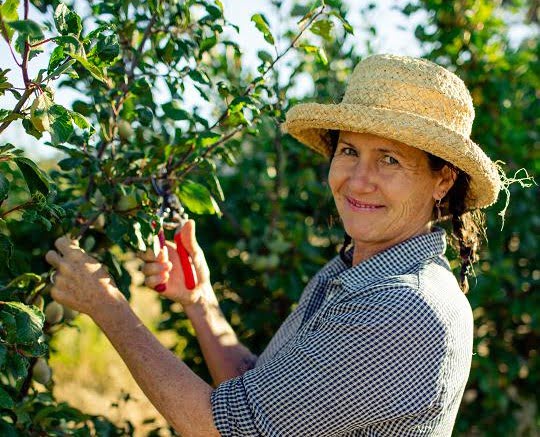 Imagine ... easy pruning techniques for cherry and apricot trees
Pruning is really important, and really hard—or is it? Everything will fall into place when you understand the difference between summer and winter pruning, and know how to successfully summer prune the right fruit trees.