One of our Grow Great Fruit members is busily starting a venture harvesting orange blossom from trees on their property to distill to produce neroli, the beautiful scented orange blossom oil. Here's her story of their first crack at it this season (and by the way, we've smelled the oil and it's divine!).
---
Our first morning's harvest of orange blossom from the orchard was on 19th Oct 2016. Each morning for 14 days we would take the ute up to the orchard and lay the harvest cloths under each tree.
In all we picked over 350 kg of blossom over the 14 days. We estimate this to be around 50% of blossom available. If we had more pickers and a very efficient still we could process an estimated 600 kg of blossom from this orchard. But that is in the future.
From the orchard the blossom is transported back to the oil room to be sorted ready for distillation the next day. We have let the blossoms sit for 24 hrs as advised by distiller Guenther. Average 25 kg per day.
Pickers' notes.  Socks with the toes cut out and used as forearm protection proved mighty good. The area between the wrist and the hand often gets scratched and this helped prevent the damage to the arms.
Long-sleeved shirts, sturdy boots and good thick gloves add further protection from being scratched and also from being bitten by mosquitoes and bugs. Face nets were used to keep bits of nature from falling onto the eyes and face.
Bees were well behaved and we were mindful not to get in their way.
We used yellow irrigation hoses to secure the harvest cloths down on windy days.
Digging sticks were the perfect length and shape to reach and tap the taller limbs so that ripe blossoms fell on the harvest cloths.
We note the need for opening up the trees for ease of access to the blossoms. Will undertake a pruning course and begin to prune trees to suit.
We also noted the need for being able to identify when a tree had been harvested. Will develop a form that shows each numbered tree so that we can comment as we harvest.
Harvesting after 11.30 am is not sensible here as the heat is building and the blossom seem to wilt a tad in the middle of the day. So early starts are the go.
After the sorting, the blossoms are placed in the still in the water ready for hydro distillation. This is the first time that we have used the still with no column.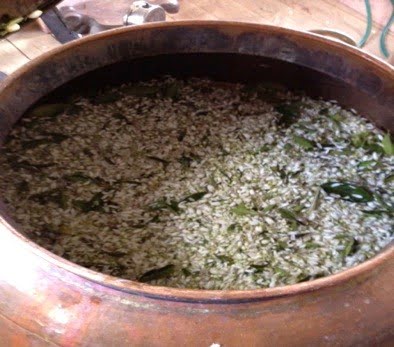 Wood is collected each day for the firebox which is the source of heat. We noted the need for smaller pieces of wood that burn quickly so that we can maintain 100º C and create a good head of steam.
Weighing the blossom now after the sorting and just prior to putting into still so that we get a more accurate account of blossom weight.
Cleaning the still became an issue. The separator, the condenser and the bowl all were cleaned with citric acid and came up a treat. This stopped the oil being darker than we wanted. I need to ensure that the still is cleaned thoroughly with citric acid between each different plant species being distilled. It is all a learning curve.
Overfilling the still with water, i.e. over 120 liters, led to a very long warm-up time. One day we started at 9.30 am with 160 liters of water and 30 kg of blossom and we did not get hydrosol coming out until 5.30 pm! This was the longest day and a great lesson in finding the balance of water to blossom.
Recommend 120 liters with 25–30 kg of blossom. Less than 20 kg of blossom only requires 100 litres.
In all we have produced 190 litres of Neroli hydrosol and 160 ml of Neroli essential oil. Our ratio will improve as we get more knowledgeable and intuitive about the distillation of Orange blossom flowers. Each plant has its own character when distilling. Citrus aurantium certainly is a heady aroma and is not easily coaxed out of the flower petals.
By day 8 our team was satiated with Neroli qualities. We were too tired to go on so we had a day's rest to enable us to smell nothing except the Australian bush.
We called it a Nerolized stupor.
So, all done and dusted until next October when the blossoms bloom for a few weeks and we begin the story once more. Great harvest and thanks to all. Now to find a good home for the lot.
---
If you're interested in finding out more about buying neroli oil or hydrosol get in touch here, and we'll pass on your contact details.