Last week's blog post about "Know the parts of your fruit tree" led to a flurry of questions about the difference between leaf buds and fruit buds, so that's today's blog topic.
It's definitely a very useful thing to know before you start making any pruning cuts, because you definitely don't want to accidentally remove all the fruit buds with overzealous pruning.
Generally speaking, fruit buds are plumper and furrier than leaf buds, which tend to be slim, flat and smooth. Peaches and nectarines are probably the easiest to see—the photo below shows some lovely fat and furry peach fruit buds. You can see one there with the pink flower petals showing through, which is a dead giveaway. Below that, you can see a couple more flower buds, and below that again, notice the much more insignificant looking leaf buds, just above the join to last year's wood?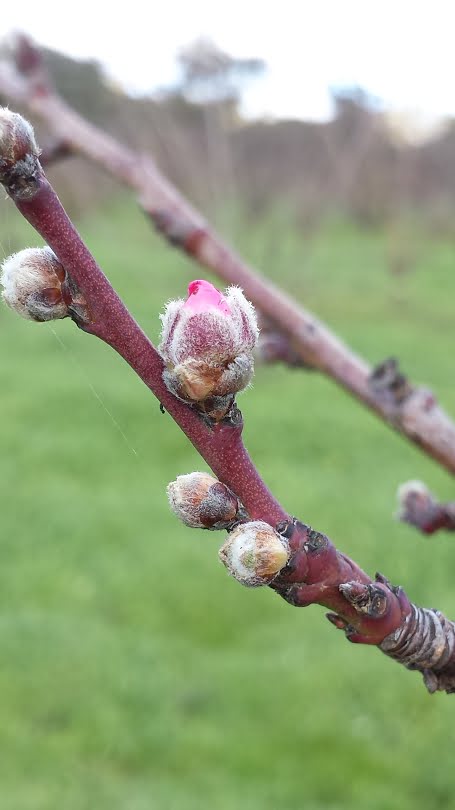 Peaches often have a triple bud, with a skinny leaf bud in the middle flanked by two fruit buds either side, as you can clearly see in the photo below.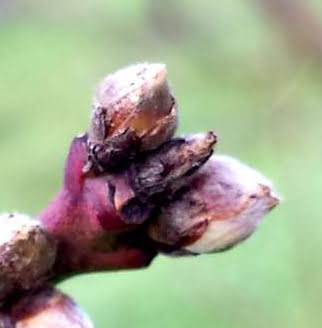 The buds look a bit different on every fruit type, so it can be harder on some trees to tell the difference.
Here'es the photo of buds on a pear tree we used in last week's blog, but this time we've added coloured photos so you know what you're looking at! The red arrows indicate fruit buds, and the blue arrows are pointing to leaf buds (and the same in the photo below).

So before you start your pruning, have a close look at the buds until you feel confident you can identify the fruit buds, make sure you don't cut them all off, and if you need extra support download our Pruning Mature Fruit Trees short online course.