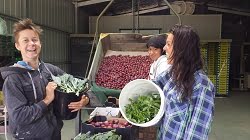 We don't buy much fruit (no surprises there), and now that we have the wonderful Gung Hoe market garden on the farm, as well as the vegies that my Dad grows in our on-farm tree nursery plus the produce from our new Farm Shop Garden, we also don't have to buy many vegies any more. The freezers are full of lamb (from my sister's farm), duck and pork from our neighbours, and rabbit from our own farm (where they're a bloody pest!).
Hugh has recently taken up smoking (in a good way!) and built a smoker, so we're enjoying our own home-cured and smoked bacon (using meat from the pork-growing neighbour). Eggs, honey, cheese, milk and olive oil all come from local farms via our own farm shop and the farmers market, and we harvest our own olives, almonds and citrus from the garden. Our pantry is full of home-made preserves, and we've just started learning how to make our own vinegar.
In short, there's not much food we have to buy that travels any great distance – coffee, tea, sugar and grains mainly. These days, we struggle to spend more than $100 a week on groceries, while eating an almost exclusively local, organic diet – not because we're particularly faddist about our food, but because we make it a priority to grow as much of our own food as we can, and to access what we can't grow as locally as possible. We're also devoted to shopping at farmers markets!
Then we go into the supermarket (to buy toilet paper), see the aisles full of processed food, much of it imported, and remember with a sinking heart that most people still buy most of their food there. Most of the food in supermarkets has taken massive amounts of fossil fuel to grow, process and transport . In her book Animal, Vegetable, Miracle, Barbara Kingsolver estimates that if every US citizen ate just one meal a week of local and organic food, the US could reduce itsoil consumption by over 1.1 million barrels of oil per week. Australia is not the US of course, but our supermarket shelves look very similar!
I recently heard a representative from Coles saying that "Coles is in the business of giving people what they want", by which she meant that if customers want cherries in June, Coles will give them cherries in June, even if they have to import them from California (or wherever) to do so.  While they're no doubt providing fantastic customer service, are supermarkets actually doing us a disservice by disconnecting us so completely from the seasonality that is intrinsic to food production?
As farmers who sell directly to the people who eat our food, we feel like a big part of what we do is replace the knowledge about food and seasonality that has been lost just in the last generation or two. It's one of the reasons we sell all of our fruit by named variety, so that our customers see that each variety comes and goes quite quickly, within just a few weeks usually. You might be able to buy peaches for months, but you can only buy O'Henry peaches for a couple of weeks.
We figure this is a subtle way to reconnect people with what "local food" actually means, and that by being connected with it they'll value it.  It's incredibly important to support your local farmers, and by "support" we mean seek out and buy from. It not only reduces the amount of fossil fuels that are used to produce your food, but it also keeps farmland in production and helps rural communities stay alive. The best food – for us, for the planet and for our communities – is the food we grow where we live.  It's one of the (many) reasons we love and support accredited farmers markets, because they've taken the hard work out of trying to figure out what "local" means. As long as you're buying at an accredited market, you can be sure the food you'll be eating is both local, and seasonal.
When I started the Farmers Markets Building Communities project at the beginning of my year as RIRDC Victorian Rural Woman of the Year, I somewhat naively expressed my dream of seeing a weekly farmers market in every community, and of them becoming the place where most people routinely go to do their shopping. In my dream, everyone remembers that you can't eat cherries in June, and they buy pears instead. We're clearly not there yet, but boy do we need to be!
Cheers, Katie
---
RIRDC Victorian Rural Women's Award – week 49
As my year as the Victorian Rural Women's Award winner starts to wind down my commitments have been fewer, but many opportunities continue to open up for me, as I'm sure they will continue to do for years to come as a result of my experiences this year.  In the last few weeks I have:
Been invited to participate in the Women in Agriculture Forum hosted by the Victorian Minister for Agriculture
Participated in a forum held by the Australian Futures Project about how to make Victoria's food system more sustainable
Been on the panel to select the 2016 RIRDC Victorian Rural Women's Award winner
Been offered a new board position
My project, called "Farmers Markets Building Communities" has been made possible by the Rural Industries Research and Development Corporation (RIRDC) Rural Women's Awards.