Spring on an orchard is traditionally a time of high tension. As the sap in the trees rises, so does the blood pressure, because it's make or break time in many ways. Fruit trees are at their most vulnerable when they're flowering, and a frost, or too much rain at the wrong time, or a disease outbreak, can severely impact the crop for the year. On top of that there are a million and one jobs to do, and it always seems to be the season when a crucial piece of equipment goes AWOL. This year the pump has decided to die, a few days before the first hot spell of the year!
Can you tell spring can sometimes not be much fun? We were describing the sense of spring panic to a friend a couple of years ago, and they pointed out that the word 'panic' comes from 'pan', and Pan is the god of spring! In Greek mythology he's the god of the wild, shepherds and flocks, of fields, groves and wooded glens, and is connected to fertility and the season of spring. So we decided to reframe our panic and to invoke Pan to reclaim spring as a time for gratitude, feasting, celebration, and welcoming in the new season.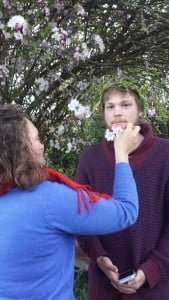 We decided if we were having a celebration, it would be an excellent time to thank the community of people – our village – who help us to run the farm. It's a long list that includes Katie's dad Merv who grows our trees for us in the on-farm nursery; the pruning crew of Lucy, Vanessa, Ruth, Peter and Mog (some of whom are also the market crew, along with Tegan); a different Lucy, who has been working with us on designing the new farm shop; Mel and Sas who have added a whole new dimension to the farm's production with the Gung Hoe Market Garden; Lizzie and David, who lend us their car once a month to do markets on that tricky weekend where we have three markets on the same day; our fabulous intern Victoria; and Evan, who takes our fruit to the wholesale market each week.
It's a long list, isn't it? Then there's all the people who do one-off or occasional things, like Katie's mum Marcie who acts as our reliable proofreader, all the lovely people who have volunteered for our working bees or donated plants for our new farm shop, and Tom and the other lovely Wwoofers who share our lives. And of course we're also very grateful for all our Grow Great Fruit members, our appreciative and loyal customers, and the thousands of people who follow us on Facebook. It's a pretty big village!

In keeping with the spring theme we had an egg-based feast, with eggs appearing in entree, main and dessert, and oh boy, it was delicious. We also had a bonfire (which was just as well, because the evening was freezing cold), so the evening finished with wine and marshmallows around the fire while we were entertained by Victoria's angelic singing. It was a great night, and a satisfying way to declare season 2015/16 officially launched!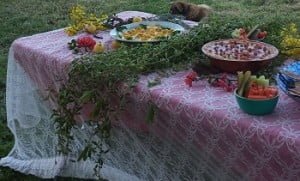 ---
RIRDC Victorian Rural Women's Awards – week 28
Meanwhile my RIRDC project has been marching on. The past fortnight I've:
been on the judging panel for the Rural Ambassador Award for the Victorian Show Association
ended the competition for stallholders to see who could get the most new Facebook 'likes' and win $300 of stallholders at their market
been working on stage 2 of the project, getting feedback from the Farmers Market strategy, and also developing the model of how to implement social media at farmers markets for the most effective outcomes
been talking to some other women who are interested in applying for the award
My project, called "Growing Communities Around Farmers Markets" has been made possible by the Rural Industries Research and Development Corporation Rural Women's Awards. Nominations for the 2016 awards have just opened.