This year has been a big one for awards for us, first the RIRDC Rural Women's award, then the Mt Alexander Shire Business of the Year award, and the Sustainability and Environment award. Winning them has been exciting, stimulating and rewarding, and given us all sorts of opportunities we wouldn't have had otherwise. It wouldn't be going too far to say the RIRDC award in particular has been a life-changing experience.
Since we first wrote our Sustainability Plan in 2007, it's been part of our business commitment to undergo some sort of professional development or training every year. For us, entering awards fits into that category, because you inevitably learn a lot just from entering, regardless of the benefits should you happen to win.
During her recent internship with us, we encouraged Victoria to enter the "Rising Star" farmer of the year award, one of the Organic Consumer Choice Awards. Many of our readers and Facebook fans voted for her – so thank you, if that was you! She was a bit reluctant, feeling (as many people do) that she wasn't qualified, not ready, or not 'something' enough to enter. We strongly encouraged her to give it a go, because we thought she'd get a lot out of the process in terms of her professional development, not least because she'd have to step up and overcome that natural tendency to hide behind feeling not good enough in some ill-defined way that many of us share, which so often prevents us from going for something we want, or getting recognition for something we've already achieved.
The award ceremony was in Sydney on Tuesday night, and Victoria came runner-up in her category, though with 365 votes she scored higher than many of the winners in the other categories, so she did very well. Congratulations go to Sasha Welker from Green Goddess Farm in NSW for winning the Rising Star category. Sasha is a fabulous young organic grower, and we wish her every success in her farming. Naturally Victoria was gracious and supportive of Sasha, but understandably a little disappointed, and having encouraged her to enter we shared her disappointment, as we would have been so pleased for her if she'd won.
And at the same time, we know it makes absolutely no difference to Victoria's plans, prospects, worthiness, or likelihood to succeed – and of course, she knows that as well.
So, does winning matter? As kids we're told (and we tell our own kids) "it's not whether you win or lose, but how you play the game" that's important, but we know how it feels to try something, and lose. It's really disappointing. Regardless of what we say to ourselves, the truth is, winning does matter.
But the reality is that entering, trying, having a go, stepping up…that matters as well. There is a lot to be learned from putting yourself out there in the public sphere, for two reasons.
The first is that the entry process is often rigorous, and involves a certain amount of introspection and self-examination. There are usually questions to answer, you need to see your business through the prism of the award or prize you're applying for, and you need to know how your business fits the criteria. You have to be able to articulate your plans, your goals and where you see yourself in the future, as well as reflecting on what you've achieved.
The other is that it takes courage to expose yourself to scrutiny, and risk losing, in the public eye, and this really helps to build personal resilience. There's as much to learn from losing, in a personal sense, as there is to gain from winning. One of the main strengths to be gained is to separate your sense of personal self-worth from any public recognition you may, or may not, achieve. It's been wonderful for us this year to be seen publicly as "winners", but we know very well that if we don't stick to our principles and ethics, if we don't keep looking after our physical and mental health, or if we don't continue growing really high-quality fruit, it all means nothing. They're the things we judge ourselves on, so they're the things that really matter.
Of course winning can often bring fabulous opportunities for your business – and inevitably, you – to grow, develop and mature. So, there's a lot to be gained either way, and we're committed to applying for something every year. We've been lucky this year, but it was a long time coming. We've applied for grants, awards and prizes many times in the past few years, and got nothing! I had even decided I wasn't really the "winning" type of person, but it didn't deter us from entering things, because we've experienced first hand the value of putting ourselves through the process.
So we see Victoria coming runner-up in the Rising Star award as a great achievement, because she entered. She's also just found out she's in the final running for a scholarship position that is due to be announced soon – so fingers crossed. We hope she's successful, because it's an amazing opportunity.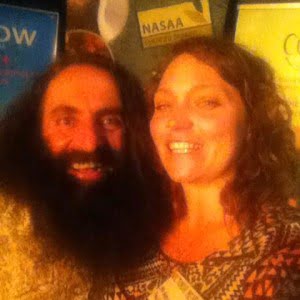 And the best bit? Victoria scored a photo with the fabulous Costa from Gardening Australia – now that's a reward that's worth going for!
---
RIRDC Victorian Rural Women's Award – week 37
Recently and coming up:
Spoke at the NASAA (National Association for Sustainable Agriculture Australia) national conference in Canberra
Was the keynote speaker at the "Chicks in the Sticks" event held by the North Central Catchment Management Authority
Been asked to be a guest speaker/trainer for the Limestone Coast Collaborative in South Australia
Been asked to be interviewed by the Australian Futures Project about how to make Victoria's food system more sustainable
My project, called "Farmers Markets Building Communities" has been made possible by the Rural Industries Research and Development Corporation (RIRDC) Rural Women's Awards.