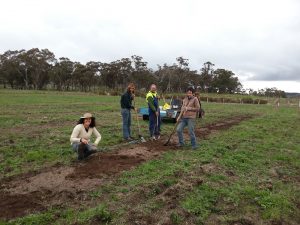 Finally, we're ready to start planting our new apple orchard. It's replacing the old cherry orchard, which died in the big floods of 2010/11 – you can read the sad story of how we lost 1,000 beautiful cherry trees here.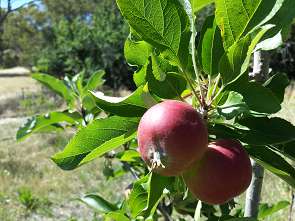 The really exciting thing about our new orchard (apart from getting a previously productive area of the farm back into production after a few years fallow), is the incredible diversity of more than 60 varieties that we're planting.
Why so many varieties? Well it fits with our bigger farm and business strategy in a number of ways:
We're on a mission to teach as many people as possible how to grow their own organic food and become self-sufficient for food, and our new orchard is going to be a great teaching resource.
We aim for diversity (as opposed to monoculture) in every aspect of our farming operations. We've learned the hard way that it's our best protection against the risks of farming!
Since we decided to open our farm shop last year, we're keen to extend our season and the number of varieties we grow so we can keep the shop open for longer, offer more opportunities for people to pick their own fruit, and educate people about heritage and heirloom varieties.
It will give us more variety on the table, and a longer season at the Farmers Markets we attend.
A farm is also a community, so we want to thank a few important people who have helped us get this new venture off the ground:
Keith Robertson, from the Creswick Garden Club
Keith has the most amazing collection of more than 700 apple varieties in his suburban backyard in Creswick. He was generous enough to allow us to follow him around for a wonderful day gathering scion wood to graft the trees we're about to plant. We had to stop at 60, or Keith would cheerfully have given us all 700! However, he dutifully followed our brief that we wanted varieties that (a) he knew something about, e.g. whether they're for eating, cider, cooking etc.; (b) will have some commercial appeal; and (c) extend our season – either by being earlier or later than existing varieties in our orchard.
Merv Carr (Katie's Dad)
Despite having theoretically retired many years ago, Merv still manages the farm's tree nursery, growing several thousand trees each year, including all the trees we plant in the orchard. Though they're not certified organic, growing our own trees means that we can be confident they've been grown without any GMOs. We treasure Merv's involvement and the chance to learn his fabulous skills. Plus, the fact that he grows all our trees for us saves us thousands of dollars every year!
So, are heritage and heirloom apples grown any differently to modern apples? Well it's a funny thing (and a long story), but partly as a result of deciding to go down the road of preserving heirloom and heritage varieties, we've also decided to revert to a more old-fashioned way of growing as well, and in the process have ended up doing almost everything "wrong" according to modern orchard practice – but that's a story for another day!
So, without further ado, here's a list of some of the varieties we'll have in the new orchard (this is not an exhaustive list, because despite our best intentions to stop at 60 we already have new varieties coming on in the tree nursery). We look forward to introducing you to them in about 3 years!
Common Apple Variety
Akane
Fuji
Gala
Golden Delicious
Granny Smith
Jonafree
Jonagold
Jonathan
Pink Lady
Red Braeburn
Red delicious
Rosy Glow
Sundowner
Lady William
Cider Apple Variety
Bulmers
Chataignier
De Bouterville
Improved Foxwhelp
Kingston Black
Michelin
Yarlington Mill
Heritage/Heirloom Apple Variety
Caville Vlanc D'Hiver
Cleopatra
Court Pendu Plat
Cox's Orange Pippin
Dayton
Dorset Golden
Dougherty
Dunn's Seedling
Ein Schemer
Empire
Five Crown
Geeveston Fanny
Gravenstein
Irish Peach
James Grieve
Anna
Blenheim Orange Ex-Normandy = Woodstock Pippin
Bonza
Brabrant Bellefleur
Bramley
King of Pippin
Lord Derby
Lord Lambourne
Menagerie
Mt Alexander
Mutsu
Peasgood Nonesuch
Ribston Pippin
Richer Red
Rome Beauty
Snow
Spartan
Stayman's Winesap
Striped Beefer
Sturmer Pippin
Tasman Pride
Twenty Ounce
Worcester Permaine