Whenever it's time to do some budding or grafting, I marvel at Merv's knife. With more than 50 years of grafting, budding and careful sharpening under its blade, it is truly a testament to the crafting of Merv's art. There isn't much left of the blade after all these years of sharpening, but over time it's been sculpted into the perfect grafting knife. The blade curves almost into a hook and before every grafting session it gets sharpened.
The sharpening stone is another testament to all of Merv's hard work. It too has been worn down drastically on the favoured sharpening edge, and after every sharpen, it gets lovingly wrapped back up in a cloth until next time.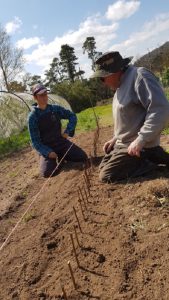 This week we started grafting onto some of our cherry root stocks. The sap is moving sufficiently in the trees to help the grafts 'take' (fingers crossed) and we have a short window of opportunity to test out our grafting skills. If we stuff up and the grafts don't take, we will get a  second shot at the end of summer, when we can try 'budding' onto any rootstock where the graft failed. Phew!
Grafting can be a little nerve wracking, especially with a freshly sharpened knife from the hand of Merv. Slicing thin bits of wood into just the right shape, cutting little tongues into the wood and then matching them up with the slice you've made on the root stock perfectly….well lets just say I need another 50 years of practice until I'll be any chop! Speaking of chop, and that sharp knife… Merv and I both sliced off various parts of our hands within the first 5 grafts. A good reminder to be careful when  grafting!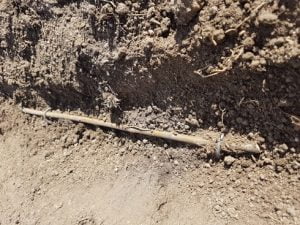 On other things nursery, Merv and Katie pinned down horizontally our apple and cherry rootstocks in the 'stool bed'. The new shoots on the trees will start to grow straight up and as they do we will fill in the soil around them in the trench. That's the theory anyway!
Happy spring folks!
Sas