Estimated reading time: 4 minutes
Spring is time for grafting, but before delving into the world of grafting, let's have a chat about grafting knives.
Think of it as gearing up for a task. Just like a chef needs sharp knives to cook, a grafter needs the right tools for success.
Having the proper tools is like having the key to a locked door. It opens up the potential for great results.
The right tools are just the beginning
We've learned a lot from Merv, who is Katie's dad, about the importance of using the right tools when you're getting into budding and grafting.
Merv started learning the craft of growing fruit and grafting almost 70 years ago when he was studying at Burnley Horticultural College. He's refined his skills ever since, first working on his father's orchard, then running his own orchard for 40 years. Since we took over in 1998, he's continued to pass on his skills to daughters Katie and Liz in the family nursery business.
Merv has shown us that having the right tools is a big deal in the world of grafting.
Merv's Special Knife: A Tool Perfected Through the Years
One thing that stands out is Merv's knife. With more than 50 years of grafting, and careful sharpening under its blade, it is truly a testament to the crafting of Merv's art.
There isn't much left of the blade after all these years of sharpening. Over time it's been sculpted into the perfect grafting knife. The blade curves almost into a hook and before every grafting session it gets sharpened. This routine is like a salute to all the hard work he's put into becoming great at grafting.
The stone he uses to sharpen his knife has a special story too. It too has been worn down drastically on the favoured sharpening edge. After every sharpening, it gets lovingly wrapped back up in a cloth until the next time.
It's like he's keeping a piece of history safe.
Grafting Time: Figuring Out the Best Moments
As spring comes around, it's almost time to start grafting, just when the sap is starting to move sufficiently in the trees to help the grafts 'take' (fingers crossed).
We have a short window of opportunity to test out our grafting skills. This is the moment when grafting is most likely to work well.
If we stuff up and the grafts don't take, we will get a second shot at the end of summer, when we can try 'budding' onto any rootstock where the graft failed.
Grafting can be a little nerve-wracking, especially with a freshly sharpened knife from the hand of Merv. Slicing thin bits of wood into just the right shape, cutting little tongues into the wood, and then matching them up with the slice you've made on the rootstock perfectly …. there's a lot of details to get right.
But remember, grafting needs careful attention. Most grafters have also experienced being cut at some stage.
Handling a sharp knife calls for caution. But ironically, you're much less likely to get cut if your knife is very sharp. A blunt knife means clumsy cutting, which means a greater likelihood of slipping.
It might not seem obvious at first, but learning how to keep your grafting knife sharp is one of the key grafting skills.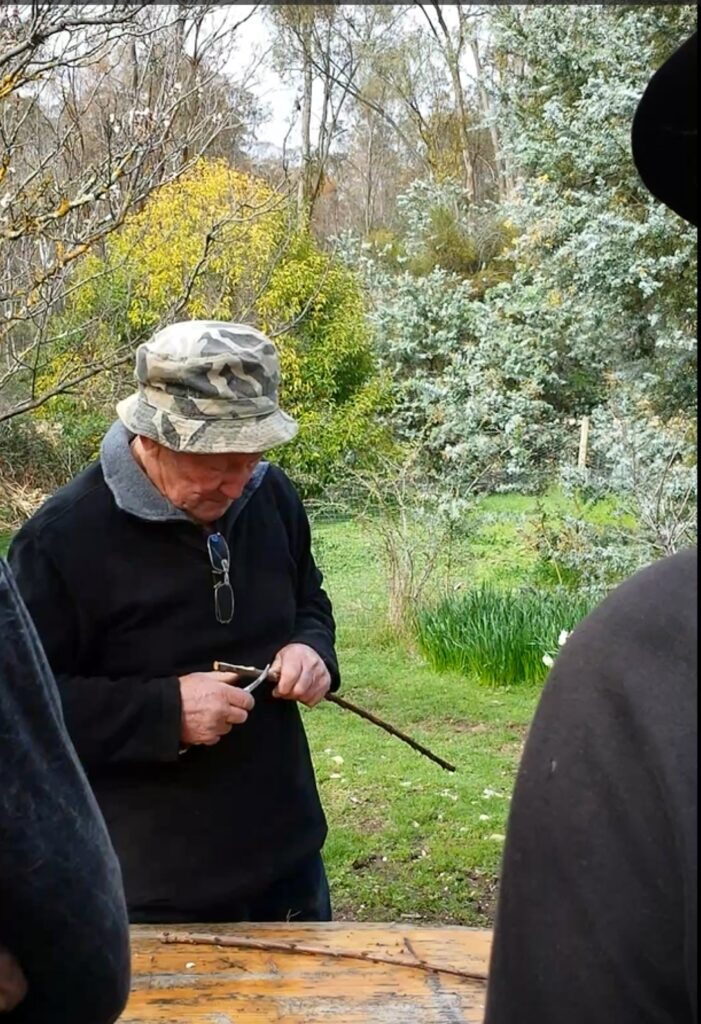 A Journey Shared
The journey you're taking into the world of grafting is something special.
Merv, with his almost 70 years of experience, is sharing his wisdom with you through us. All of our grafting courses, videos, insights, techniques, and love for grafting come from him, and are like a bridge between generations.
As you keep learning and improving, know that Merv's legacy lives on through every successful graft you make.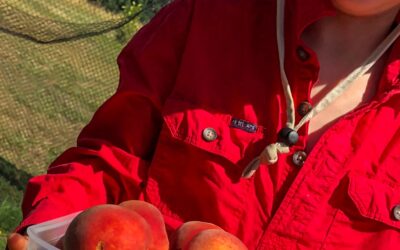 Involving your kids (or grandchildren) with the care of your fruit trees can help to foster a life long love for gardening.
read more