Compost tea is an alchemically magnificent elixir, essential to creating balanced and healthy soil teaming with life. Healthy soil means healthy veggies, which nourish and fuel health-full people.
One of the first things we did when we were negotiating the land lease with Katie and Hugh was to get a soil test. Initially we wanted to test and make sure that there were no dangerously high levels of heavy metals or residual pesticides which would make it difficult for us to grow veggies for consumption. Despite MAFG being a certified organic orchard since 2007, it also had a history of chemical farming practices prior to the organic conversion Katie and Hugh have nurtured the land through. They have done a lot of soil remediation work to bring the soil in the orchards back to a healthy balance free from heavy metals and pesticide residues. With regular applications of compost and compost tea to feed and promote beneficial microbial activity in the soil, they have been able to counteract the negative effects of decades of chemical farming. Heavy metals do occur naturally in the soil from the weathering of rocks and minerals over time, but there is a difference between safe and natural levels and elevated levels due to human actions.
Our soil test came back almost clear. Good enough for us to decide wholeheartedly to go ahead and get digging, but not good enough to pass the organic standards in our first year of production. So, like Katie and Hugh have been doing for years, we are now beginning the process of working with our soil to bring it back into full health and balance. It is after all an ongoing process and relationship with lots of microscopic creatures we can't even see.
Hugh has kindly showed us how to make a delicious brew of compost tea in the big brewer they use to make tea for the orchards (below) but as our patch is so wee, he has also rigged up a much smaller version for a 20 litre bucket which we have been brewing our compost teas in and then spreading with our high tech watering can (see second pic) onto the garden beds.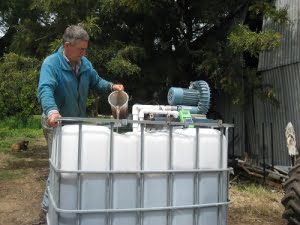 Soon we will get another soil test which will give us a more in-depth snapshot of what the nutrient and organic matter levels are in our soil too, and this will help us to know what kinds of manures and natural fertilisers to use in the market garden to make sure our veggies are growing in a rich and diverse soil. It is so fantastic to be working side by side with Katie and Hugh and learning from their experience and knowledge of this land.  Shoulders of giants and all that…