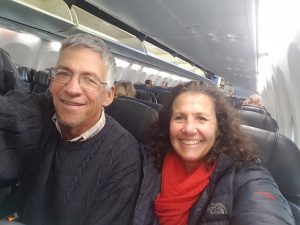 We had the pleasure this week of speaking at a conference in Canberra about being part of the Farming Together (federal) funding program designed to encourage collaboration between farming groups.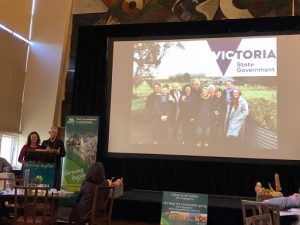 We were speaking about setting up the co-op here on the farm, and our "succession + growth" model generated a lot of interest, because there's a lot of farmers in the same situation as us, i.e., thinking about retirement or at least wanting to step back, but not wanting to sell the farm or stop it being productive.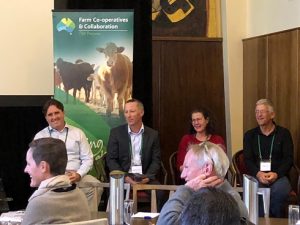 Previous generations solved this problem by handing the farm down to the kids, and 3rd, 4th or even 5th generation family farms are not uncommon. But things are rapidly changing and it's no longer a given that the next generation will come home on the farm. So, we're hopeful that the model we're creating will be of use to lots of other people.
The sort of innovation that we're demonstrating here was very much the tone of the conference. We came away feeling totally inspired by the other farming groups we heard from, and brought lots of new ideas back to Harcourt with us. Here's some of the highlights:
Braidwood Garlic Growers Co-op, who are helping more than 30 members make a living from their very small holdings by learning and marketing together.
King Island Beef Producers Benchmarking Group, who told the story of taking a field trip to another group of farmers who were already experienced in benchmarking, and being amazed to find they had totally overcome their fear of sharing their financial and production information with each other! They went on to develop the list of shared values (in the photo) that has led to increased profitability for the whole group.
The berry growers co-op (who are way bigger than we'll ever be, but still had great ideas to learn from), who presented the financial analysis showing the value of investing in crop-protecting infrastructure.
We're not in the business of being the mouthpiece for government, but this was a really good program. In just 1 year they fostered 224 co-ops, worked with 750 groups, and helped more than 28,500 primary producers.
Inspiring stuff, but behind the numbers is the fact that this program worked really well for us, the farmers.  We got into the program after an initial assessment (by phone) and were assigned a business consultant, and after that it was their job to understand what we needed and apply for the funding to deliver it. We got great service and the professional advice we needed to develop our co-op with a minimum of our time taken up with bureaucracy, leaving us time to actually work on our idea.

In accordance with the unfathomable way that government sometimes works, this effective, bloody good-value program didn't get funded in the last budget, so we'd like to give a big thanks to the Farming Together team and the team of consultants who helped us, especially the indomitable Clare Fountain.