This week in the patch we are saying YES! Yes to a diverse crop of rainbow cherry tomatoes freshly planted and trellised in our new patch. Yes to redirecting the kangaroo traffic around (rather than over) our newly planted seedlings. Yes to slow soaking rain that makes everything stand up in all its green glory. Yes to the madness of the spring summer season that is soaring ahead…and Yes to pulling out our third crop of garlic.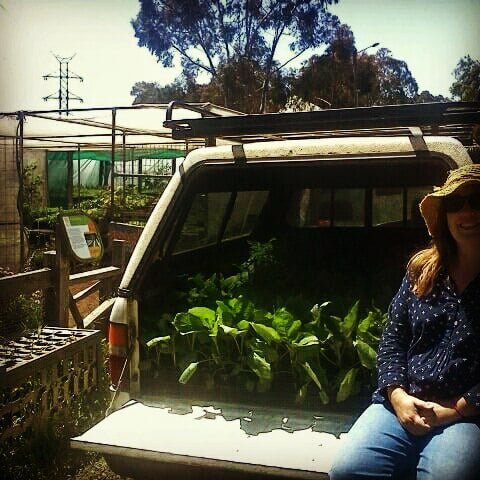 Lately the world out there has been getting crazy. The politics of our nation seem to be receding into a black hole of discrimination, game playing and crimes against humanity… sometimes you've just got to focus on the small wins you can make with your own hands, and be grateful. Yes.
Thanks to our lovely cheese-making friend Lydia for helping us out on a stinking hot day to plant hundreds of tomato seedlings. Thank you to Meg from CERES propagation for growing up all those healthy seedlings. We've had a few smashed by passing kangaroos, but hopefully now with our ingenious trellising and fencing (which includes our old undies ripped up and attached to the fence so the roos can see it!), the rest will survive. Thank you to Katie and Hugh for their continued support, creativity and generosity in creating our new farming alliance which gets more exciting by the day.
Next week we pull out our garlic. Stay tuned for our online shop where you can preorder your ½ or whole kg garlic plaits. We're also madly planting out all our summer crops now that the soil has warmed up and we've got the irrigation system happening. But today, with this beautiful rain, it is time to spray our Biodynamic Preparation 500 (cow horn manure) and get the soil life buzzing!