Happy winter everybody!
Hope you've got the warm surrounding you, in the body, heart n soul. We have had a few heavyish frosts out in Harcourt this week and it took us a bit by surprise! We had such a grey autumn and winter last year, it didn't get AS cold, just grey (I know what I'd prefer—give me the cold sunny blue sky daze any day) and so we were caught unawares. We went to pick on Wednesday and our little babies had been frozen and so there was only a few kilos of lettuce we could salvage rather than our normal 10 or so…damn!
It's incredible the relationship we and our customers foster. It comes from both sides. I (Mel) usually deal with the orders for the people, shops, restaurants, and cafes, and it's a hard message to send saying we can't fulfill your order because it's frozen. It might affect us for a few weeks, but we can't be sure because this is new for us, again, or still, or something. So I sent it off nervously. The replies that came back swift as geese flying on a southern wind were more or less "oh no, so sorry to hear".  Phew, sigh of relief and a breath of gratitude!
The face-to-face connection we have with the people who both buy and eat our food makes it all so worthwhile and helps us and them alike.  Along with tucking our green babies in with frost cloth each night, we are weeding again and seeing everything slow down with the cool soil and air and shift of season.
There's 2 months of the year when it feels A-OK to take a holiday, and this is in June and July. One of us can run the patch without it being completely overwhelming with picking and seeding and planting and watering, etc. etc. So we're booking it out! We are going to visit Rad Growers (oh yeah, this is what farmers do on their holidays—visit other farms), who is Erin in Albury; Brightside Produce (Emily and Michael) nestled in the Tallaganda State Forest 1.5 hours out of Canberra; and Liz Clay in Noojee. We are so excited to visit other systems and pick their brains for successes and failures, and lend our willing hands for a few days. It's so sad, a local pioneer from these parts Rod May from Captain's Creek Farm passed this week after an accident. He was a pioneer of community-supported agriculture in this area and held a lot of years of knowledge. RIP, Rod.
I think I can forget just how important and enlarging learning can be. I know this sounds silly as I write it, but so often I can get pretty set in my somewhat routine of my generally not so routine life and just keep walking along the same track. I was reminded when we went to an incredible workshop this week on fungus. It was in north Harcourt in a wee hall that doesn't show up on maps. Alison Pouliot gave me a whole new framework of how to look at our ecosystems and the unseen magic that fungi do for our soil.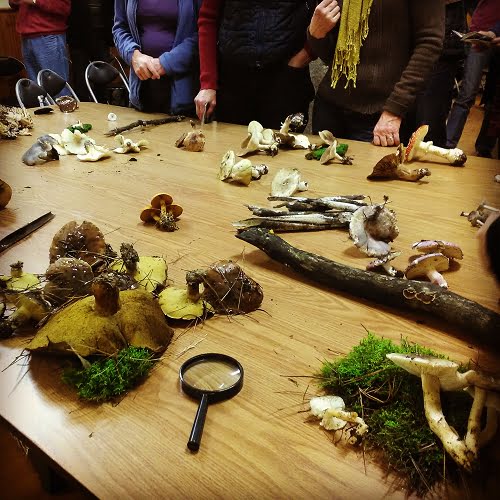 Alison's mass of knowledge and enthusiasm reminded me that if we just take a side step off our everyday path and put even half a foot into new territory, it takes us out of our same same world, we can learn an awful bunch, and it gives us appreciation for all these other areas in life. And all those other people doing awesome stuff that we just have no idea about! I say this, yet I've realised as we've been booking farm visits and planning summers rotations and thinking about incorporating animals into our system and better tools and just how we can be smarter about what we do, it's a bit nerve wracking for me to get out of our little bubble to visit others cos I'm so scared that we're doing it all wrong. And badly wrong. I know we treat our soil right and all the basics, but we want to be smarter with our physical selves and planting techniques—all these things that make it easier and better for us and for our bank account and for the community, because we will have more quantity of delicious. However, as Sas says, that's the whole point. And at least we're learning…
Its also the 3rd year of 'Deep Winter' in July, a weekend gathering of small-scale farmers from all over Australia. We generally eat good food, listen and discuss issues that affect us, and my favourite: have real conversations about how do you do that. How are you going with this whole thing? The conversations and connections you have around the fire with people who are having a go at the same thing you are – ha! and no, I don't just mean life.
The first one was held 2 years ago in Bullarto just down the road near Creswick, and from that we made connections with so many other young and older farmers from near and far. It's invaluable that connection when you can feel quite isolated in your work. This year the gathering is up at Bangalow, in the Northern Rivers. I'm headed up with Tess who is currently looking at starting up a micro dairy around these parts—fingers crossed near us. Apart from meeting up with our fellow earth friends, we are on a bit of a mission you see…
It's exciting times out here in Harcourt and I'll let Katie and Hugh fill you in on the full state of things, but it seems as if the whole thing is stepping up again, to another level of this being our livelihood (which is what we want) and thank goodness that life is kind and gives it to us when we can handle it (whether you think you can or not is beside the point).
So, in conclusion, keep your own and others hearts warm and nourish the spirits, it's important at this time of year. Take a side step out of your normal path to appreciate different learnings and knowledge of others, and realise that this expands and lightens your own world, even if it's scary and you think it will show you everything you're doing wrong.  That's actually ok. Life is learning, if we allow it to be.
Cheers, Mel x