We know it's winter when…we stop rushing to harvest the salad as early as possible before the sun makes the delicate leaves wilt and instead we switch to harvesting it when our hands have warmed up enough to have the dexterity to pick it! We know it's winter when we pack away all our veggie shade netting and pull out the frost cloth to protect our delicate green leaves from freezing. We know it's a dry winter when the skin on our hands is as cracked and dry as the soil itself and when we are still watering the vegetables in July (we would normally stop in April)! And we know it's winter when we can take a holiday.
Things never stop needing to be done on the farm, we harvest and sell vegetables every week of the year, but one of the beauties of being in a business partnership is that you can step away every now and then and know that everything will keep on ticking and being cared for while you're away.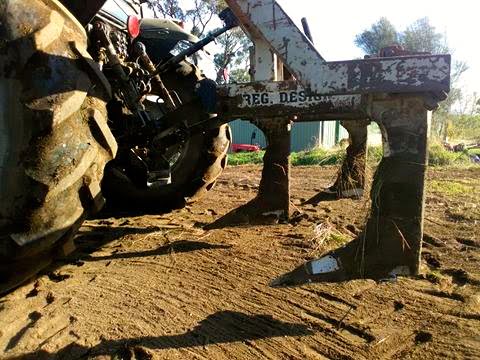 This time last year we were just starting to prepare the 'new patch' with a run over by Dave Griffiths and his Yeoman's plough. We grew our first crops on that fresh ground in summer and are now almost finished getting everything for winter and spring in the ground. The first caulis and brocs are ready for harvest and we may actually even get some brussel sprouts this year!
This winter we're putting in our first rhubarb and asparagus crowns, cape gooseberries, and globe artichokes, which is very exciting. The thought of permanent rows of perennial edibles warms my heart. We're also starting to put in some edible wind and roo breaks to protect our patch—pomegranates, citrus, elder flowers, and maybe even an avocado or two.
With the help of our lovely vollies we have also planted loads of spring flowering bulbs like daffodils, jonquils, irises, freesias and ranunculus. Just coz they're beautiful and just coz by the time spring comes we're all really hanging out for those bursts of colour to remind us the soil is warming up!
Grow well
Sas