I feel like I start every blog with 'it's been a big week at the patch…' but really, it has been a monumental one. Over the past few weeks we've been preparing for our next upscaling of production at the patch. Kenny (Sas' dad) has generously spent a couple of days with us putting FiFi (the red Massey Ferguson tractor) to good use loosening the soil and spreading out a massive pile of old top soil that was in the middle of our new patch. We found (and successfully avoided) all the irrigation pipes and thanks to our recent soil test results were able to thoughtfully apply some organic inputs (dolomite and lime) to start to balance our pH and amend our specific nutrient deficiencies.
A little while ago Darren, our lovely friend who spontaneously pops in from time to time, usually when we're in the throes of a task that we would really love some extra hands to help with, said to us "Why don't you get Dave Griffiths to form your new garden beds for you?". Dave had recently formed up all the beds at Darren's upcoming market garden and the pictures he showed us made our backs sing with joy.  Why hadn't we thought of that before?
We are so used to just knuckling down and grunting through the massive task of upscaling, and have spent (alongside many of our uncomplaining and wonderful friends) the last 2 years physically digging over and creating each new garden bed. The thought of doing this all over again to make our newest patch was daunting to say the least and it was like a lightbulb, no…fireworks, went off when Darren made that suggestion. Of course! When we started we had no cash to pay anyone to do the brawn with a machine, but now after a successful crowd funding campaign and productive summer, we can actually afford to pay someone for a few hours to do what would take us at least 12 months to do by hand!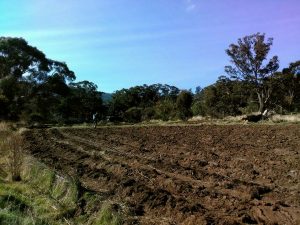 Meeting Dave has been wonderful. He's a rare human who not only gets it, he does it! He understands deeply the lay of the land and the movements of moisture and nutrient through the soil. He knows how to treat soil gently and thoughtfully over time in order to increase its health and productivity rather than just going for the short-term fixes…and he has a Yeoman's plough!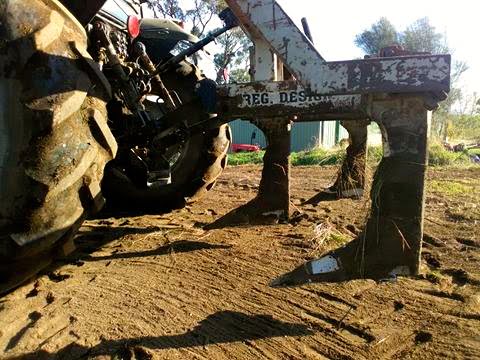 Yeoman's ploughs are rare as hens teeth and, as opposed to most ploughs and rippers which turn the soil over exposing and killing the fragile soil microbes whilst also creating compaction layers beneath the tines, Yeoman's ploughs loosen and fluff up the soil at a much greater depth without turning it over whilst also breaking through the compaction layers that have been created within the soil in the past. They get oxygen into the soil and create a spaces within the soil that can absorb moisture much better.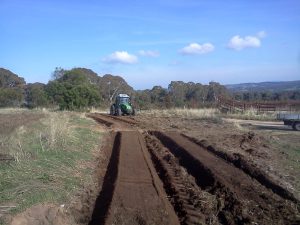 In a few hours Dave managed to rip our whole new patch with the  plough and form up all our new beds! Wow! Walking over the soil after he had ploughed I could really feel the difference. The soil under foot felt like a soft, fluffy, sponge…it was just like walking on clouds! The beds are long and gorgeous and run mostly on contour to slow the movement of water through the patch and hopefully increase the ability of the soil to absorb that water as it moves through the landscape.
At the end of those few hours we all stood looking at a transformed space the same size as our existing patch, bare and ready for planning and planting. Its so exciting, and also quite overwhelming. Phew. Onwards.
Grow well
Sas and Mel