Week 1…
A week has gone by since winning the award, and it feels like a month! The first few days themselves each seemed a week, but now I've had a few days' holiday (pre-booked before the Awards ceremony), and am feeling full of energy and enthusiasm to get started on my project.
There have also been quite a few more media interviews, like this one in the Bendigo Advertiser, and a few others which I've included at the end of the Blog.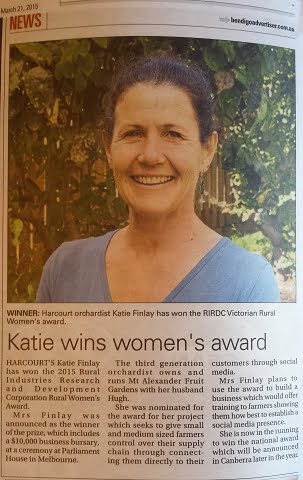 However the one I'm most excited about is an interview I had today with the The Core, the tiny newspaper in our little town of Harcourt, circulation 600—but that's 600 locals, many of whom have known me since I was a kid! As I was writing this I had a phone call from the mother of a girl I went to Harcourt kindergarten and primary school with, congratulating me. It's made me very aware that winning this award is not just a thrill for the me, but has also sent a ripple of pride through my family, friends and community – which is both a real honour, and a big responsibility. I'm very aware that I'd better do a good job with my project, because there are lots of people watching! As  it says on the RIRDC website, the Award is an amazing opportunity to further your leadership development, make a tangible difference and inspire others, so I'd better get to it…
So, to the project. I spent most of Saturday at our stall at Wesley Hill market explaining to people that this is a project-based Award. While the recipient needs to be established in their industry and have good leadership potential, they are then expected to use the Award bursary of $10,000 to implement a project. My project is about helping small and medium-sized farmers to get more control over the way they sell their produce, by building strong communities around them, and around the farmers markets they attend, using social media.
In part, I want to help farmers tell their stories – our experience on our farm is that consumers are really keen to connect with where their food comes from and how it's produced, and social media is a very easy and effective tool to provide that connection. Telling the stories helps people feel connected to the farmers and builds a committed customer base, as long as it's backed up with fantastic produce, of course! I also want to get farmers and farmers markets working together more closely to help build stronger communities around each farmers market. It's a pretty simple idea, but one that I think has lots of potential to increase demand for local produce and farmers markets.
I've started work on my project plan and trying to organise all my 'good ideas' into an achievable plan. I figure that by putting a bit of energy into planning, I'll probably achieve a lot more and save myself time in the long run, so Hugh is helping me out by looking into project planning software. I don't have much experience with running projects of this scale, but I'm sure I don't need to re-invent the wheel, and there is no doubt some brilliant software that will guide me in the planning process. I also have my business adviser's voice in my head reminding me to set S.M.A.R.T. goals – Specific, Measurable, Achievable, Realistic (or Relevant) and Time-bound – thanks Clare!
The natural way I approach new projects (and my whole life, actually) is to talk to people. On committees and community groups I'm always part of a team, and I find the bringing together of skills, ideas and energy around a table is what gets most projects up and running, and keeps them on track. A few years ago I gave myself the gift of deciding to be involved in community groups and committees that are aligned with my values, and not to over-commit (though I also subscribe to the philosophy that you're a long time dead, so you might as well make good use of the time you've got)! It's paid off, as these days I LOVE all the groups I'm involved with, and really enjoy using my time, skills and energy with them to achieve things.
However this project is different. Rather than being part of a community group with a common purpose, I'm solely responsible for this one!
So, I figure my best strategy is to build a mentor group around me, so I still get to be part of a team of people I love working with. In a way it's a big ask, expecting people to get involved in my project when I'm the recipient of the Award, but I've already had some really fantastic offers of help, which I will definitely be following up in the days and weeks to come.  I'm also encouraged that at the alumni lunch after the Awards ceremony last week, RIRDC expressed their enthusiasm for the concept of providing Award recipients with some mentoring assistance – so that's my first lead to follow up.
The mentor/mentee relationship is an interesting one. At the alumni lunch, one of the previous Award winners made the point that mentoring is a skill that needs to be learned, and just because someone's been in a leadership role doesn't mean they necessarily have the skills or capacity to mentor someone else. Also, what does it really mean when someone offers to help? And what sort of help will I need to pull this off? All of these questions require more thought, and hopefully lots of discussions over cups of tea with lots of lovely women!
In the meantime, we're getting ready for the free Grow Great Fruit workshop we're presenting on Sunday morning at 10.15 am at the Sustainable Food and Wine Fair, part of the Whitehorse Sustainable Living Week Festival in Box Hill, Melbourne. Costa's going to be there too….we're excited!!!
Katie
Many thanks to RIRDC for their fantastic support of Australian rural women by making these Awards possible.
As a postscript, I'll be using this blog to keep track of some of the media interviews I've had, because it helps to share the experience, and is a great collection of photos that will help me to remember this year!
Premier's Department press release
ABC Local radio, mornings with Fiona Parker
The Core
Main FM – the Breakfast Club