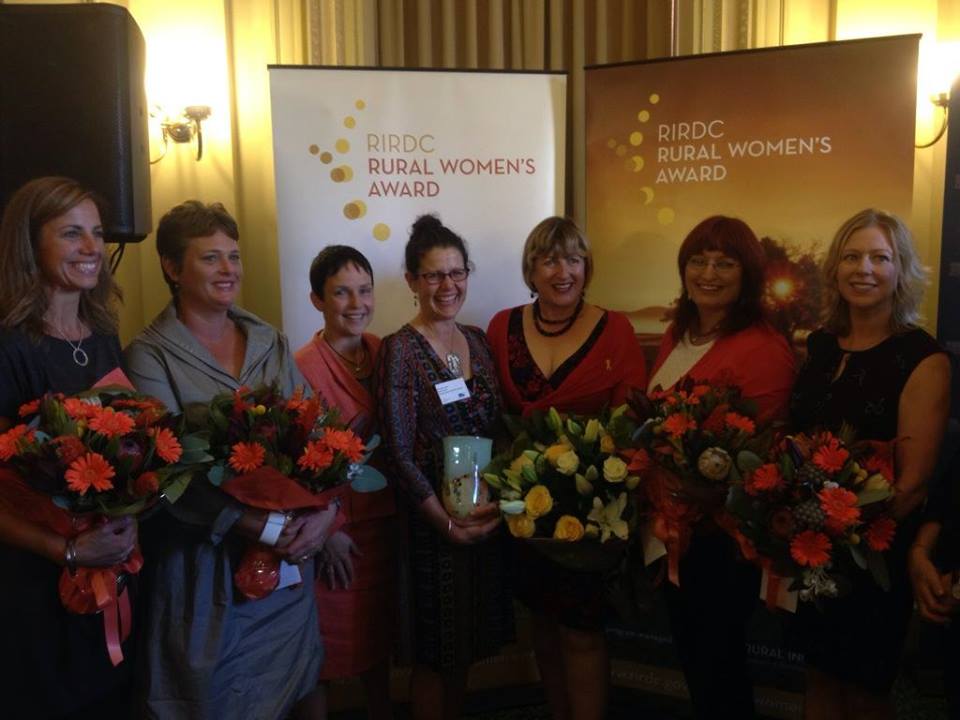 My journey starts here…this is day 1 of the year I will spend as the 2015 recipient for Victoria of the Rural Women's Award! I'm planning to document the whole process so I don't forget a single moment of it, to share the journey with you, and hopefully inspire (and not put off!!) other women to enter these Awards.
Wow…what a whirlwind yesterday was. The Awards Ceremony was held in all the pomp and ceremony of Parliament House in Melbourne, in the beautiful Federation Room. We five nervous finalists (Kim and Amanda are on the left in the photo above, and La Vergne and Mel are on the right) were seated in the front row, and had to watch while a video of each of us, which had been made a couple of weeks before when we were in Melbourne to be interviewed, was played. There's nothing quite as excruciating as watching a video of yourself, with an audience.
The tension of the occasion was broken somewhat by the fact that the parliamentary bells kept ringing, calling the many politicians that were present into Parliament, as it was a sitting day. The bells are VERY loud, are played into every room in the building, and go for about 5 minutes, so it was quite an interruption – not to mention the fact that the Honourable Jaala Pulford, Minister for Agriculture, who was to present the Award, had to leave the room for a while. Anyway, the great team who were running the Awards accommodated the slight change of plans and kept proceedings right on track, Minister Pulford delivered a fantastic speech, and was there when she was needed to present the award – to me!!!!!!
Luckily my husband Hugh had impressed on me the very real possibility that I might win (a field of 5 finalists is pretty good odds, after all), and also that I should have the mental mindset that I deserved to win…think like a man, in other words! That was a really useful strategy to help me deal with nervousness in the couple of days leading up to the awards – I just pretended that I felt confident, wrote a speech (and practised it, a lot!), and assumed it would be my name they called. So, when it WAS my name they called, I was ready!
Suddenly I was thrust into the whirlwind of photos, congratulations and hugs – it was quite overwhelming to be the centre of attention so quickly. After a few minutes I was drawn aside and asked if I was available to talk to the Country Hour on ABC radio, right then. I listen to the Country Hour most days, but have never been on it, so that was a big thrill. Here's a link to the ABC website with audio of the interview.
Next I was whisked outside for a photo shoot (OMG) with the Weekly Times. I'll put it in the blog when it comes out – hopefully I put my best foot forward and didn't have spinach on my teeth! The next interview was with WIN news, which was obviously seen by lots of people because I got a lot of text messages and Facebook messages after it appeared.
Twitter and Facebook were filled with messages of congratulations into the night, and both Hugh and I spent a couple of hours following them up, thanking people and 'liking' posts. It is an extremely humbling experience to suddenly have such an avalanche of goodwill directed your way! It also made me appreciate how overwhelming it would be to the centre of a media storm that was not a good news story.
Many thanks to RIRDC for their fantastic support of Australian rural women by making these Awards possible.