Week 2 (I know, last week I said week 2, but it was really only week 1! I was maybe still a bit overwhelmed at that stage…)
Winning this award right now was perfect timing! Not only did it come almost at the end of our fruit season, when my farm work had settled from ridiculously busy to just ordinarily busy, but it also feels like it's the right stage of my life—I don't think I was ready for a challenge of this magnitude before now!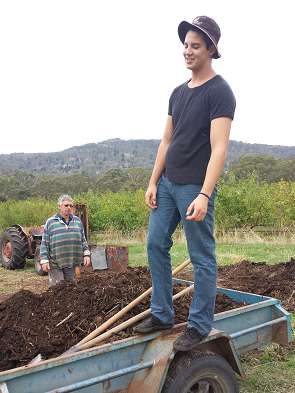 The last of our (five) children moved to Melbourne to start Uni a month ago (that's him in the photo above). Yep, we're empty nesters, which is a very bittersweet experience! Though it was delightful to see how excited, and ready, he was to spread his wings and leave home, it was uniquely sad to come home to a house full of empty bedrooms—but we had two WWOOFers (Willing Workers on Organic Farms) at the time, and three of the kids were home the following weekend, so we didn't have long to feel sad!
And then came the dawning realization that there's no more school run, no more sporting commitments, no more endless buying of stuff, no more school fees, no more sitting in the passenger seat while they get their 120 hours driving practise. Oh my goodness! You mean our time really is our own now??? WOO HOO!!!
This was a big relief when I was sitting at the Alumni lunch after the RIRDC awards ceremony in Melbourne, hearing stories from past winners and runners-up about some of the challenges the year of their Award had posed for their husbands, kids and in their workplaces. Luckily, we work for ourselves, Hugh is very supportive and on board, and we're in the very privileged position of being able, wherever possible, to travel together and turn commitments into opportunities to have a holiday together off the farm. Hugh makes his off-farm income as an online editor—work which can travel with him wherever we go.
If you're thinking about applying for the Award (which I would strongly recommend that you do…contact me if you want to talk about this), take the time commitment into consideration. However, don't be daunted if you don't currently have the capacity to make the time available…that's what the bursary can be used for! So far the time commitment required has just been for interviews, and for planning, but there is also the possibility of speaking engagements coming up through the year, and of course the important bit…doing the project!
Hugh has also recently bought a motorbike, the realization of a long-held plan to return to the biker-freedom days of his youth. And yes, I'm more than willing to ride pillion as his bikie-chick. Would it be wrong to turn up to a RIRDC speaking engagement in leathers?
This week I've been
working on my project plan
informed by RIRDC of dates for the Company Directors Course (July/August), the national selection interview (August), and the national Award celebration (September)
contacting RIRDC to find out about business cards, which apparently will be forthcoming (can't wait to see them!)
trying to learn Microsoft Project to help me keep control over my life for the next 12 months!
making a time to see one of my mentors to get feedback about my project plan
making a time to visit with the lovely folk at Melbourne Farmers Markets to talk through my project and choose pilot markets
asking advice from RIRDC about whether I should be looking for opportunities to speak as their ambassador
talking to a fantastic local harvest group called Growing Abundance about running a series of pruning workshops on the farm, aiming to skill up some local folk we can then employ in our orchard (using part of my RIRDC bursary)
interviewed on Main FM
interviewed for the Castlemaine Mail
Thanks to RIRDC for supporting rural women (and me!) through the Rural Women's Award.