Hey Folks,
I'm back at Mt Alexander Fruit Gardens for a quick visit after leaving here just over 2 years ago, at the end of my internship. While I was doing my internship, I spent months observing the orchards for flowering and fruit set times, pruned the trees, thinned the fruit, spread compost, planted trees, made compost tea, fixed the irrigation, carried out some pest management, and slashed the grass around the orchards. Just about everything except eat lots of fruit!
I had to leave just at the beginning of the fruit season, when only a couple of the apricot varieties and one of the peach varieties, Anzac, were ripe and ready to be devoured. All of which were delicious, of course, but it's such a treat to be able to enjoy some more of the multitude of varieties grown here at MAFG. Today I've eaten some Bebeco apricots, Briggs Red May white peaches and Stark Earlingo yellow peaches, all of which were so, so tasty. I'm feeling very content, fruit filled, and summery. If you can get yourself here for some Pick Your Own fun I would highly recommend it!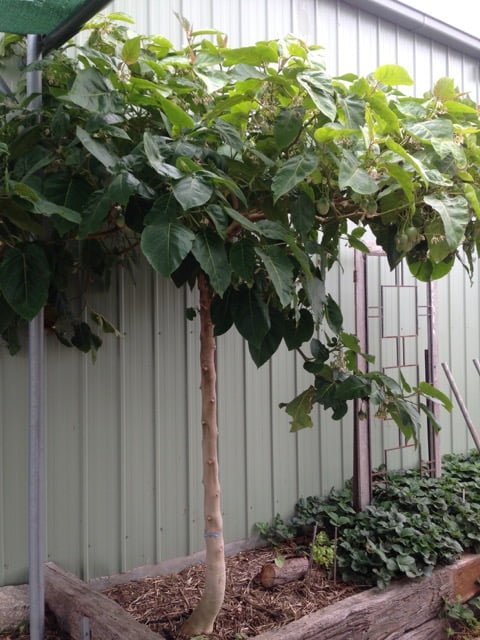 It's such a pleasure to return to the farm, reconnect with Katie and Hugh and all the beautiful people that they have in their community, while enjoying such a gorgeous landscape. It feels like I never left, although I can see some changes around the place to remind me that time has passed. The garden we planted at the farm shop, just before the end of my internship, is flourishing. However, the tamarillo tree I planted might have grown just a little too much! Dear old Oscar, one of the farm dogs, has passed away after the best life a dog could hope for. Feeling a little sad that I didn't get to give him one last cuddle.
But there are all kinds of exiting new ventures under way here, bringing in new life and energy. As always, Katie and Hugh are at the forefront of creative ways to farm and engage the community in food production, while providing new growers opportunities to get started. I'm feeling very inspired being back and dreaming of my own little micro-enterprise here on the farm.
Who knows what the future may bring, but I do know that I will always come home to MAFG whenever I have the chance. It's an incredibly special place that has shaped me as a person and as a grower. I feel very blessed to have had the time I did here and look forward to a life-long connection with this place and the amazing people. Hope you are all enjoying some of the bountiful fruit from MAFG over this festive season.
Until next time, Victoria.