To keep the vampires away!
Garlic is an important marker for us Gung Hoes. It was the first crop we ever planted back in April 2015 when Mel and I first started leasing land off Katie and Hugh. It's one of those optimistic crops. We plant it as the soil is cooling and the days are getting shorter, when the sweat and dust of summer is starting to settle and we can begin to breathe again. The winter and spring crops are tucked into their new beds (in theory) and we are hopeful for the season to come. The garlic gets planted and mulched and slowly it grows over the next 7 months. We water it and nurture it, take the weeds out so it can grow unimpeded. We hope that when we finally pull them up, they will have grown into perfectly pungent and gorgeous heads of garlic but until we pull them up, we don't really know how its going.
This time last year when we pulled up the garlic, our hope was crushed. We lost almost two-thirds of our crop because of the wet season and what remained had bulb rot which meant that one or two cloves from each head were rotten! We salvaged and sold what we could but it was the first of a number of challenges that made for a very difficult summer for us.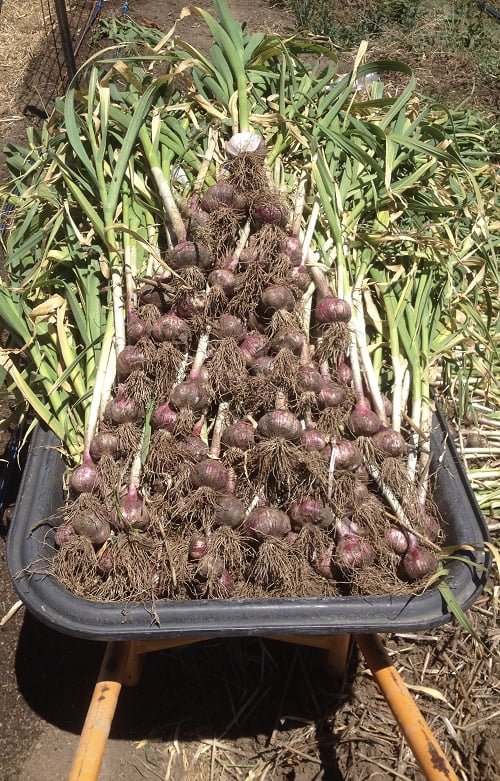 Come April, ever hopeful again we planted our garlic. As usual we nurtured and cared for it for 7 long months. After consulting with our biodynamic expert friend, Janet from Newstead community garden, about the best day by the moon to harvest the garlic, we dug it up 2 weeks ago. The timing couldn't have been better. The garlic had had almost 2 weeks of dry weather in the ground and for the first time ever, we dug it up on a blue sky day with no impending rain clouds! The game changer though was finally having a weatherproof drying shed to hang the garlic in to cure.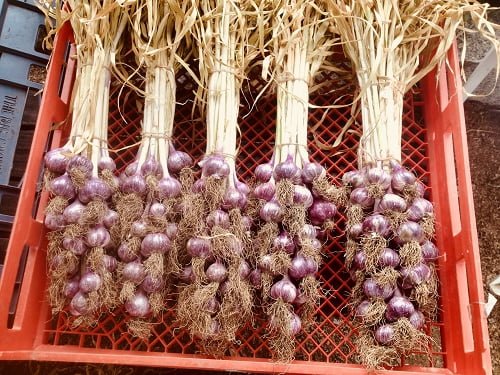 The timing of when to pull your garlic up is crucial. After 7 months of slow growth, there is a window of about 1–2 weeks when it's ideal to harvest it. If you go too early, the garlic won't have segmented into cloves; too late and the head begins to open up which means moisture, critters and dirt can get in and the garlic won't last as long.
This year we nailed it! It is so perfect! Dark purple (thanks to the cool winter and iron-rich soil), perfectly plump and strong! We got it out just before the rain and have been curing it for 2 weeks in our shed, safe from the storms raging outside! That means Mel and Sas can sleep peacefully.
This time of year, every hour out in the patch counts. There's beds to prepare, compost to add, seedlings to sow and plant and mulch and a small window of opportunity to do it all before its too bloody hot and everything shrivels. Amidst the spring rush, garlic makes us stop. Sit in the shade and shuck for a while. The other lovely thing about garlic is that it brings people together (unless of course you eat too much and then people may give you a bit of space!). After 2 weeks of our garlic curing, it was time to call in friends, put on a simple Gung Hoe feast and get shucking and bunching together. Many hands and all that…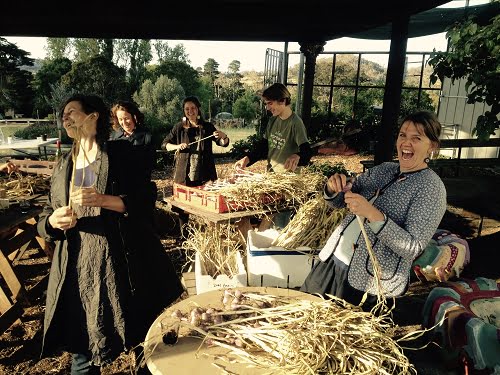 We are so grateful to Deb, Cohen, Cara, Elle, Marty and Amanda for helping us shuck and plait those babies this year. So much laughter, joy and good vibes surrounded the garlic as we bunched it up. Hopefully that is infused into the food that gets made with it…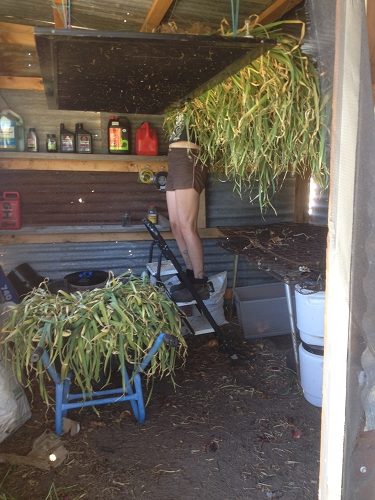 Our garlic crop also symbolises our own cycle of growing and learning as farmers. Each year we save the cream of our crop to be the next year's seed garlic. We pick the biggest and most beautiful heads to plant, and over the years we've seen the consistency, hardiness and quality of our garlic improve as it adapts to our specific situation and we learn better how to care for it.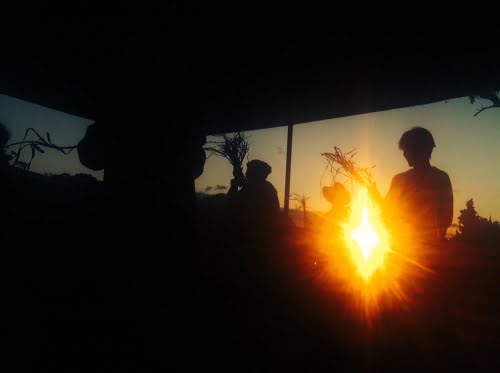 This year we are selling our garlic through the Open Food Network. An online platform that connects farmers with eaters; to order yours go to: https://openfoodnetwork.org.au/gunghoegrowers/shop
It will be available for pick up from the Harcourt Organic Farming Co-op shop on Wednesday 12th and 19th December from 9am to 1pm or from the Wesley Hill Market in Castlemaine on Saturday the 22 December. We can also post garlic around Australia too but not to Tassie or W.A.
Our garlic is available as:
15 head plait- $30
30 head plait- $60
Grow and eat well!
Sas (and Mel)