We've been asked a lot recently how we're enjoying our retirement. Well, so far, this is what retirement looks like…
Though we're not responsible for most of the orchards any more, we still look after the heritage apple orchard. We didn't include it in Ant's lease because the block's not in production yet—in fact, we're still planting it.
We started planting the block in 2016 and put in more in 2017, but were so busy looking after the fruit in the other orchards that these poor babies didn't get the care and attention they deserved.
Then the hares and kangaroos gave them a hard time, so they've had a bad start.
This spring, we've been able to dote on them. They've been whipper-snipped, pruned, the grafts have been cleaned up, the block's been mowed, and we've mulched them with compost.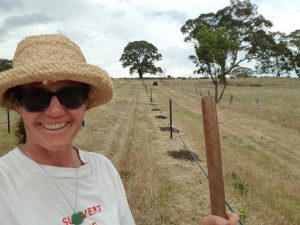 So it probably doesn't count as retirement, but it's VERY satisfying. To our delight (and surprise), most of the trees are happily alive, despite being almost literally buried under grass and weeds.
We've also been busily chainsawing the trees that were burned in the bushfire that came through the plum orchard in January. We were aiming to have them all removed by now, but with a few hundred to deal with it's taken a bit longer than we thought! Clearing fence lines to replace burnt fences is also on the agenda…soon.
Another of our "retirement" activities has been helping Ant out a bit, particularly with those jobs that take more than one set of hands, like netting.
Ant is understandably keen to protect his cherries from potential pests like birds and earwigs, and has been absolutely diligent in following our advice.  He has access to the nets and the net-putter-outerer as part of his lease, but this is the first year since we replanted that there's really been a crop of cherries worth protecting, so he's put many hours into modifying and improving the system to make it more effective—and the result looks great.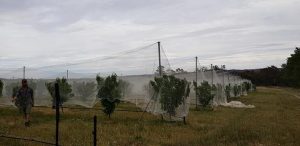 So it might look like we're still working, but actually that suits us perfectly. Our intention in setting up the Harcourt Organic Farming Co-op was never to retire, because we've never stopped enjoying the physical side of being farmers.
Now, we get the best of both worlds. There's plenty of hard work available when we want it, without the demands of another fruit season.
The truth is, we're writing this from the beach. Leaving the farm for more than a day or two between September and April has been pretty much off limits for us for the last 20 years, so being able to take a week off at this time of year is absolutely golden.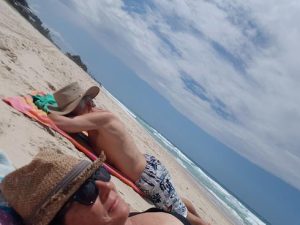 The beauty of it is that (despite appearances) we're still working! When we're not actually on the beach we're focusing on our other passion, which is our Grow Great Fruit coaching business. We've purposely set it up to be portable and use technology to connect with our members where ever we are (as long as we have wifi).
We're currently working on a whole new way of helping people to get the fruit-growing skills they need in affordable bite-size chunks, as well as some new free resources (in addition to our  webinar and Weekly Fruit Tips newsletter).
We're absolutely committed to providing free resources—because we support the human right to an affordable, organic diet—by teaching people the skills to grow their own. We know the joy of eating incredible, free fruit straight from your own tree—we want everyone else to have the same experience. Our free work is supported by our Grow Great Fruit membership program, for those who want to take their fruit growing to the next level.
So thanks for asking—we're enjoying our non-retirement very much!