As part of our continuing series about fruit thinning (a very relevant topic in spring) this week we'll talk about the second main reason we do thinning, which is to protect the structure of our trees.
Most fruit is carried on the small side shoots, or laterals, that grow from the main branches — they are a very precious part of the tree, and need to be protected. Left to its own devices, the tree will frequently set so much fruit on a branch or lateral that the weight of the fruit breaks the branch, as you can see in the photos above and below.
Our job when thinning is to remove some of the fruit that the tree has set, leaving only as much as any structural part of the tree can easily carry.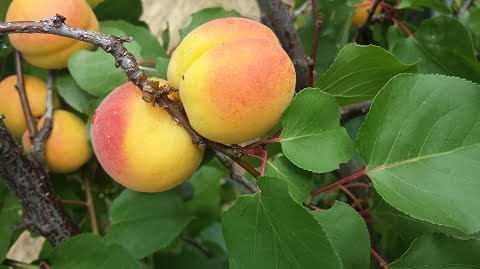 It's important to imagine how large and heavy the fruit will be when it's fully mature – as a very rough rule of thumb, a short lateral can only bear the weight of one piece of fruit, and a longer or stronger lateral can carry two or more pieces.
Of course the actual amount of fruit you can leave on the tree depends on many variables:
the type of fruit,
the variety (cultivar),
the ultimate size of the fruit at harvest,
whether the tree is heavy, medium or light crop,
when it's due to be harvested,
age of the tree, etc.
It's fine to just follow the rule-of-thumb guidelines we provide, or if you're keen to protect your tree and in a hurry to get good results you can use the charts we've developed in the Grow Great Fruit program and the Fruit Tree Thinning short course to save yourself a few years of trial and error!