As I write this I'm listening to MainFM (Castlemaine's local radio 94.9FM) – josh Meadows' show – 'it's a jangle out there', scally wag (the dog) is snoring beside me and I'm warming up some milk atop the wood fire stove top ready to whisk into cocoa… I'm really happy to be writing the blog this week (I forgot it was my turn last week and Katie saved my butt!) as I've been pondering lots of things lately.  This always happens when the seasons allow us to slow down a notch.  It's just the way – shorter days mean less work hours for the likes of us (hurray!), and when there's weeding to be done you have space to listen to all the thoughts that have been whizzing around that you haven't had a chance to say hello to yet.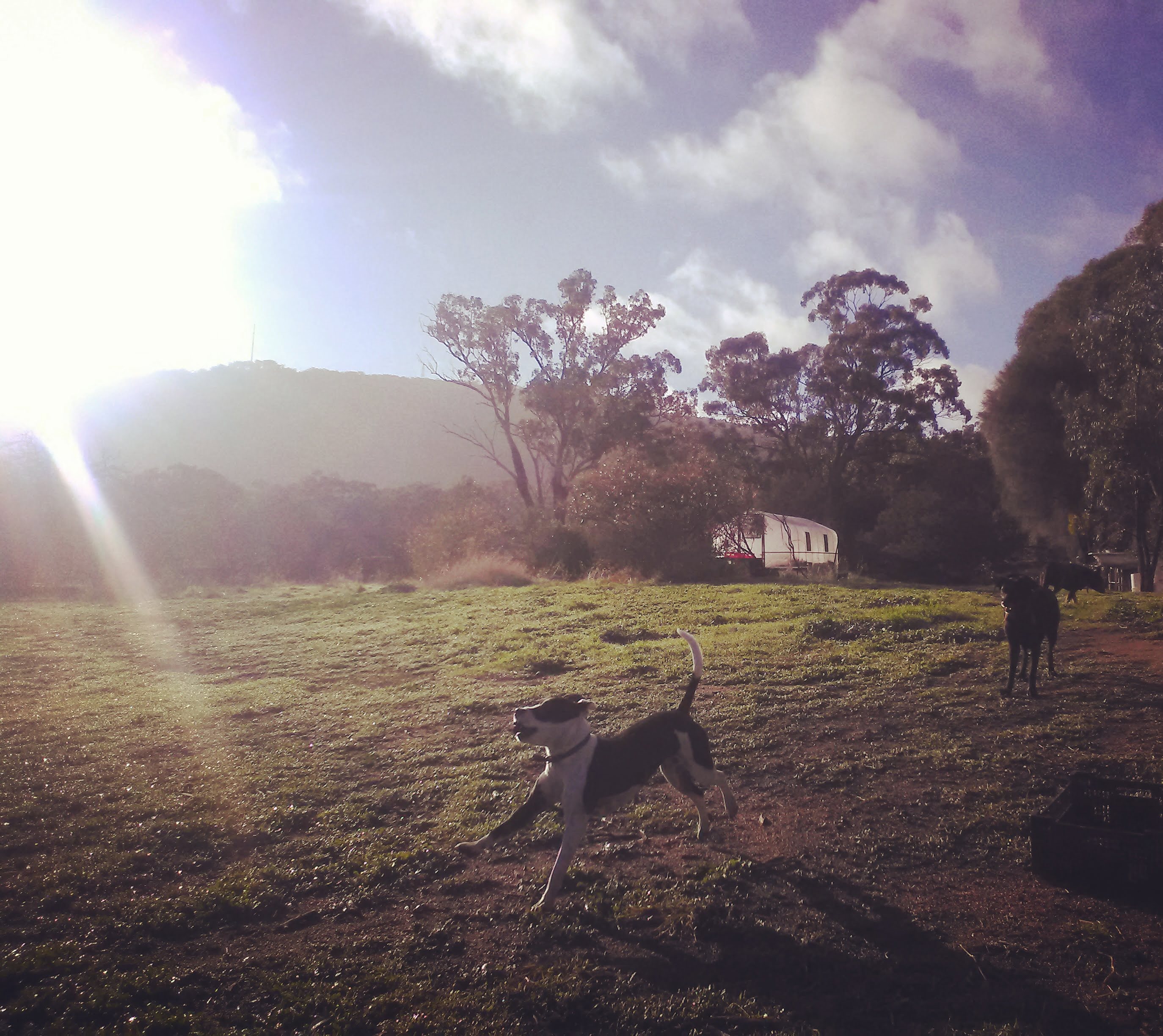 Even though the mornings are colder and I hesitate under the covers for longer than I should, there's a warmness that is glowing out at Harcourt this last little while.  If we get there before the sun peeps its fingers over the mountains we get to watch the sunrise with Tess too, as shes there before us now milking her cow.  So we can have a cuppa and start the day all together.  Sooner or later Ant, or Katie or Hugh will arrive up to the shed and do what they need to do (packing has almost finished) then the whir of the pruning machine will slowly come into your ears from down in the apricots – Lucy is tackling the trees with pruning full of skill and love.  The dogs are a little gang now and will run around in their mucky ways (they all enjoy eating calf poo, together, gross).  If it's a Tuesday, we will have had a cuppa with Cohen who rides out before school starts for a few hours of farm time. (legend!). Then a lil bit later, after a more reasonable get out of bed time, Marty and Cara and whoever else is joining us for half a day of volunteer time arrive ready to dive in to what jobs we're working on that day.
Sas and I have always stood by our decision to not chase people after they've said they want to come out to the patch.  We know people want to, but lives are busy, and we are always here – that doesn't change!  So if people want to come then they can.  Marty, Cara and Cohen have brought so much to our farming day.  They are the perfect example of why we don't chase people.  They are interested and keen and it's their own motivation that keeps them coming  (and we give 'em food too, maybe that's it!).  The longer they stay, the more they learn.  It's a beautiful and fair exchange.  It's also been an eye opener to me (Katie always says it and I brush her off) that I DO know stuff and that there are definitely reasons why Sas and I do what we do.  It's been good getting back into the head space of being clear with instructions and having jobs for us all to do.  The energy and enthusiasm they bring is truly heart warming to us and to Gung Hoe in general.  One of Sas and I's intentions with Harcourt is that it is eventually a working educational space…having these guys out in the fields with us is like having a very informal window into our dream.
And wait, I haven't even gotten to lunch! Sharing food is becoming a more regular occurence now, always on a Tuesday, someone cooks a big pot of something and we all bring things to chip in so we can sit down and hang out over a delicious feast (mostly grown at H'arcourt yay!).  Its funny how such a simple act can bring so much relief and rest and reassurance of your fellow human kind (i,e. laughter – we must laugh people!)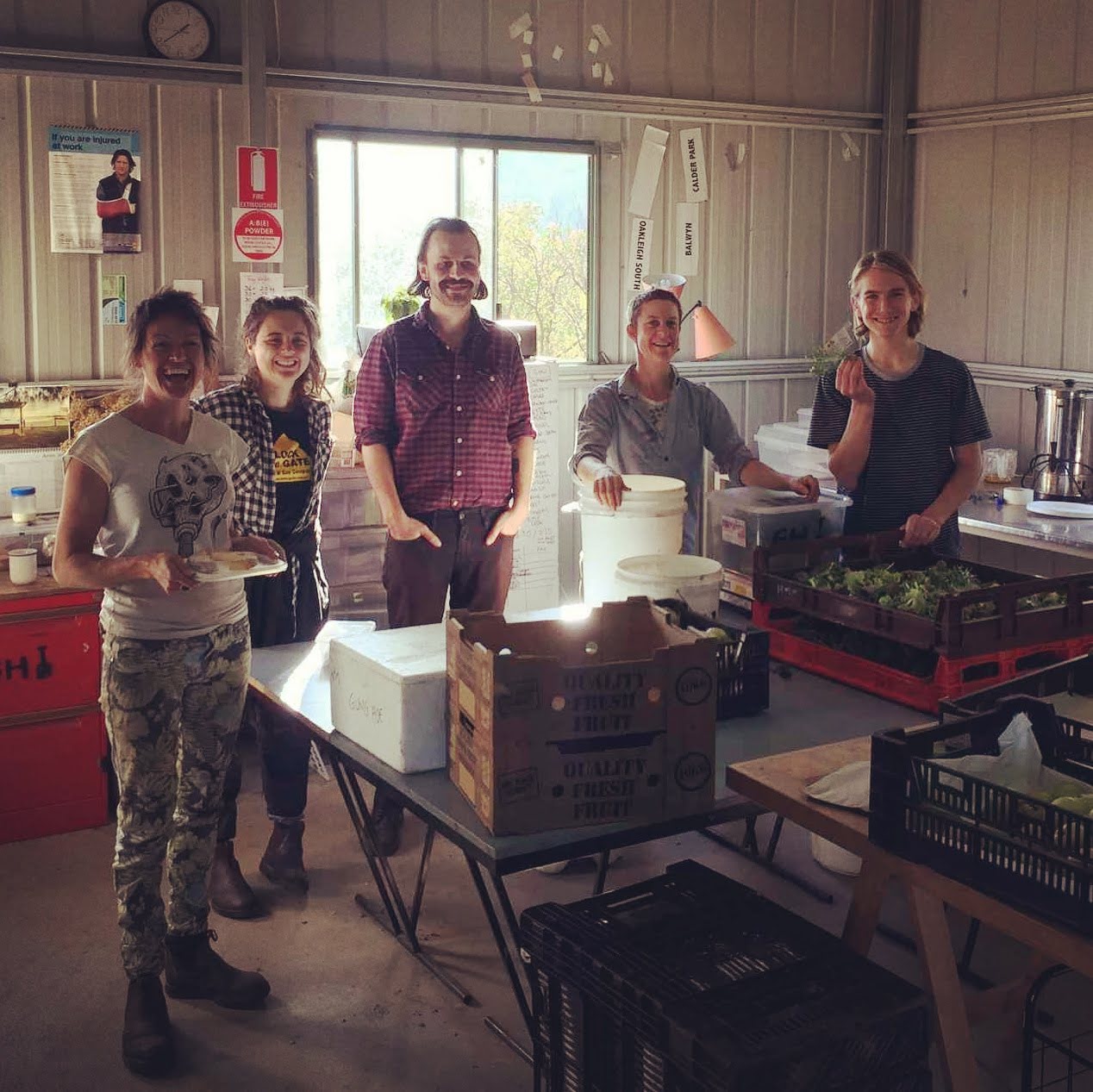 Anyone who knows me will know how much I value shared meals and big feasts and little picnics and basically bringing people together over a shared experience of food.  I know this warms Sassa's heart too, so seeing it become a wee tradition out here is the best.
And because food comes from the earth and that is what essentially we are committing to restoring, this quote is very apt, and I love Wendell, so any chance really…
"The soil is the great connector of lives, the source and destination of all. It is the healer and restorer and resurrector, by which disease passes into health, age into youth, death into life. Without proper care for it we can have no community, because without proper care for it we can have no life."
 – Wendell Berry
WIth the collective out here in Harcourt we are tackling some big things.  Big policy things.  Framework things.  Idea things.  And I can get a little overwhelmed sometimes feeling like it's all a bit big!  And then put on top of that we are still trying to figure out this small-business thing, plus the balance of it with our own individual selves and lives.  Ha, it generally brings me to tears.  Not in a bad way just a whelmed way.  But having shared cuppas; people sharing the care of the land with us and learning how to then go and take care of their own little patch down the way; and eating together makes it all feel manageable again, and real.
And as I cower under the blankets in the mornings, I'm thinking more and more: how lucky I am.  When I get up I get to drive through the bush where I live which I love, past our swimming hole, the res, as see the fog gently lifting to kiss the rising light, go on back roads through vineyards where cows are grazing, ending up at our little place in this big world.  Where as Cohen says, thanks to the mount we see two sunrises each day.  Pretty great office.
And where the little people, like us, like those who currently join us and have already joined us (Tess and Ant and more to come I'm sure!).  We are creating our own adventures of learning and living in a conscious way.  As Emily Says from Brightside Produce just outside of Canberra: "Like many small business owners we're not there yet. We have hairy moments where we hold our breath and hope the card doesn't decline and where we dig deep into our creativity to jump the seemingly unending stream of hurdles.  This life is not romantic (who needs that shit?) but it is a deeply satisfying adventure and the only way I feel I can be in the world. During the winter I think about all of this…"
Finally, I'll leave you with another quote that I saw from Chirons Gardens (an orchard in Robertson, NSW).  Pi didn't say it, but she shared it and it tugged on me something strong.
Hope that you're cosy and whatever adventure – career or personal – you're currently on, you have your wide eyes on and are able to dive in.
Cheers Mel (and Sas)
"As farmers, we'd do well to lose the paradigm of 'feeding the world'. If I feed my family, friends and community, I consider my job done…"