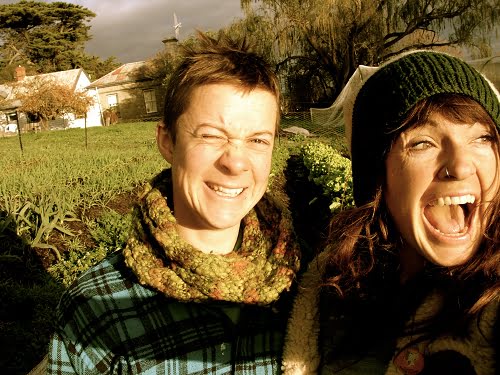 We are in the depths of winter…it might even snow on Friday! At this time of year every drop of rain is greeted with thanks. I look out onto the misty tree tops of Mt Alexander and summer feels like a dream. Sas is currently away in Arnhem Land working with women who know the art of weaving. She goes every year to facilitate the opportunity for others to learn the deep culture and skills with the women–I love the rich tapestry that each of us is made of!In the meantime, on the patch I've had friends come out and help fence, weed, pick and make new beds! It's been a beautiful process having people who came to the dust bowl and dug their guts up now picking from those same rows!
When you work alone all the time and don't necessarily get to share in the flesh (writing is great!) the sweat, the produce, the air, the dirty fingernails, it's easy to forget what you're doing.
I love being in the patch and feel like my energy is slowly returning after a tragic start to the year and, as Sas has previously written, we've got our sights set on creating more space to find the tricky between being viable and small scale. Having people out here has renewed my joy for this work. I forget that even just one day can be healing for the head, the heart and the body, and sharing this space for that is part of my vision.
I love being able to give produce to people and know that it is SO tasty, fresh and healing on the inside too.
This blog is mostly pictures and they're mostly taken by Sarah Brazel who helped out last week.  Thank you Sarah!
Hope this finds you nurturing yourself and where you call home, Mel