Well, the season has undeniably turned! We had a wee 'back o the truck' sale this morning and I stayed an hour overtime having cuppas in the sun cos it was just so damn NICE! Even a few days of sun and we notice the difference in the patch.  The lettuces begin to look like they weren't picked, I feel like I'm discovering cabbage patch babies every day in the broccoli and cauli rows, the bulbs are out and the peas are stretching their tendrils long and high!
The weeds are also loving life, and now comes the hard work part of pre- and post-spring…giving them a new life in the compost heap!  The great news is, thanks to our generous contributors from our recent fundraising campaign, we can spend more days in the patch tending, weeding and harvesting without the overhead stress of having to weekly find off-farm jobs. Amazing!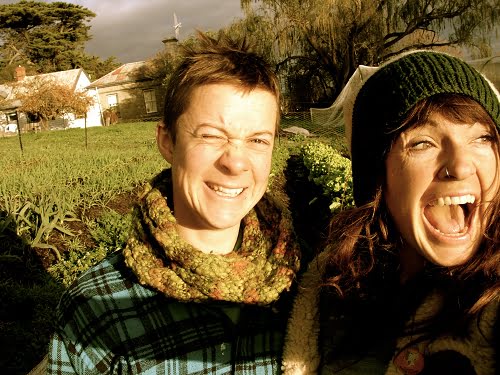 Originally we began filming with Leonie in June 2015, and then added some working-bee drone footage of the patch extension in February and put it to air a month ago…so in all it's been about a year in the making.  Leonie would gently ask us, 'have you started editing the footage yet girls?' Sheepishly we would reply, 'not yet Leonie, we're too busy'.  It was her gentle pushing and the slower months of winter which finally got it out there. A little secret too – one of the reasons we chose chuffed was cos if you didn't make your target, you still get to keep the funds donated to you.  We never thought we'd make our target, let alone more!
The generosity and belief in us is overwhelming and energising, so thank you again. It can be scary asking for help, it feels vulnerable sharing your dream and saying it loud and wide, but the response has been incredible!
We are getting excited about the next few seasons and being able to protect our little tomatoes, eggplants, chillies and cucs and zucs from the frost thanks to the campaign, looking forward to both wheeling wheelbarrows to and from compost heaps simultaneously! We're keen to buy up a much bigger quantity of seeds for spring and summer and buy some good quality seed-saving containers for us and the people to use in seasons to come! Also to have a financial buffer to buy more picking and washing utilities, A FULLY WORKING GREENHOUSE! and of course to replace our tool shed which the wind so drastically brought to the ground.  We can't wait to share the space and produce with you!  But, Wow, now to get on with all of that!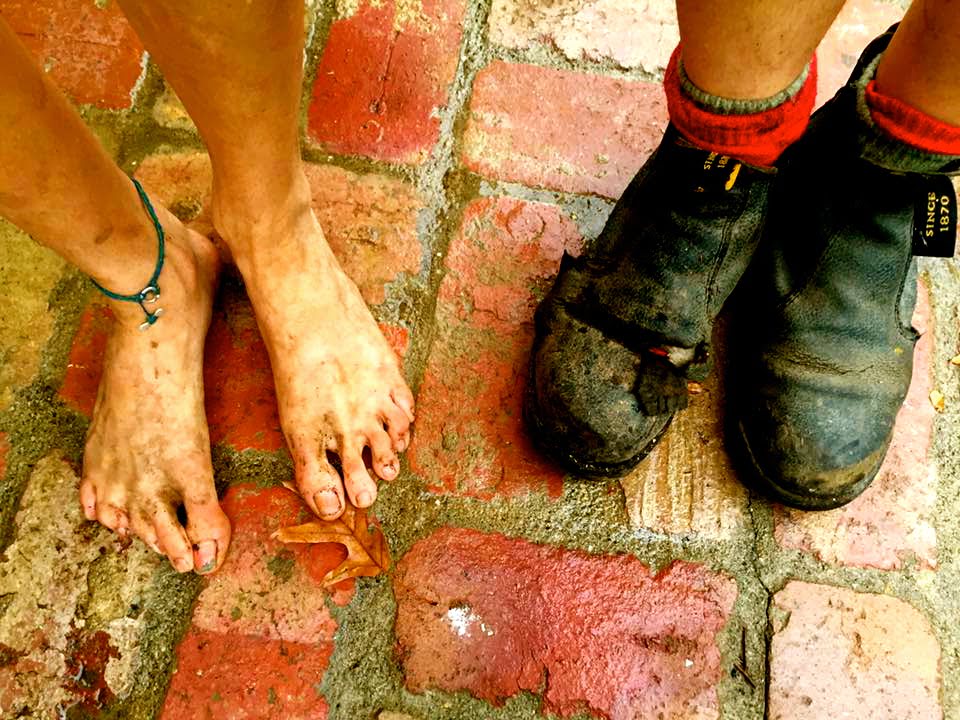 Hope this finds you sitting in the sun today and staring at that beautiful full moon tonight.
Grow well, and thanks again from the dirt under our fingers AND toenails!
Mel & Sas
(sorry, gross, but I couldn't resist – John loves that foot photo! credit to him for taking it! -Mel)