Summer in the nursery is time to keep everything alive and thriving. We've finished the spring grafting, have mounded up our apple and cherry root stock  in the 'stool bed' and the next major action will happen in late summer.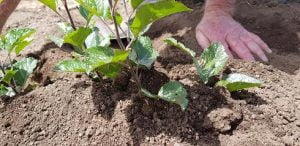 Couch grass is a big problem in the nursery if left unchecked. Since we rotary hoed the rows before planting into them, it's made the soil nice and loose but also chopped and spread the couch around. The only thing for it is to stay on top of it and pull it out, roots and all, whenever we see it. Merv is master weeder and a lot more diligent than Katie and me (thanks Merv!).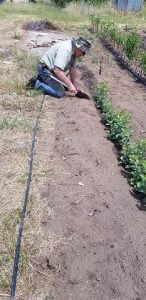 Watering, composting, and stripping off growth from below the graft are all the things that keep our little trees happy over summer. 
The cherry grafts we did in September are looking amazing at the moment.  We grafted about half our cherry root stocks, the best of which will be up for sale this winter. We had a really good strike rate and the ones that haven't taken we'll be able to bud along with the rest of the root stocks in late summer. The budded root stock take a bit longer and will be ready in two winters' time.
We've also been 'heading' some of the more vigorous of our apple, cherry and peach seedlings. This involves chopping them off at about knee height and leaving three or four buds below the cut. This is to encourage branching so that rather than one main trunk to bud onto, we end up with three or four branches and can bud multiple varieties onto one tree. The multigrafts we did on plum root stock last year are looking great and have inspired us to multibud more trees. Multibudded trees are a great use of space because you can have cross-pollinating varieties on the same tree and save the need for planting multiple trees, especially  if you're short on space. 
Happy growing
Sas (and Katie and Merv)