Happy New Year folks!
We hope you're having a wonderful and peaceful summer thus far. The festive time of year certainly isn't a time for kicking back and relaxing when it comes to market gardening! The cool spring seems to have made everything come on a little slower than usual and we're only just starting to pick (and gobble up) our first ripe tomatoes and zucchini's, but oh what a delight the first sun-warmed, real tomatoes of the season are!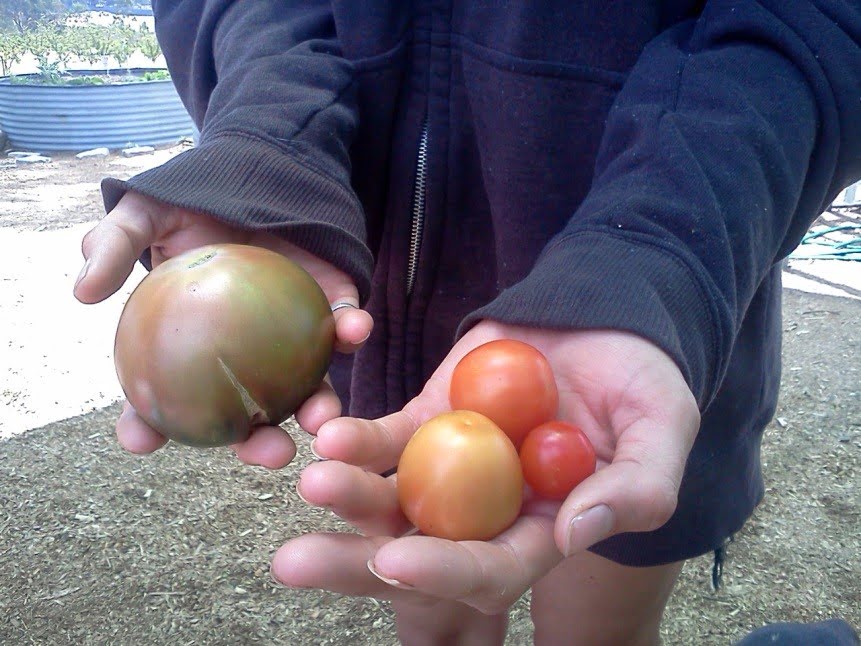 Over the last few weeks we've visited two other local growers to see what they are up to, to share our stories and inspirations, and talk about ways we might be able to work together, and rather than be competitors, be collaborators in the local food system. It has been such a joy to meet these wonderful people and talk to other passionate growers, growing food in our crazy, unpredictable and challenging climate.
Kat at Hunter Harvest has a beautiful, lively and very productive backyard garden full of veggies, ducks, geese, rabbits and dogs! She has a roadside stall on Hunter St in Castlemaine and together we are going to be trialling an 8-week seasonal fruit and veggie box for the local area.
Rob and Gun at Metcalfe have another small scale (1/2 acre) productive food system incorporating chooks, pigs and goats. Over the past few years they have been developing their veggie box scheme and delivering 10-20 mixed boxes every week to the local area. For now we are going to work together to swap excesses for our different veggie boxes, but down the track we are hoping to work more closely to develop our collective veggie box system.
The beauty of working together with other growers in these ways is that it makes us all a little more connected and able to cope with seasonal fluctuations, failures and excesses. It also helps us plan what to grow in a more connected way and rather than all grow the same things, we can diversify and grow more of the things that we grow well.
Stay tuned for more details on the 'Hoes Harvest' fruit and veggie box which we will be starting up in February featuring fruit and veggies from all the dirty hoes at Mt Alexander Fruit Gardens, Hunter Harvest, and Gung Hoe.
Grow well
Sas and Mel