Happy change of season and daylight hours out there!
Hope this finds you reawakening as one does when the light gets longer and the air begins to blush with warmer winds.
I think the turnover seasons are my favourite on the farm. They are, of course one of the most important and busy, but they are also a pleasure to be amongst. In Spring the grass is green (and growing very fast along with the weeds) and your fingers don't snap off from frost and the birds have woken up and are darting everywhere eating the smaller (and bigger) bugs that are alive thanks to warmer weather and soil. Everything feels alive rather than cold, dead and cold. It feels hopeful and abundant.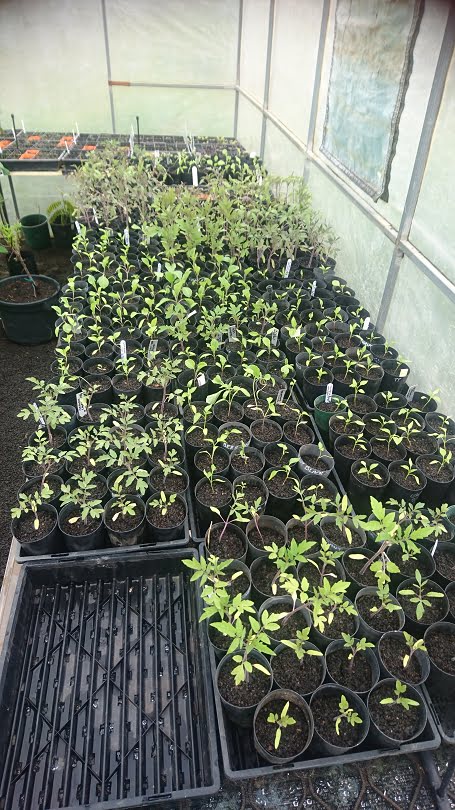 And that's the tricky thing about Spring – it feels all of these things but one thing it definitely isn't is abundant.  While things are growing it's a tricky time with planting, sowing and of course, timing.  Things we planted too late in Autumn/winter don't do well with the sudden hello of hotter horizons; freak out and bolt.  And the hot lovin' plants like zuchs, cucs, tomatoes, caps, melons, basil and chillies can't handle weather below 10…our nights have been colder than that still, and as the old saying goes – don't plant them out till after Melbourne Cup Day – it's true! unless you've got a warm hot house or like Sas, heatbeds and love and care to water them everyday…at least once.  So with hope comes one of our leanest times out here in Harcourt with veg. In saying that this year does seem to be one of the best in terms of us being on top of things and as much as anyone can never be – on a somewhat OK timeline?!! haha.
It's also that time of year when things begin to shadow over you as you know it will be non stop for the next little while…
We're excited to have partnered with the monthly Castlemaine Farmers Market to begin a weekly farmers market.  Beginning on Nov 6th, prioritising Mount Alexander Shire residents there will be producers from our region selling their wares.  We are hoping that people and producers alike get behind the market and it becomes a thriving weekly event with good food and good people.  Sas and I think it is imperative to build up the resilience of the local food system, and we believe this is a way to encourage and support and hopefully inspire the region's producers with an avenue to sell and be seen for all the work they do and connect with their community.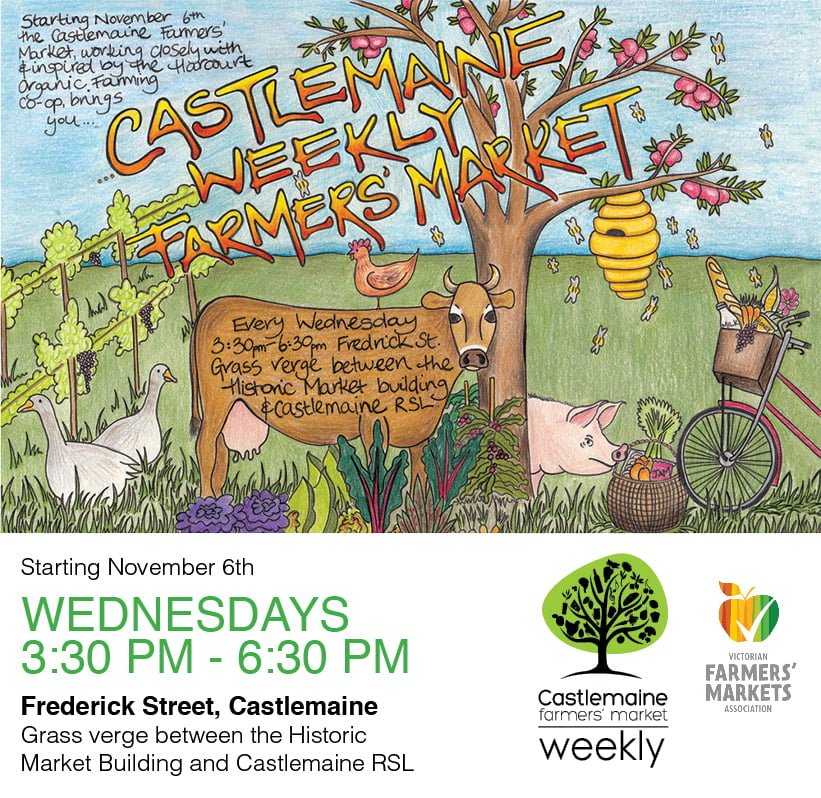 Our little farm family (co-op and volunteers and workers) continues to swell and step further into understanding how and what we're all doing. It is an evolving journey and one that teaches lessons for each and all along the way.
We are lucky to have met a hilarious lady named Sarah (through Tessa) who is helping us build a website.  This is great 'cos its been on our to do list for about 2 years now…when its up and running in a few weeks it will be the place to find the link to our Open Food Network online shop to buy boxes – hopefully starting in December sometime – all our blogs and information on where in the community you can buy our produce, info for restaurants/cafes who want to work with us and news about the co-op etc, etc.  Hurrah!
On a personal note, I am so glad for a change of season as winter has been dark.  Maybe one of the darkest actually.  I have a new found gratefulness for being able to put my energy into Gung Hoe and the family out here at Harcourt because without it, I'm not sure where I would have ended up.  I have regained my love and passion for what Sas and I (are trying to) do and am excited by the potential and current lay of the land.  I feel proud to claim my aims and creations made of dirt; and want nothing more but for us to keep evolving and growing Gung Hoe and our farming family to be a beautiful, successful (I have my own definitions for this) growing, learning and thriving existence.  For us and for our community. 
Here below is an excerpt from one of my favourites – Khalil Gibran, 'The Prophet' on Work. Note – for me the God is unreligious.
May we grow in all senses of the word.
Cheers, Mel 
"Then a ploughman said, Speak to us of Work. And he answered, saying: You work that you may keep pace with the earth and the soul of the earth. For to be idle is to become a stranger unto the seasons, and to step out of life's procession, that marches in majesty and proud submission towards the infinite. When you work you are a flute through whose heart the whispering of the hours turns to music. Which of you would be a reed, dumb and silent, when all else sings together in unison? Always you have been told that work is a curse and labour a misfortune. But I say to you that when you work you fulfil a part of earth's furthest dream, assigned to you when the dream was born, And in keeping yourself with labour you are in truth loving life, And to love life through labour is to be intimate with life's inmost secret. But if you in your pain call birth an affliction and the support of the flesh a curse written upon your brow, then I answer that naught but the sweat of your brow shall wash away that which is written. You have been told also that life is darkness, and in your weariness you echo what was said by the weary. And I say that life is indeed darkness save when there is urge, And all urge is blind save when there is knowledge, And all knowledge is vain save when there is work, And all work is empty save when there is love; And when you work with love you bind yourself to yourself, and to one another, and to God. And what is it to work with love? It is to weave the cloth with threads drawn from your heart, even as if your beloved were to wear that cloth. It is to build a house with affection, even as if your beloved were to dwell in that house. It is to sow seeds with tenderness and reap the harvest with joy, even as if your beloved were to eat the fruit. It is to charge all things you fashion with a breath of your own spirit, And to know that all the blessed dead are standing about you and watching."
Gung Hoe Growers
69 Dann's Rd Harcourt