Well its been an interesting fortnight, that's for sure! How is everyone out there? The season has definitely started to turn—I see fat buds waiting for their chance to burst and the golden blush of the first wattles across the land. I (Mel) have been away in NSW, in a little bush shack. I had the company of two dogs—Scallywag and a kelpie named Pickle—an arrangement of chooks, bellbirds, bower birds, whip birds, wombats, poetry, the beach and a hearty fireplace. Oh! and my new favourite tipple—Maidenii Vermouth.
This year has still had its ripples from the years that came before it and I knew I needed Mel solo time. I was surrounded by green and lush and life, as well as slow, quiet, and a chance to really rest and give myself some time  (I'm aware this opportunity is a big privilege and precious and view it as such). I also had moments of exploration to nearby towns for op-shops and coffee and record hunting, discovering old friends and new. I sat with solitude and ate it up, and have taken away learnings, not the least being how important it is to care for yourself and even one step further—give yourself love (might sound hippy-dippy, but it's straight down the line true!).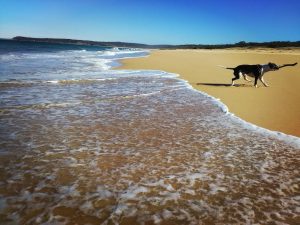 This poem penned by Judith Wright (Aussie lady yiew!) was the stand out to me of how the seasons around us change, but also how the seasons in ourselves change in their own, right, and beautiful time. As with nature, it is within us…I hope you can take a moment and read the words of The Cedars.
On the way back to Victoria I had an unfortunate meeting with a corner, wet roads, and some trees. It wasn't a good experience and we're (Scally and me) totally lucky we're all ok. The towtruck guy amongst others said I "shoulda bought a lottery ticket" that day… So arriving home shaken and sore, we hit the ground running with the Harcourt Alliance vision day (not as flouncy as it sounds i promise you. We worked hard!) and it was bloody amazing and reassuring how each individual around that table was thinking along the same lines as their neighbour and as it continued the whole way round. An alliance of farmers and primary producers standing tall and strong. It was awesome.
And so I'm left here, at the end of another week (but what does Friday mean really….not much for those of our ilk) with a feeling of almost a reset. It's weird, and I'm not holding my breath, but coming back and working in the dirt, surrounded by the possibility and people involved both here in Harcourt, but all over Australia, I have a renewed sense of gratitude that growing food is what I get to do. It's bloody hard work, and we're not there yet (who is though!) but for now, this is absolutely the best.
May your buds burst at just the right time (even if it doesn't seem like it to you—trust them, they know better than us).
Mel x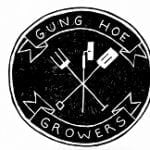 Gung Hoe Growers
69 Danns Rd Harcourt